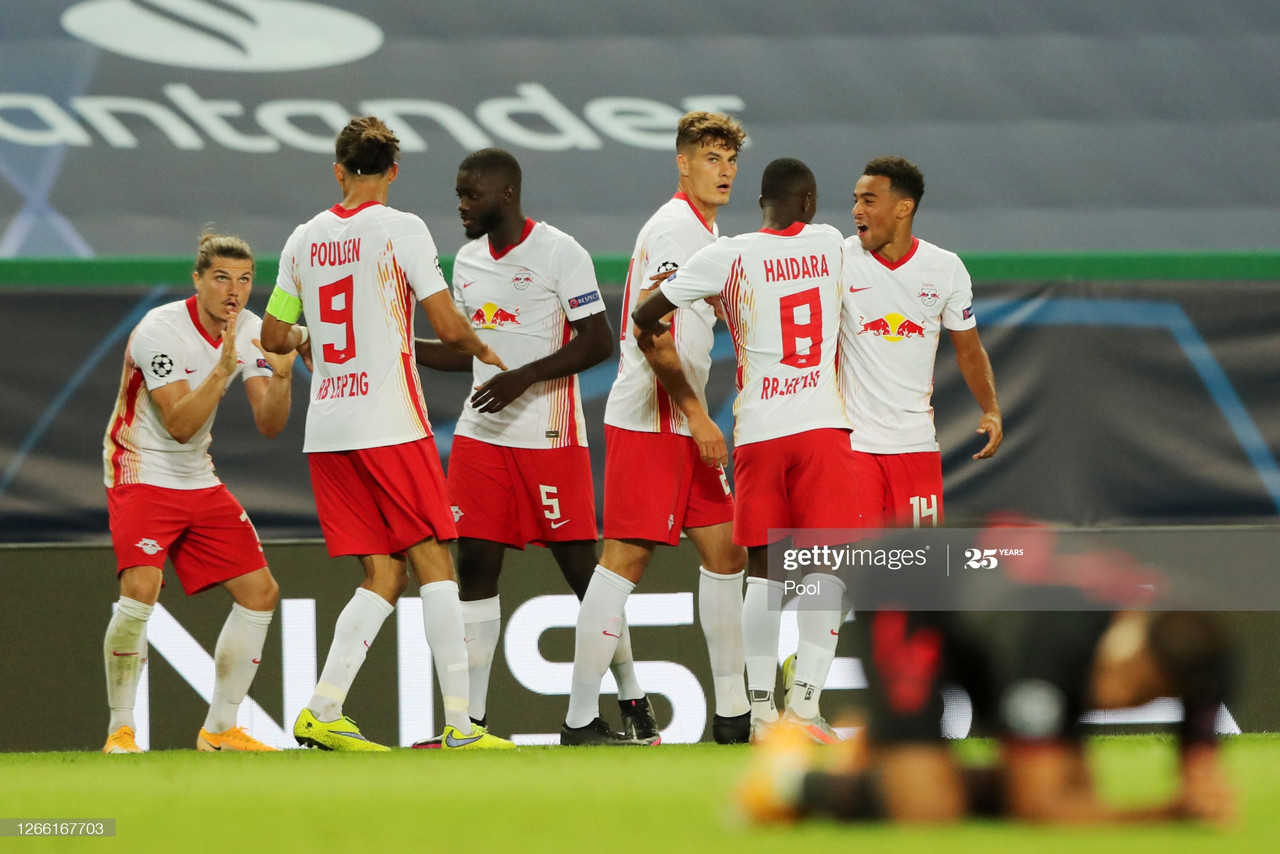 RB Leipzig saw their Champions League dream come to a nightmarish end on Monday, as they lost 3-0 to Paris Saint-Germain in the semifinals. The German side were, admittedly, second class on the night. They never really got going, and were unable to handle all of PSG's attacking threats.
Despite the poor showing, Leipzig still have plenty to be proud of. Some may think that this is the end of the road for them, but in reality, it might only be the start of their journey to the top of European football.
Trusting the process
It's important to remember that the RB Leipzig team we all know nowadays was only founded back in 2009.
It all began when energy drink company Red Bull bought out SSV Markranstädt, who were playing in the 5th division. Naming their new club RasenBallsport Leipzig since German laws do not allow teams to be named after companies, they cleverly started referring themselves as RB Leipzig to get around the ruling.
Success came quickly, as they were promoted three times in six years, climbing all the way up the Bundesliga in no time. A big reason for that was all the money Red Bull injected into the club, which allowed them to sign many of the country's brightest talents. That made Leipzig enemy number one in Germany, who had never really dealt rich foreign ownership before.
The youthful side then had a dream debut season in the top flight, ending the campaign in 2nd place while clinching Champions League qualification as a result. Leipzig haven't reached those same heights at the domestic level since, but they've become a consistent presence at the top of the standings, and are now a true Bundesliga powerhouse.
Meanwhile, Leipzig were also getting used to life in Europe. They were narrowly eliminated in the group stages during their first UCL run, which led to them being put in the Europa League. The German side surprised many by beating Napoli on away goals in the round of 32, and they went on to make the quarterfinals after getting past Zenit Saint Petersburg. However, that's where their run would end, as Leipzig fell to Marseille.
They didn't care much for the Europa League the following season, exiting in the group stages since their priorities were with the Bundesliga.
However, it all came together on the continental level this past campaign. Finishing 1st in a tough Group G, Leipzig ended up ahead of Lyon, Benfica, and Zenit to clinch a top seed in the round of 16 draw, where they were matched up with Tottenham Hotspur.
That series would be their coming out party, as Leipzig ran riot against Spurs. A Timo Werner penalty gave them a 1-0 win on the road in the first leg, and they put on a show in the return game, scoring three at Red Bull Arena with relative ease.
Leipzig advanced to the quarterfinals in Portugal, and had to take on La Liga giants Atletico Madrid. Despite having much less experience on that sort of stage, they showed no fear, and took the lead courtesy of a superb header from Dani Olmo. Madrid pulled one back from the spot, but Leipzig were not going to be denied on the night, as Tyler Adams found the back of the net in the final few minutes. Sure, they got some luck as his shot deflected in, but the German side more than deserved the victory.
They didn't put on a performance to be proud of against PSG in the semis, but their campaign as a whole showed just how far Leipzig had come in just a few years.
A bright future
That is now all in the past, however.
Leipzig cannot dwell on their success, and instead have to keep pushing forward. The good news is that they seem ready to do just that.
As mentioned prior, they've got a very young team that is only going to improve as time goes on.
Starting from the back, Dayot Upamecano has become one of the most well-rounded defenders in all of Europe. The Frenchman is a physical specimen, as he's somehow both incredibly strong and unbelievably fast. He can win the ball back with intelligent positioning, or he can just slide in and smash it away from an opposing forward.
The 21-year-old is also an elite passer, and can even dribble as well, with some arguing that he should become a defensive midfielder soon. Either way, Upamecano could start for any team on the planet, and will likely be a presence on the international stage in due time.
Leipzig has plenty of options in the middle of the park as well. Christopher Nkunku has solidified himself as a top-level playmaker, dishing out 15 assists in 32 games this past Bundesliga campaign.
Dani Olmo, meanwhile, has instantly acclimated to life at Red Bull Arena since joining the club from Dinamo Zagreb in January. The Spaniard is so dynamic going forward, able to dribble, pass, and shoot with either foot, making him a nightmare for opposing defenders.
Then there's Tyler Adams, who grabbed the winner against Madrid. A product of Major League Soccer in the United States, he's made the most of his chances in the team so far. The American has had injury issues throughout his young career, but if he can stay healthy, then he'll develop into a really solid number 6.
There are many more talents, and some will be sold, of course, but Leipzig have shown they know how to recruit and sign replacements.
Naby Keita used to be their key man in the midfield, but when he went to Liverpool the club used the money to bring in youngster Amadou Haidara. He's not made the best start, but it's only a matter of time until he makes his impact in the team.
Timo Werner only made his big move to Chelsea a few months ago, but Leipzig have already brought in someone to fill the void up top. A star of the Champions League group stages, Hee-chan Hwang had three goals and five assists in six games for sister club Red Bull Salzburg, including a wonderful striker against Liverpool. Those performances proved he's good enough to play at the highest level, so fans should be excited to see what he can do in the Bundesliga.
Most importantly, they've got the perfect coach to guide them into the future.
Julian Nagelsmann is already an elite manager, and he's only 33 years old. To put that into context, he's younger than both Cristiano Ronaldo and Lionel Messi, two active players.
Getting his big break with Hoffenheim in 2016, Nagelsmann quickly turned them from a team fighting relegation into one competing in the Champions League playoffs. They played beautiful attacking soccer as well, with their blistering attack making up for some issues at the back.
RB Leipzig would come calling, and Nagelsmann could not turn down the chance to take control of such an exciting project. The decision has paid off, as his side are now an offensive juggernaut that can sit back and defend when need be. He's won over 55% of his games with the club, and expect that number to rise as they push towards domestic and European glory.
Some teams in the recent past, like Malaga and AS Monaco, have made deep runs in the Champions League only to fall apart in future seasons.
That won't be the case for Leipzig, who have a solid foundation already in place, and will be back under the bright lights for years to come.