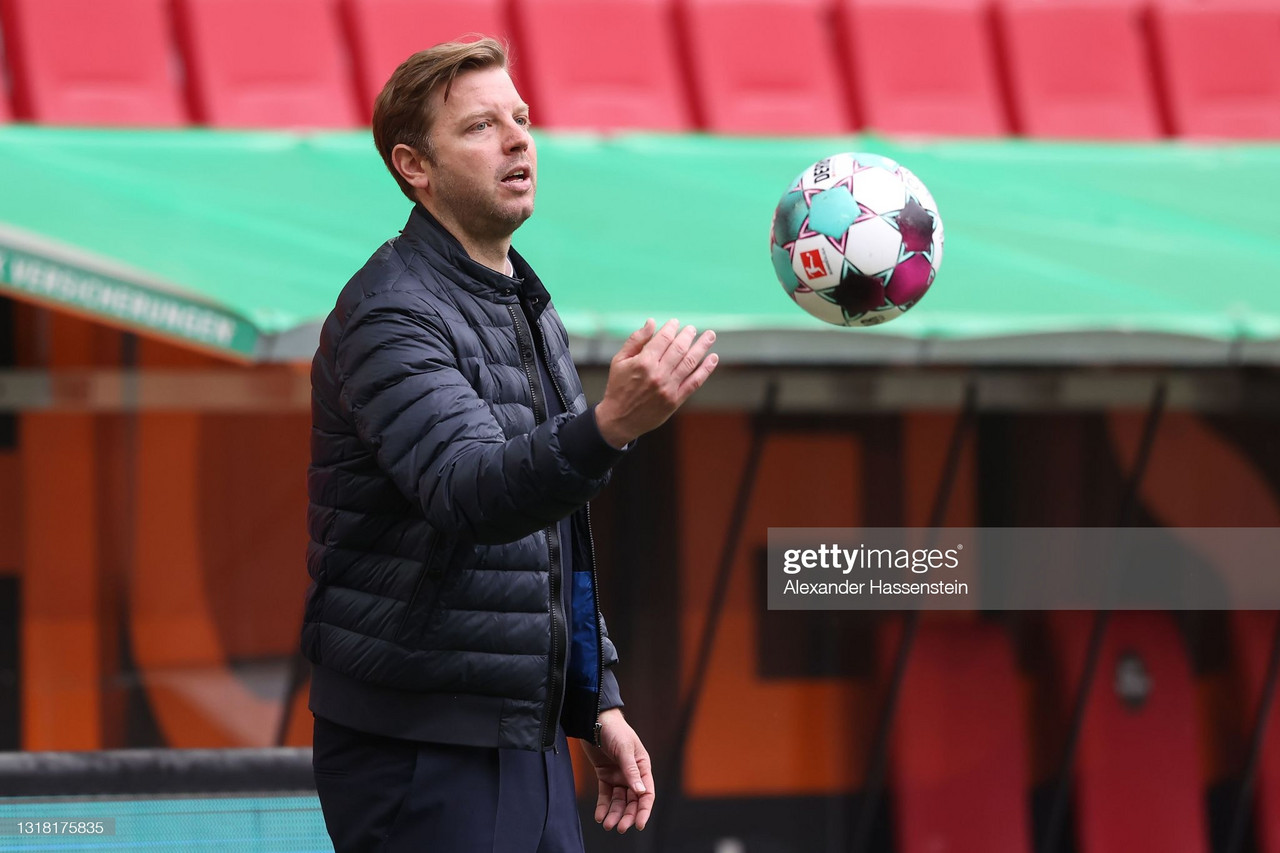 Werder Bremen officially announced the firing of manager Florian Kohfeldt on Sunday.
The news came one day after the team lost 1-0 to Augsburg in a crucial relegation six-pointer, which was seemingly the straw that broke the camel's back. The result meant that Die Grün-Weißen sank into the relegation play-off spot, with only one point now separating them and 17th place Köln going into the final day of the season.
Thomas Schaaf was named interim manager, and he'll be in charge for the game against Borussia Mönchengladbach and the relegation play-off if his side end up in it.
Had been coming
The timing of this news might have surprised some, but not the news itself did not.
At the midway point of the season, things had been going pretty well for Bremen. They were comfortably sat in midtable, with safety seemingly guaranteed. There were faint hopes of European qualification and dreams of a DFB-Pokal run, but even if those didn't come to be, the team would still be happy with how the campaign was going.
However, it all went south from there. A brutal run of fixtures didn't help, as Die Grün-Weißen lost five straight, with four of those games coming against teams who were in the top five. They were then beaten by Mainz in a critical contest before losing 3-1 to Union Berlin. There was hope that a draw at home to Bayer Leverkusen would have stopped the slide, but Bremen were still defeated the following week versus Augsburg, which put them in the bottom three.
The pressure really got to Kohfeldt, who started to overthink things. He changed the personnel that had brought the team success earlier in the year, and then he changed the formation as well. None of the alterations worked, though.
If anything, they just unsettled the squad. Players couldn't get used to where they were playing or who they were playing with. Bremen suffered as a result, which led to their dreadful form.
Kohfeldt's most recent strategy was an especially strange one. He named three centre-forwards in the same lineup, them being Niclas Füllkrug, Davie Selke, and Josh Sargent. Only one could really play up the middle at a time, though, which left the other two trying to figure out what to do. It was unbalanced, and there was no chemistry between the trio, so Die Grün-Weißen just looked lost on the attack.
Not everything was Kohfeldt's fault, to be fair. He didn't have the best squad to work with, and injuries to key players really hurt on certain occasions. He was also let down by his players at times, with some making untimely mistakes, while others failed to convert key chances. Would Bremen still be in this situation if someone on the field had stepped up when it mattered most? We'll never know.
However, it just didn't seem like he was the best man for the job anymore, so Kohfeldt had to go before he fully cost Die Grün-Weißen their spot in the Bundesliga.
Who is Thomas Schaaf?
Bremen have turned to a club legend to replace the aforementioned Kohfeldt, as Thomas Schaaf was hired on an interim basis.
One of the greatest coaches in their history, Schaaf was in charge during the team's stellar run in the 2000's. He led them to the Bundesliga title in 2004 and the UEFA Cup final in 2009, and they also won the DFB-Pokal on three occasions. Bremen were a perennial presence in the UEFA Champions League during this time as well, turning the club into a household name in the process.
This success was especially enjoyable for Die Grün-Weißen since Schaaf was very much one of their own. Joining the club's academy back in 1972, he eventually made the jump up to the first team, where he'd play for nearly 20 years. The German then went into management, coaching various Bremen youth sides before becoming an assistant coach for the first team in 1993. After a few years managing the reserves, he would finally become the head coach of the first team, where he'd stay for 14 years before leaving by mutual consent.
However, his recent track record leaves reason to be worried. He lasted just over a year at Eintracht Frankfurt before resigning, and his next tenure was an even shorter one, as he was sacked by Hannover 96 after less than four months. That happened back in February of 2016, which means it's been over five years since he's coached at the highest level.
Will Schaaf be able to add to his Bremen legacy by keeping the club in the Bundesliga for another season, or will he fail to adapt to the modern game, sending Die Grün-Weißen down in the process?
The road ahead
Thankfully for Bremen, there's still a lot left to play for.
They could either be relegated, put into the relegation play-off, or kept in the top-flight depending on their result and scores elsewhere.
Realistically speaking, there are three teams in contention for three spots, with Köln, Bremen, and Arminia Bielefeld all able to finish anywhere between 17th, 16th, and 15th.
Köln will start next weekend in 17th, but they have the easiest fixture of the three teams. They host Schalke, who have had a nightmarishly bad season, and are already relegated. However, Die Königsblauen did beat Eintracht Frankfurt in their last match, so maybe they'll be able to put up more of a fight than some people expect.
As mentioned earlier, Bremen take on Mönchengladbach at the Wohninvest Weserstadion. It's an interesting matchup, as both have experienced some highs and a lot of lows this campaign. Die Fohlen have lost their last two games, but they're still in the running for European qualification, and some will want to send manager Marco Rose away on a high before he joins Borussia Dortmund in the offseason.
Then there's Bielefeld, who travel to Stuttgart on the final day. Die Schwaben, like Gladbach, are also aiming for Europe. They've won two games in a row, and other results have gone their way, which has given them a chance of jumping up back into the top seven.
For Bremen, the permutations are a bit complicated.
If all of the three teams mentioned earlier win, then they'll be in the relegation play-off. If they win and Bielefeld do not, then Die Grün-Weißen will stay up.
If Bremen tie, then they will pass Bielefeld if they lose, but Köln would be able to jump both with a win in their game. If Bielefeld don't lose, then Die Grün-Weißen would need Köln to drop points in order to stay in the relegation play-off spot.
If Bremen lose, then they would be relegated if Köln wins. If Schalke were able to get a result, though, then Die Grün-Weißen would stay in 16th.
With all of the games taking place at the same time, it will certainly be a tense 90 minutes for everyone involved with Bremen.
Only time will tell whether or not this coaching change pays off, but Die Grün-Weißen will be hoping that this move helps keep them in the Bundesliga for another season.