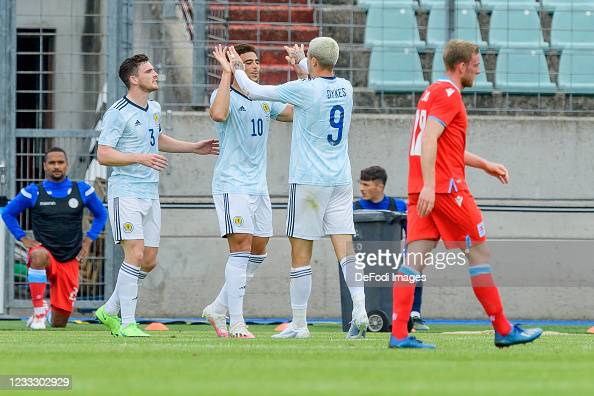 Scotland followed up their fine performance against the Netherlands with a 1-0 victory over Luxembourg, who played most of the game with ten men. The Scots though made hard work of it.
With a total of 18 shots and 56% possession, Scotland could only find the back of the net once thanks to a finish from close range from Che Adams early on in the game.
It was interesting to see how Steve Clarke and his men fared with being the favorites this time around, rather than the underdogs like in their game against the Dutch.
A challenge that turned into a run out
With Scotland winning all their games against Luxembourg bar one draw in the past, anything but a victory would have been a dampener ahead of the Euros.
Adams' goal was important in terms of giving Scotland that breathing room early on, but the real turning point came not long afterwards with the sending off of Luxembourg's Vahid Selimovic.
The defender could have no complaints after committing a professional foul as the last man by pulling on the shirt of Lyndon Dykes just outside the box, with the Scot through on goal. By the letter of the law, it was a red card, but it did ultimately change the way that Clarke would have liked to have used the fixture.
Rather than a game with a bit of an edge to it to give his players a good last test before their opening group game against the Czech Republic, it simply became a game of how many more could Scotland score.
Ironically, none! Yet it did give an opportunity for players to get a run out and ensure that their match fitness was a bit more up to scratch than previously, but Clarke would have most definitely preferred that their opposition continued to play with eleven men.
Vital minutes on the pitch for Gilmour
It did though give Clarke the chance to give an opportunity to Chelsea youngster Billy Gilmour. The 19-year-old was sidelined with a knee injury for a large chunk of the season and would have been desperate to get some minutes on the pitch.
The youngster ended up being one of the bright sparks of the fixture, working hard in midfield to create opportunities and make something out of nothing happen. It was an impressive performance by Gilmour to say the least.
Sadly, his evening was cut short nearing the end of the second half, as he clattered against Sébastien Thill. In what must be seen as a compliment, Clarke subbed the Chelsea man off as a precaution, as to avoid any further issues that could rule him out of being available for the game next Monday. It seems that the youngster will be okay and was put down as a little concussion.
However, Gilmour did enough in the little time that he had on the pitch to lay a claim for a place in the starting eleven, with a little competition for places giving Clarke the sort of difficult problems that you want as a manager.
Clarke was also able to hand a debut to Rangers full-back Nathan Patterson, who also came on in the second half. The 19-year-old would have been delighted to have been given the opportunity, regardless of the circumstances and opposition and can also lay claim to helping see out a clean sheet.
Chances, chances, chances
Dykes and Adams did link up well all evening up top for Scotland and would have appreciated the minutes to work on their chemistry more. They both will have no doubt been disappointed to have not made more of the chances on offer though.
A win may be a win, but the frequency of chances will be a lot lower come the Euros, so Scotland will have to be more prolific with their opportunities, as they will not always be playing teams 52 places below them in the rankings and fielding only ten men!
Liverpool man Andy Robertson was his normal determined self down the left-hand-side and was able create five great chances for his side to put the fixture to bed. Even Patterson was able to get some crosses in that should have been utilized more by the Scottish forward line.
Aston-Villa midfielder John McGinn was more of a passenger in this fixture, which could be put down to simply playing it safe and seeing the game through with any injuries. Only time will tell if the 26-year-old can step it up when the stakes are higher in the group stages.
In summary, Clarke was able to change his squad around and give game-time to his squad ahead of what is going to be an exciting tournament for the Tartan Army.
The Dutch game showed that Scotland have the mettle to mix it up with the big boys and they will not come much bigger than their neighbours down south in England.
I think a session on finishing though is in order ahead of the game next Monday!