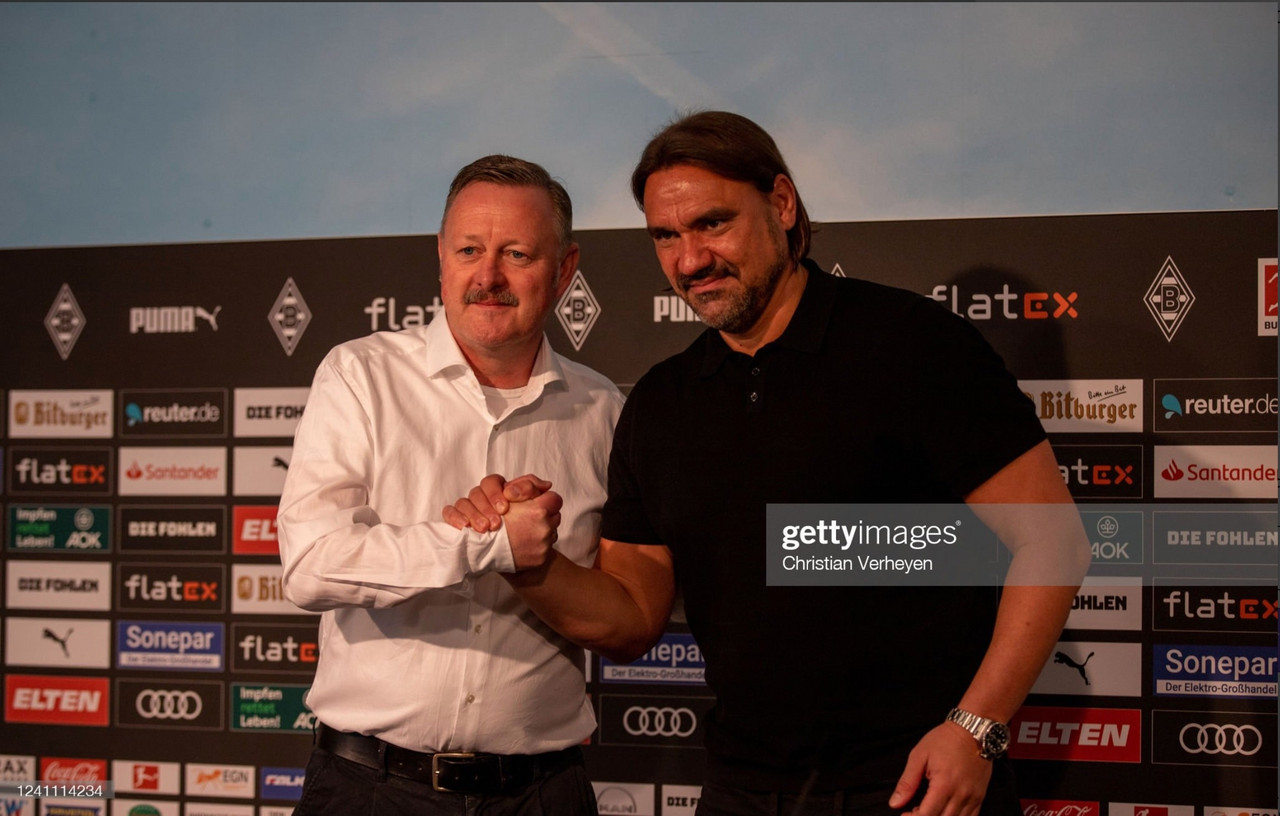 After weeks of speculation and a former head coach turning down the vacancy, Borussia Mönchengladbach have got their new manager sorted.
Daniel Farke, a name famous to English supporters, especially to ones of a Norwich City persuasion, has agreed to a three-year deal with Die Fohlen.
So what can Gladbach fans expect from the 45-year-old and how did he end up going from Borussia Dortmund's second team to Mönchengladbach via East Anglia?
Farke's playing career wasn't particularly groundbreaking, spending the majority of it with SV Lippstadt, who he later went on to manage, in the lower leagues of his native Germany.
He described himself as probably "the slowest striker in the whole of Western Europe, but one that knew how to score."
At Lippstadt, he became their manager in 2009 until 2015, getting the side promoted from the sixth to the fourth tier while in charge. He was soon picked up by Borussia Dortmund's reservers and spent two years there as the Canaries glanced a watchful eye.
In 2017, following their first season back in the Championship, Farke was appointed as a manager and endured a testing first campaign. Norwich finished 14th, a long way from the promotion places with few sensing what was coming the following year.
The season began with the departure of talisman, James Maddison to the Premier League. There are multiple examples of when money has been reinvested poorly in these instances but this certainly did not apply to Norwich. In came Emiliano Buendia, Teemu Pukki and Tim Krul who were all integral to their side's fortunes. Alongside academy products such as Ben Godfrey, Max Aarons and Jamal Lewis, Norwich enjoyed an exceptional nine months which saw them return to the heights of the Premier League which came to many supporters surprise.
Unfortunately for Farke and the club, they came unprepared for the rigours of the top flight and were relegated with three games to go. He stated afterwards that he 'expected' relegation which might have been somewhat down to the fact, their only summer signing was Sam Byram for £750,000.
As they returned to the Championship, expectations were higher especially as a number of their younger crop of players had performed admirably in the Premier League. To put it short, they romped the division. Finishing on 99 points and a second promotion under Farke was secured at a canter. The surprising factor though was that upon their title victory, saw the departure of their best player in Buendia, leaving Norwich for around £40 million to Aston Villa.
Unlike when Maddison left, the Argentinian's replacements didn't come close to replicating his exquisite performances off the right-hand side as the likes of Milot Rashica, Josh Sargent and Christos Tzolis failed to deliver which came as one of the multiple reasons for Farke's sacking.
After a 2-1 victory over Brentford in November, their first of the 2021/22 season. Farke's adventure in East Anglia was over.
He built a special relationship with the supporters throughout his four years in charge and after his departure, fans were upset but thankful for the German's service.
One pub in Norwich city centre had a mural painted of him. Dave Nash, the man behind the idea said "Farke is worshipped in Norwich, so I had to do something. No-one has done anything like this in the city, to my knowledge."
Darren Eadie, who played over 200 games for the club believed it was the right decision to let Farke go but his legendary status was secure. He also added that "he would walk into another decent job, here or back in Germany". The latter being the option that Farke has taken but this was only because of a slight curveball.
The German's first role after his emotional exit from Norwich was at Russian side FC Krasnodar. What Farke didn't see coming was a potential military invasion of a neighbouring country. He swiftly left the club after only two months in charge and zero games managed.
So five years, two countries and two promotions later. Farke has returned to Germany with a tough ask on his hands; to bring European football back to Borussia-Park. While for him personally it will be to prove that he can manage in the top flight of one of Europe's major leagues.
This time around though he does have a slightly higher calibre of player. At Norwich he didn't have the luxury of regular German, Swiss or Austrian internationals especially in his first season in the Premier League. It is expected that there will be a high player turnover at Gladbach this Summer after another year without continental football.
But one player in particular is already excited by Farke's appointment. Jonas Hofmann, arguably Die Fohlen's shining light last term expressed his happiness at the news. "I'm pleased that Borussia found a good solution for the coaching position so quickly. I know Daniel from my time at Dortmund, where he was U23 coach at the time."
"I didn't experience him as a coach back then, but of course we got to know each other personally.
"He is a great guy, and I am convinced that he is a very good coach for Borussia Mönchengladbach."
What did Farke have to say?
"I am very happy and very proud that I can lead this fantastic club. Borussia has great traditions, great fans and is important to so many people. Therefore, I will approach the job with humility.
"I think it is important that a club has clear values and a strong identity. Borussia stands for possession, dominance, creativity and a love of the game. I can identify with all of these things.
"It was very intense in England. The quality in the Premier League is very high but the Bundesliga isn't far behind and the teams here play at a very high level. I am looking forward to this challenge.
"For me, what matters is not what people say when I walk through the door, but what they say when I leave. I want to bring values such as loyalty to this club.
"I have developed greatly as a coach over the past few years. But for me it has become the norm to work at the highest level."
Sporting director, Roland Virkus also added, "The way Daniel got promoted with Norwich convinced us. His team was defined by its footballing approach. He worked with a lot of youngsters and had a good structure in the team.
"Daniel stands for the values that are important at Borussia. You have to be 100% convinced of something and after the talks with Daniel, we were 100% convinced with him.
"We have not achieved our goals in the last few years for various reasons. But we don't want to look backwards. We want to start a new era and that takes time. We want to steady the ship and work towards new targets."
There's certainly exciting times ahead for both Die Fohlen and Farke, and not only will Gladbach fans be watching on with serious interest, but so to will a certain club in yellow and green.