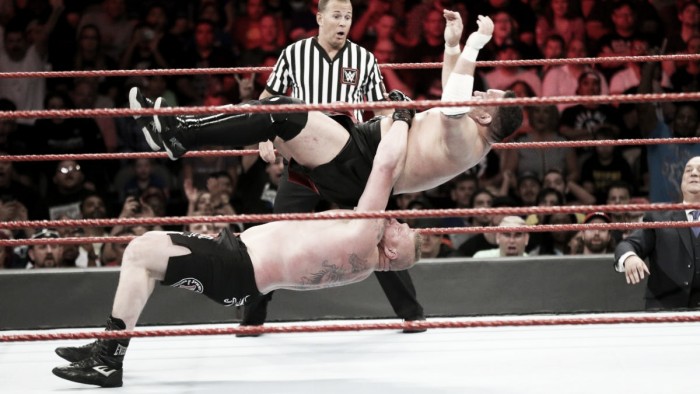 Goodness Gracious Great Balls of Fire, indeed. WWE put on one hell of a show that was stacked with brilliant wrestling, storytelling and some incredibly hard-hitting action that saw enough blood to keep any die-hard Attitude Era fan quiet for an evening.
Everybody involved pulled out all the stops during a night that didn't have any poor matches and had fans on the edge of their seats from the first bell to the very last. Perhaps WWE felt they had to prove themselves after giving the show such an awful name, but given the way it delivered you can guarantee that this PPV will be returning next year, and if it will be of the same quality then it would be welcomed with open arms.
Cruiserweights deliver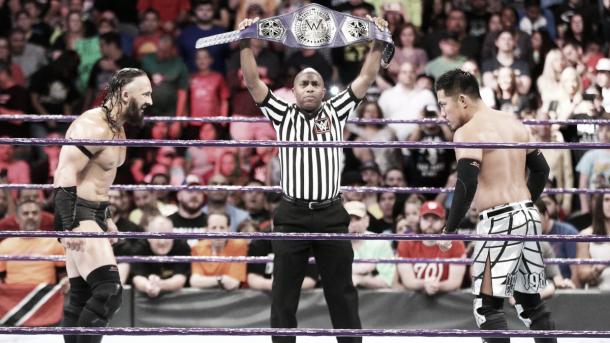 It should come as no surprise at this stage but yet again, Neville put on another brilliant PPV match that set the tone for the entire show and highlighted the potential that cruiserweight wrestling and 205 Live in general has if it was given any time or focus.
Of course, no good match is a solo performance and Akira Tozawa certainly matched what the Cruiserweight Champion had to offer and they told a nice story for the time they were given, it's just a shame this wasn't on the main show for more people to see.
The Eater of pins picks up a win
WWE made the decision to start the show with the match between Seth Rollins and Bray Wyatt, which despite the lack of storyline turned out to be a good quality, hard-hitting match between the two men. It was always going to be a fun match as both guys have plenty of talent but it surpassed people's expectations due to the poor booking leading into the bout.
There was certainly plenty of stiff shots within this and both men really took it to one another with the fans eating it all up and giving Rollins one of his loudest babyface pops in recent memory. However, crowd support wasn't enough for him with Wyatt picking up a rare victory on PPV, using an eye rake to lead into the Sister Abigail which surely sets up a rematch down the line; hopefully with more storyline added to it.
Big Cass destroys Enzo
In what was a glorified squash match, Big Cass showed the world what his run as a heel singles star could entail as he laid waste to his former tag team partner, throwing him around like a rag doll for the majority of the match. Cass soaked up the heat from the crowd and his mannerisms made it clear that he has what it takes to make this heel run a success.
Enzo's pre-match speech was passionate and heartfelt which we have come to know and love for the resident smack talker, but he mounted very little offence during the match which was really the only way it could have gone. It provided uncomfortable viewing as Cass easily controlled the match and that is exactly what should have happened to kick start his singles journey. Will a feud with Big Show now be waiting for the 7-foot superstar?
A tag team classic
Up next was the 30-minute Ironman match for the Raw Tag Team Championships and this was something special that arguably stole the entire show and proved just how brilliant tag team wrestling can be when it is done right, and these four men certainly did it right at Great Balls of Fire.
The match had was paced to perfection and very well structured, blending physicality with high-flying offence that mixed for a dream combination with the fans eating up everything they did. Each pinfall was well constructed and smartly thought out, from the bait and switch into the Brogue Kick to kick start the match, to the fantastic Twist of Fate from the top rope, they pulled out all the stops.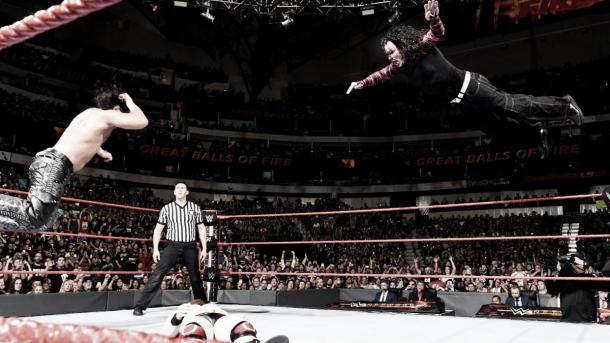 Yet again a Hardy ended up injured from this battle with Matt Hardy getting badly busted open and showing all the signs of a Broken man, the exact sort of tease he should be doing to get the hardcore fans buzzing about the potential prospect. In terms of the match, 30 minutes was a good amount of time and they built up the tension to make the final five minutes incredibly tense, with Cesaro catching Jeff Hardy with a roll up after hitting Sheamus with a Swanton Bomb to win the match and retain their belts.
It didn't give off a feeling that this feud was over either and considering the fact there are no face tag teams it would not be a surprise to see this feud be extended even further. Cesaro and Sheamus have all the makings of a great tag team and really work well together, showing that random pairings can often be the best type of tag team when it clicks right.
Women stand out
After the momentum began to cool on the women's division on the red brand, both Sasha Banks and Alexa Bliss quickly reminded everyone why they should remain fully invested in what the females can do with an excellent match Great Balls of Fire which was certainly a match of the night contender.
The Boss was back to her absolute best after being stuck with little to do since her feud with Charlotte came to an end and she showed everyone why she is one of the best workers on the roster by bringing her A game and creating what was arguably the best match of Bliss' career to date.
Whilst the count out finish is never going to be a popular one, it is fine when used occasionally and it fits Alexa's character fine, whilst leaving the fans wondering which women is actually better. Hopefully, now they can build a real storyline heading into SummerSlam on the back of this great match and the post-match attack should be the start of that.
Repeat viewing
The only match of the night that had little talking points was the battle between The Miz and Dean Ambrose, but that is not to say it was a bad match, as there wasn't a bad match on the entire show. It was more the fact everyone knew what was coming, how the moves would unfold and with three people at ringside it was always going to lead to Miz retaining his strap, which was the correct decision.
We have seen this match so many times in recent months that it is difficult to become overly excited about anything that happens between them and it is now time for Miz to move on to bigger things and hopefully a major feud heading into the Biggest Party of the Summer.
Ambulance chaos
The ambulance match gave fans everything they wanted to see and some attempted murder for good measure. It was a brutal and physical brawl between two of Raw's biggest and toughest superstars and they both brought the fight to each other right from the start. With several weapons involved as well as Braun Strowman going crashing through the LED set, there was something for everyone in this one.
Strowman picking up the victory was also a good decision and the way they did it with Reigns missing the Spear and heading straight into the ambulance also kept him looking strong. But that wasn't enough for WWE as they had him put Strowman into the ambulance after the match, before he crashed the vehicle into a lorry with Strowman inside, in a moment ripped straight out of the Attitude Era.
It was a shocking moment that had everyone surprised as it is something we don't get to see often and haven't seen the likes of in years and it worked to perfection. Whilst the random match that we didn't get to see was very strange and did no favours for either man, seeing Strowman fight his way out of the situation as he stumbled away made him look like a complete monster, whilst it painted Reigns as an incredibly sore loser.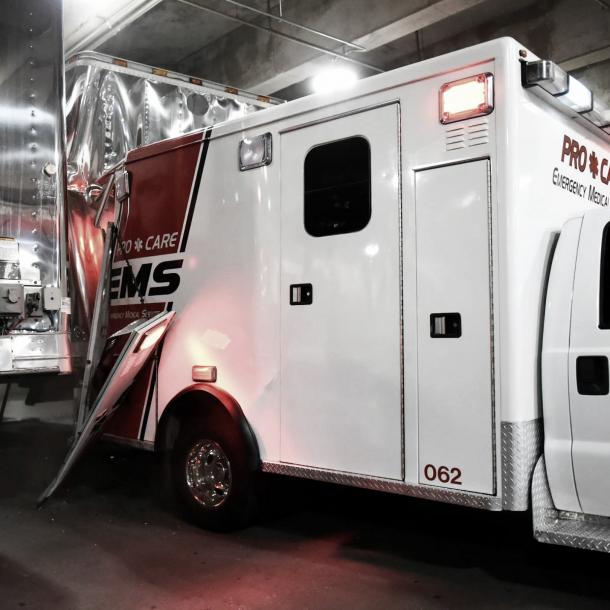 It was strange booking at the end which could have created a double turn, with Roman's actions certainly being very heel like, whilst Strowman's fighting ability and heart painted him as a face; it will be intriguing to see where they go with this or if the status quo will resume.
Joe enters the main event scene
The night's main event had plenty of hype behind it and was considered by most fans as a dream match and for the most part, it certainly delivered; most importantly in cementing Samoa Joe as a true main event star. Before the bell even rang Joe made sure he was going to make the most of his minutes, attacking Brock Lesnar before the match began, sending him crashing through the announcer's table and letting everyone know he was not here to mess around.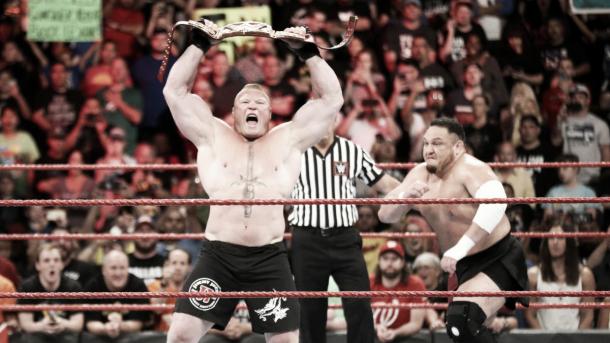 The action between both men was of good quality and was jam packed with big moves, telling a simple story of both men trying to hit their finishers to secure the Universal Championship and they certainly brought the physicality. In the end, one F5 was enough to finish Joe which left some fans unhappy, yet the Samoan Submission Specialist left the event looking like a genuine star who just got caught out with one mistake and is the first person since Roman Reigns to really take the fight to the Beast.
Lesnar's F5 should be enough to put anyone away, that is the purpose of a finishing move and it is nice to see WWE bringing that back in recent months with a lot of moves. Whilst the match certainly could have done with another five minutes, it was a blockbuster battle that had a huge fight feel surrounding it and left fans wanting to see more between both men, which can be summed up as a success. Now it is crucial they continue on this front and capitalise on Joe's current momentum, not letting him go to waste as WWE has a huge star on their hands.
Overall this was a fantastic show from start to finish and showcased just how strong the roster is when you consider the likes of Finn Balor, The Revival and Bayley weren't even used on the card. There wasn't a single match that was below average and several matches were of high quality which was great to see. A hot crowd really added to each bout and the show left a lot of questions heading into Raw which is ideal.
Rating- 8.5/10
Star of the night- Samoa Joe
Match of the night- Tag Team Ironman match
Previous Ratings
Great Balls of Fire- 8.5/10