Olympique Lyonnais and Paris Saint-Germain had no trouble dispatching their opponents in Week 10 of Division 1 Féminine while Fleury 91 picked up their second win of the season as well. The results make for an epic encounter between the current top two teams in France in Week 11.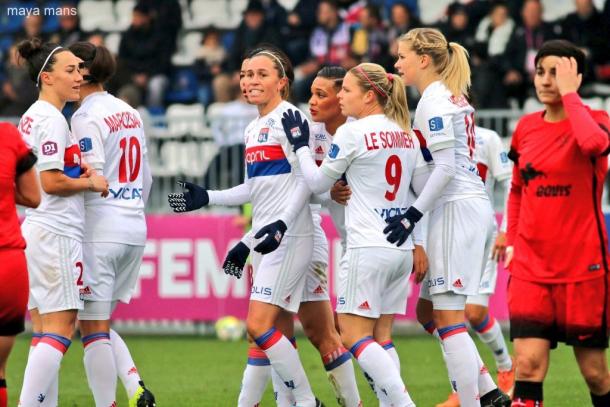 Olympique de Marseille continue to crumble this season as they were trounced 5-0 by the reigning league champions, Olympique Lyonnais. A second half flourish sealed all three points for the visitors after captain Wendie Renard had opened the scoring in the 11 minute from a corner kick. Shanice van de Sanden was the provider for the second goal when her cross found leading league goal-scorer Ada Hegerberg in the 50th minute. Hegerberg grabbed her second in the 55th minute from a corner when she met Amel Majri's cross in the box and out-jumped her marker to power home OL's third of the day. Corner kicks were proving fruitful for OL as Lucy Bronze added to her season tally with her own header in the 58th minute and Keira Hamraoui made it five after some lovely play between Eugénie Le Sommer and Dzsenifer Marozsán.
The Marseille of last season would have proven to be a sterner test for OL but this season, OM have struggled from the outset. Losing key players over the summer has hampered their development as a top division team and those brought in as replacements have not been up to task. This loss leaves OM still rooted at the bottom of the table and looking more and more set to return to the second division at the end of the season. OL continue to march on towards another title and unless rivals PSG can stop them in their two clashes against each other, it looks like this will be a 16th title for them.
While OL were dismantling OM, Paris Saint-Germain were putting on a show of their own as they put three goals past FC Girondins de Bordeaux. Bordeaux's goalkeeper Erin Nayler kept things level in the first half but PSG found another gear in the second half and picked up their ninth win of the season. Marie Antoinette Katoto, who is having an outstanding season for a 19-year old, scored her 11th goal of the season in the 66th minute and put PSG ahead. Brazilian defender Erika made it two in the 70th minute and then Shirley Cruz put the icing on the cake two minutes later with her first goal of the season.
The win keeps PSG right on the heels of OL, with only two points separating the sides. Both teams are set to face off in just over a week's time as PSG travel to Lyon to try and topple the league leaders. Bordeaux knew they would have a difficult time keeping PSG at bay but they remain in fifth place, continuing on their good start to the season.
Fleury 91 were desperately searching for a win to keep them within touching distance of safety and they managed to do just that with a solid 2-0 win over Rodez AF. Sarah Palacin scored the first goal of the match in the seventh minute after latching onto goalkeeper Déborah Garcia's parry of an initial long range shot. The hosts continued to test Garcia but did not find their way back to goal until the 80th minute of the match. A free-kick managed to make it's way into the Rodez area and found Danaé Dunord who dispatched it cleanly into the net to give her side some breathing room and ultimately, all three points.
This was a big match for both sides as they are languishing near the bottom of the top division right now. The win leaves Fleury only one point behind Rodez, who are above the relegation zone for the time being. With games against teams close to them in the table, both teams will have a chance to move further up the table and Fleury will take this weekend's victory as a sign that they can go on a run now and avoid relegation.
Montpellier HSC will not let OL and PSG out of their sights just yet and aided their goal of making the Champions League next season by picking up a strong 5-1 win over ASJ Soyaux. Stina Blackstenius had put Montpellier up in the fourth minute only for Pamela Babinga to equalise for Soyaux in the 55th minute after goalkeeper Méline Gérard had failed to keep ahold of an earlier shot. Soyaux managed to repel Montpellier for most of the second half but lost their concentration as the game began to wind down and collapsed in spectacular fashion. Substitute Marie-Charlotte Léger pushed Montpellier ahead in the 83rd minute, Virginia Torrecilla made it three with a lovely chip over the goalkeeper in the 89th minute, Valérie Gauvin scored her fifth of the season in the 91st minute and then Blackstenius rounded things off in the 93rd minute.
Montpellier deserved the win due to their constant pressure and their willingness to keep going until the last minute to get the goal needed for the win. Soyaux will look back on those last ten or so minutes and know that they have to do better than that in the future.
ASPTT Albi bounced back from their previous draw to pick up a credible 2-0 win over EA Guingamp in Week 10. Manon Rouzies converted an early penalty in the 10th minute and sent Albi on their way. The home side were firmly in control of the game from then on but could not convert their chances. It took a long-range blast from Kimberly Cazeau in the 76th minute to give Albi the lead they deserved and allow them to see out the game comfortably.
The three points pushed Albi above Guingamp into seventh with two points more than their opponents this weekend. It also keeps them five points above the relegation zone and although Guingamp did not manage the win this time around, they are still some distance from the relegation zone as well and will look to keep that status quo as the season wears on.
Note: The match between Lille OSC and Paris FC was postponed until a later date.