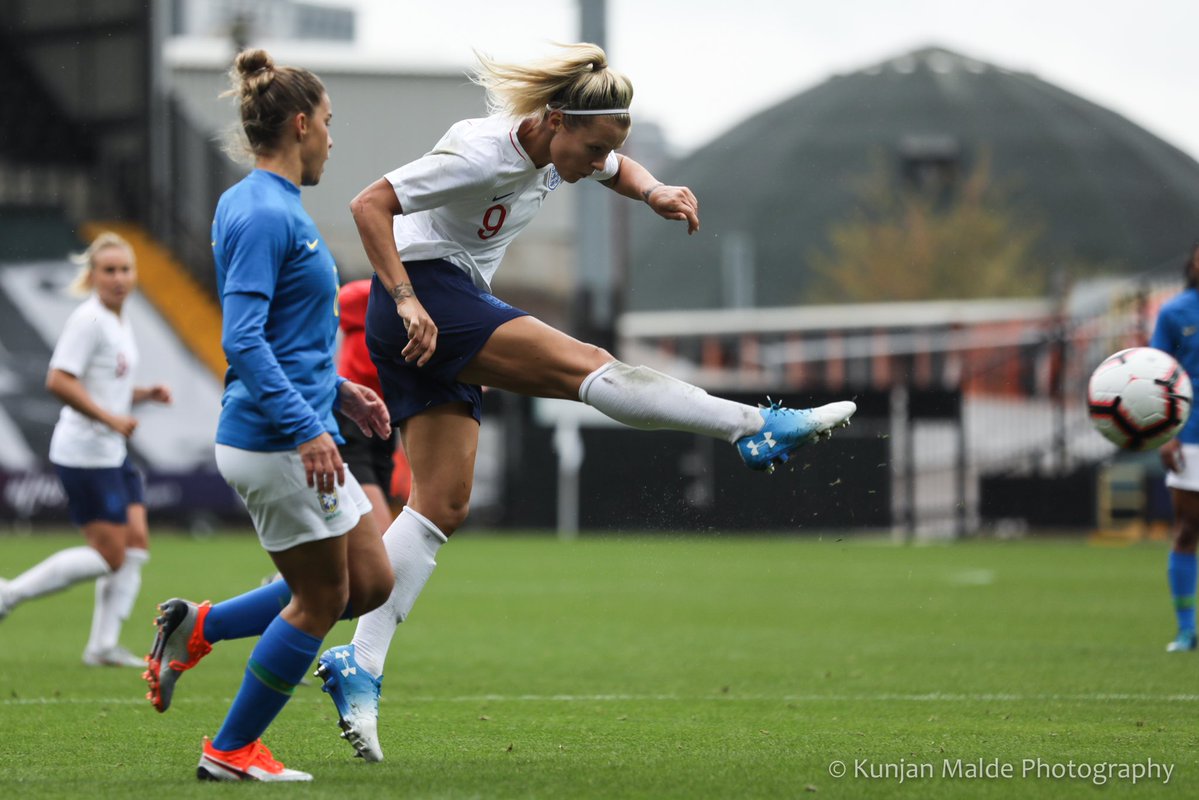 Following England's win over Brazil, we spoke to Rachel Daly about the match, her versatility and being rewarded for her form.
Full-back to centre forward
Thoroughly dominant in attack but unable to convert more than one chance, the Lionesses could have had a glut. Playing not just in attack but as the striker, Daly was clearly a little frustrated she couldn't grab her third international goal.
"As a nine you know you always want to score, I thought I had a couple of chances... I'm gutted about the one near the end but I'm happy we got the win and Fran [Kirby] got the goal."
One of the few footballers in the women's game with a clear brand – RD3, something that harks back to her full back days – Daly ditched the familiar 3 to don a less familiar 9 in Nottingham. Despite her affinity for the number, the forward is more than happy to have any number on her back as long as there's three lions on her chest.
"I think I'll always be a 3, three is my favourite number but I mean… I'll take any number really, especially for England."
A full back, a winger, a centre forward, Daly is exactly the type of versatile players all managers want to have in their squads.
"For Houston I've been playing the nine all season and season, I think what he [Phil Neville] likes is I'm versatile and I bring something different, so I'm used to playing the nine, more so than out on the wing now. He had a word with me and told me what he wants with me and I just try to deliver."
Someone who's been racking up the airmiles in NWSL, Daly as seen the inside of as many airports as changing rooms, the frequent and heavy travel something she's learned to cope with over the years.
"I've learned how to manage it better now, I came home – we're in the off-season now – and I came home early for a few days this time around which was better, made me feel more refreshed this time around so that was good."
Focus on England
With a number of her NWSL teammates opting to spend the off-season in the W-League to keep them playing all year long, the attack admits whilst she's open to an Australian adventure, her focus is keeping herself at the right level for England.
"Not this year, I think there's a lot coming up for England and right now it's all about managing load and about what I need individually versus getting hammered under with loads of games. I definitely think it's a possibility for the future but not now."
A consistent performer for an under-performing Dash team, the Houston side had Vera Pauw take charge over the 2018 season, the experienced coach bringing something different to Texas.
"I think change can be good, change can be bad, you just have to understand certain situations and just keep bringing what you bring and hopefully that will help the team and no matter what you're faced with you just have to do the best you can so just deal with it."
A peripheral figure under Mark Sampson despite her strong league performances, Neville has consistently rewarded Daly for her domestic form, something that has given her a boost.
"Phil is very honest and he's very good at communicating with you, you know where you stand in the squad. And what he wants from you, what he expects from you each time so I think that's brilliant for me as I like that but he's very much about form so that gives you that bit of push. So you know if you're playing well, you're more likely to play."