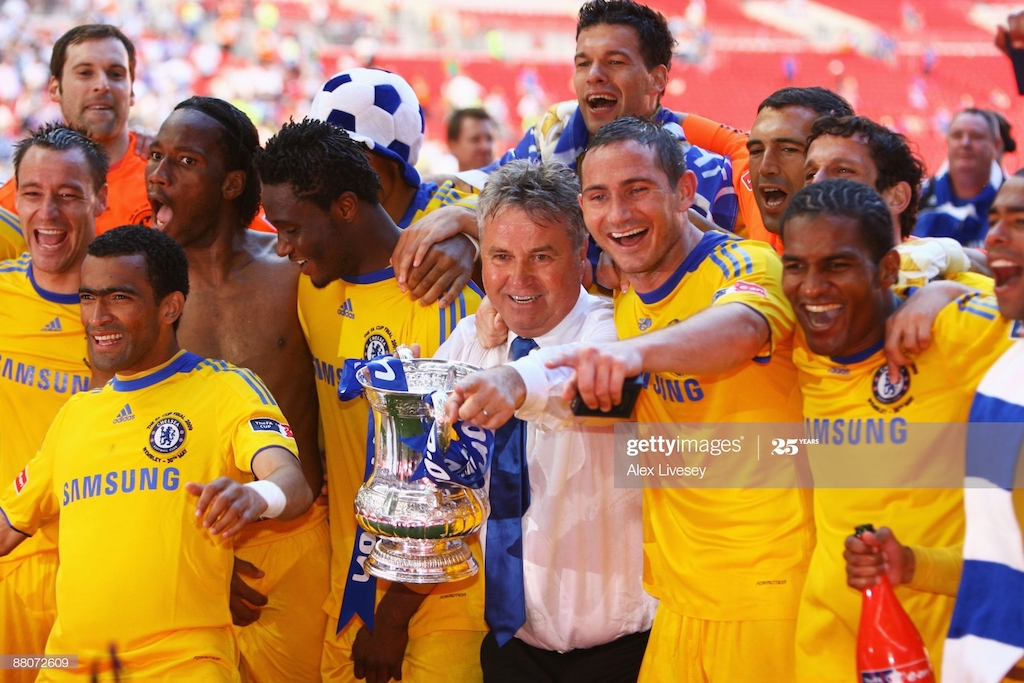 Guus Hiddink will always be remembered as the man who lifted spirits around Chelsea Football Club, on two occasions.
Despite never being the permanent manager of the club, Hiddink has managed Chelsea on a temporary basis twice.
Once in December 2015 following the departure of Jose Mourinho, but before that he was manager for a short time in 2009.
He replaced Luis Felipe Scolari and guided the club to a respectable third place finish in the Premier League, a Champions League semi-final and, most importantly, an FA Cup triumph.
Hiddink recalls his 'special Wembley day' when Everton were the opponents.
Hiddink knew that, despite steadying the ship and securing Champions League football for the Blues for a 7th successive season, he would only be remembered for the trophies he won.
Just a few weeks before the Fa Cup final, Chelsea were knocked out of the Champions League at the semi-final stage after a controversial match against F.C. Barcelona.
The Fa Cup was now Hiddink's only chance of a trophy before he left Chelsea.
It was important for the team to start well in the final but they fell behind to Louis Saha's remarkably early strike.
The goal was clocked at 25 seconds, still the earliest goal to have ever been scored in an Fa Cup final.
"We were 1-0 down, surprisingly we got caught very early but the team reacted with confidence because they were not panicking, not thinking it is a final and it is slipping away.
'Didier Drogba scored with a header and then Frank Lampard with a left-foot shot."
And what a goal it was from Frank Lampard.
The current Chelsea boss skilfully got past Phillip Neville before launching a left-footed shot from outside the area past Tim Howard.
The 2-1 scoreline ensured Chelsea lifted the trophy on that sunny afternoon at Wembley.
Hiddink looks back on that day with very fond memories:
"The FA Cup, not just in England but worldwide, is recognised as the cup to win," recalls Hididnk.
"I was fined later because I smoked a celebration cigar inside Wembley!
"When we won, it was beautiful to go up the stairs and see the players and the captain grabbing the cup, and I happened to be the last one and to have it also, that was a thrilling moment."