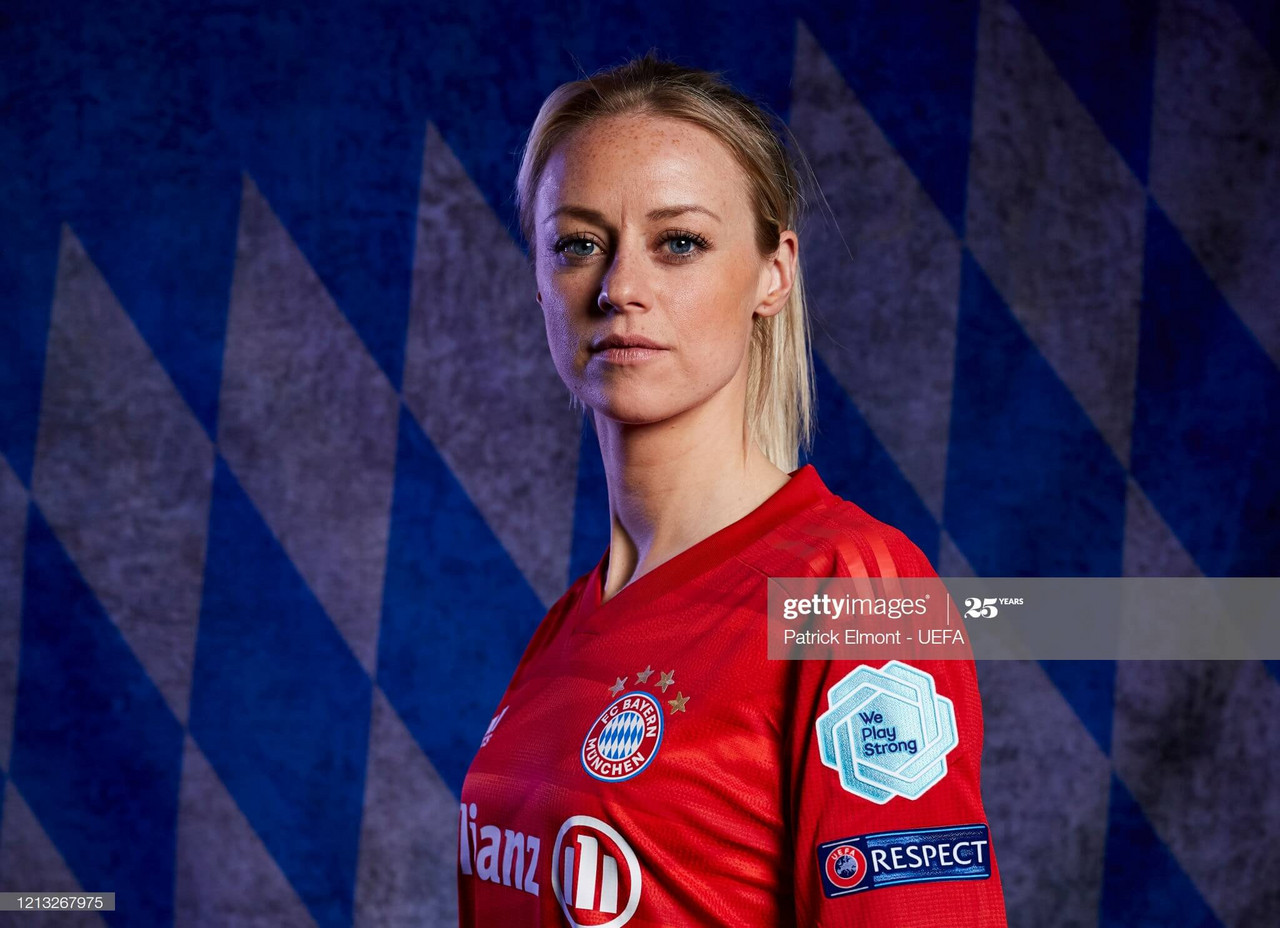 With five rounds to go in the Frauen Bundesliga and their sights set on victory, FC Bayern München still find themselves 8 points behind their biggest competitors from Wolfsburg.
VAVEL UK spoke to Swedish national team player, Amanda Ilestedt, centre back in FC Bayern München, to see what she had to say about this weekend's clash with her previous team. Ilestedt joined the Reds after her two-year contract with 1. FFC. Turbine Potsdam expired at the end of the 2019 campaign.
The two sides played each other in the 7th round of Frauen Bundesliga back in October, a 3-1 win for FC Bayern. Bayern scored all three goals in the first half through Simone Laudehr, Linda Dallmann and Jovana Damnjanovic. Potsdam's were gifted a goal by the Reds when Carolin Simon was unlucky enough to put the ball into her own goal. Back then Ilestedt didn't play due to a small injury but this time she is ready to face her old teammates.
"It's going to be a special game for me. I have a lot of good memories and the weirdest thing will be to go and get changed in the 'wrong' locker room.
"When the match kicks off, I'm sure that those feelings will fade and it will be just like any other game. I'm looking forward to a good match with high quality." Ilestedt reflects.
"Lara Prašnikar is an incredibly good and hardworking forward for Turbine Potsdam. She has really had her breakthrough this season if you ask me. She is technically good with the ball, makes great assists and last but not least; she knows how to score!" Ilestedt says.
FC Bayern have several players to look out for. With several national team players from different countries, they hold a strong squad. Even so, Ilestedt is sure of the fact that it will be a tough game:
"To win this game we really need to keep our defence tight. The close defending along with the one-on-one duels will be important to win. When moving forward we will have to be creative and move quickly since FFC. Turbine Potsdam are really good at marking and covering their opponents."
This season and personal development
The season will surely be memorable for the whole world and the break all leagues were forced in to has offered players both time to reflect and to learn new things.
"This season has really been upside down, a season where football hasn't been the most important thing in our lives. It has been about people's well-being, health and lives.
"For us as players, it has been several challenges; we have been forced to learn new things, both new restrictions and rules in the society such as isolation and curfews but also to learn how to keep in shape and to train individually.
"This is a season that has really taught me much about myself and how to deal with things mentally. I hope and think that all of us are going to look back on this season and appreciate all the things we have learnt." Ilestedt says.
She moved from Sweden to Germany and the Frauen Bundesliga, coming from FC Rosengård back in 2017. Amanda Ilestedt has won the Damallsvenskan several times with the Swedish Top team from Malmö. Her development has been obvious to anybody who has followed her career.
"I really feel that since coming to FC Bayern München, I've been taking huge steps forward in my development as a player.
"To be able to train and play with world-class players that challenge me every day during every session is a great opportunity for me to become a better player which I'm very grateful for. For me this is the best environment to be in at this moment of my career."
To be a professional player in Germany and the Frauen Bundesliga during the Coronavirus crisis is very different. Several other leagues around the globe have been cancelled, whilst Germany have been able to resume women's football. The women's game around the globe has been progressing for many years and Ilestedt feels lucky to be a part of it:
"This, what I'm a part of now here in Germany and with FC Bayern Münich, makes me feel privileged. To be able to train at such great facilities with full-time coaches and physiotherapists is a dream come true for me.
"Of course, I know that not every club has the opportunity to offer what FC Bayern Munich offers me and there are still a lot of improvements to be done in women's football but I really feel optimistic about the future. We seem to be heading in the right direction."