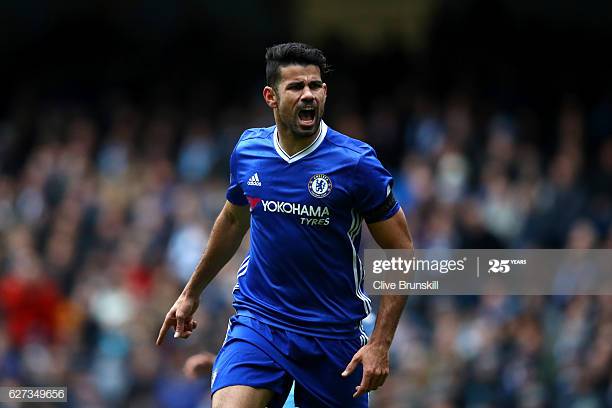 Diego Costa was like marmite for Premier League fans, you either loved him, or you hated him.
Chelsea's problem since the departure of Didier Drogba in 2012 was the fact that the Blues had no leading forwards who'd score 20 plus in a Premier League season.
That all changed when Jose Mourinho made a statement of intent by signing Diego Costa from Atletico Madrid. He was already a proven goalscorer at the time, Chelsea fans were just hoping Diego brought that to the Premier League.
Cesc Fabregas was also signed by the club, in what was a perfect signing for the Blues.
Hitting the ground running
It didn't take long for Diego Costa to open his Premier League account. Diego scored on his debut against Burnley with just 17 minutes played. He didn't stop there.
Costa then scored against Leicester, in the second game and the scored twice away to Everton. His first hattrick came in only his fourth game for Chelsea. Bagging a hattrick against Swansea, Costa made that £32 million price tag seem like a right bargain.
Mourinho's men went on to lift the Premier League title, finishing 8 points clear ahead of second-placed Manchester City. Diego scored 21 times that season, 20 coming in the league.
Costa, and Chelsea, struggled for form in the 15/16 season. In 28 league appearances, Costa only scored 12 times, with the Blues finishing 10th.
Spectacular ending
His final season was nothing short of spectacular. The West London side were guided by the Italian Antonio Conte. After a disappointing 15/16 campaign, Conte brought excitement back to the Bridge. In a new 3-4-3 formation, Conte managed to get Diego firing on all fronts again.
In 35 Premier League appearances, Diego scored 20 goals with the Blues managing to win back the title in what was a brilliant year.
Therefore, in 89 Premier League appearances, Costa found the net 52 times. An excellent return, Diego will be remembered as a great talisman for the club.
Overall, in 120 appearances, Costa scored 58 times.
In the 14/15 season and the 16/17 season was when Diego was at his pure best. Bullying defenders left, right and centre. The link-up between Fabregas and Diego in those seasons was just jaw-dropping.
Frustrating at times, Chelsea fans appreciated his efforts for the club. When at his best, there was no stopping him. For those three seasons, Chelsea finally had that player who could take the game by the scruff of the neck and a player who could always find the back of the net.