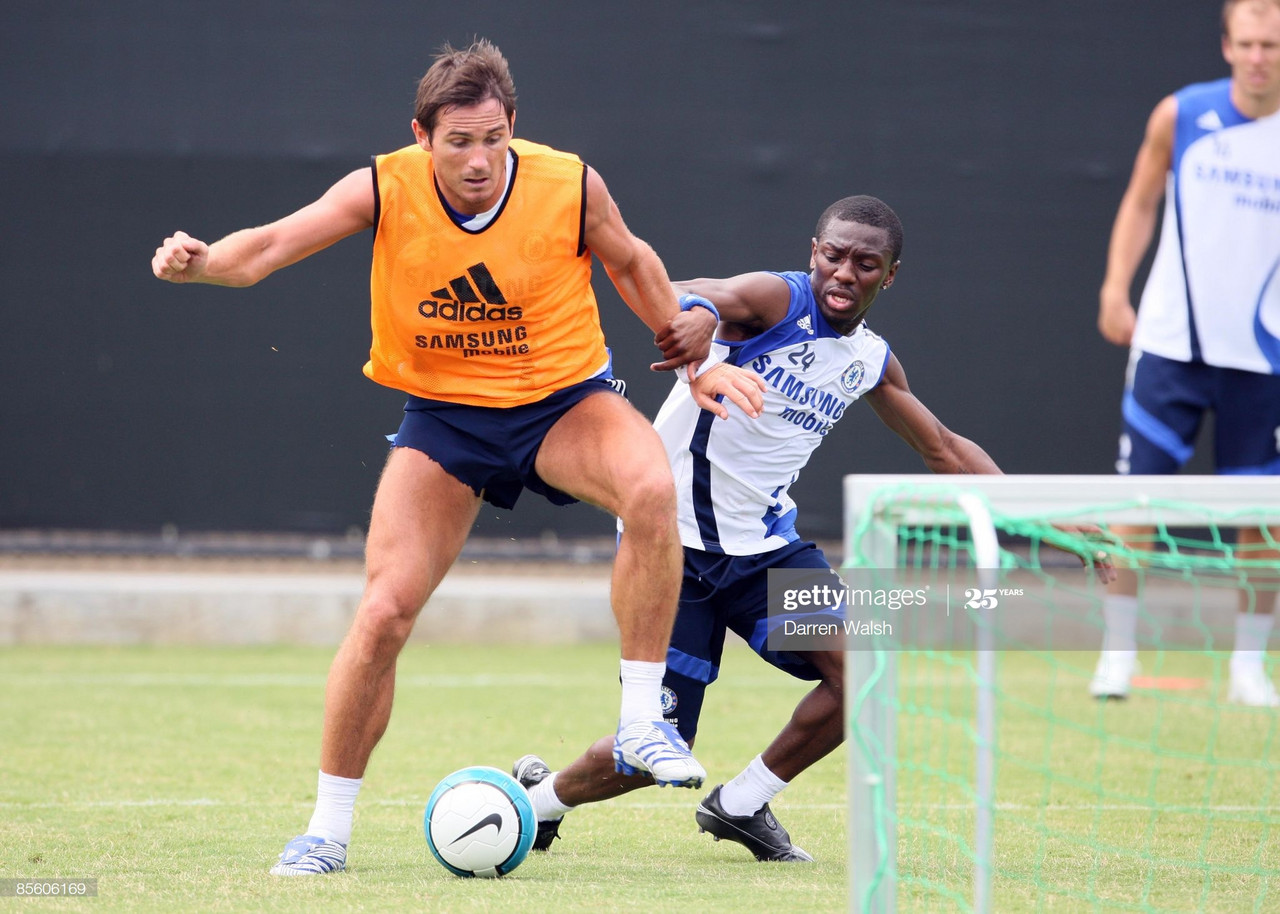 In the modern era, you tend to find players of a certain quality move around a number of clubs at the elite level. Some may even switch between two clubs at the very top of a division. Take Robin Van Persie's big money move from Arsenal to Manchester United in 2012.
When looking at Chelsea and Manchester City, there are a number of players who have played for both sides in the modern era. Some, that have transferred from one to the other - in particular Argentine Goalkeeper Willy Caballero.
He doesn't make our list however, as we take a look at five of the best players to have worn both shirts since the turn of the century.
Frank Lampard (Chelsea 2001-2014) & (Manchester City 2014-2015)
The now Chelsea manager famously wore the Royal Blue in SW6 for 13 years, making 648 appearances for the Blues during that time.
His movement from midfield and goalscoring ability during this time, made him one the world's best midfielders and arguably the best English midfielder of his generation.
After Jose Mourinho joined Chelsea in 2004, Lampard was made permanent vice-captain to John Terry, with the two players sharing a long-lasting bond both on and off the pitch to this day.
Lampard would captain Chelsea on several occasions during Terry's absence, with the ultimate captaincy role being leading his side during the 2012 Champions League Final - a final they won on penalties in Bayern Munich's backyard.
He finished his Chelsea career with records in abundance. One being that he became the Club's all-time leading goal scorer, surpassing former Blues striker Bobby Tambling with 211 goals in all competitions.
His move to Manchester City came as a surprise to all those who didn't realise the underlying connections that one football club would have with another, even if they were on opposite sides of the Atlantic Ocean.
Lampard, following the expiration of his contract in West London, agreed to join New York City in the MLS.
Although not stated at the time, it was an agreement between Lampard and the City Football Group who control both clubs that he would then be sent on Loan to Manchester City in the Premier League for the duration of the 2014/15 Premier League season.
Lampard performed well in, what was then, Manuel Pellegrini's side, scoring 8 goals in 38 appearances across all competitions, before heading to New York permanently following the end of the season.
Daniel Sturridge (Manchester City 2006-2009) & (Chelsea 2009-2013)
A Cityzen from a young age, Daniel Sturridge came through the youth ranks at Manchester City before making his first-team debut in 2006.
Beloved by fans from when he first stepped onto the pitch at the now Etihad Stadium, he went onto score 6 goals in all competitions over the next three seasons.
His contract at the Etihad expired in the summer of 2009, when he was immediately snapped up on a free transfer by then Chelsea Manager Carlo Ancelotti, who looked to add Sturridge's qualities to an already world-class strike force that contained both Didier Drogba and Nicolas Anelka.
Sturridge contributed well over the following three and a half seasons at Stamford Bridge, winning the Premier League, FA Cup twice and the Champions League, scoring 24 goals in 96 appearances in all competitions.
Sturridge's progression over his time at Stamford Bridge, as well as a successful loan spell at Bolton Wanderers put him on the radar of former Chelsea coach Brendan Rodgers, who paid £12 million pounds to take him to his Liverpool side in January 2013.
Sturridge then went onto form one of the most potent strike forces in world football the following season, with then strike partner Luis Suarez.
Shaun Wright-Phillips (Manchester City 1999-2005 & 2008-2011) & (Chelsea 2005-2008)
Shaun Wright-Phillips was deemed to be the next big thing when he burst onto the scene at Maine Road for Manchester City at the turn of the century.
He had made the switch to Manchester City after being released by Nottingham Forest at the age of 17 and went onto make four appearances in what was then the First Division, now the Sky Bet Championship.
Wright-Phillips' first season at the club saw promotion to the Premier League, with the young winger more involved the following season. He made 19 appearances across all competitions as his side unfortunately bowed out of the top tier at the first time of asking.
City and Wright-Phillips would return to the Premier League immediately as they won the First division in the 2001-2002 season, with the Englishman scoring eight goals in 40 appearances across the domestic competition.
After three good seasons back in the top division with Manchester City, Wright-Phillips caught the eye of the Chelsea Manager, Mourinho, who was looking to add another wide player with raw pace and trickery to his ranks, after already having the talents of Damien Duff and Arjen Robben at his disposal.
His time at Chelsea went well from most people's perspectives, with the player scoring ten goals in 125 appearances across all competitions whilst at Stamford Bridge.
The young player now had medals to show for his endeavours as well, namely one Premier League title, an FA Cup win, League Cup triumph and a Community Shield win.
He returned for his second spell at Manchester City when the oil money began to spill into the Etihad. Then City manager Mark Hughes paid in the region of eight million pounds to bring the winger back to Manchester, with Robinho and several other world class talents making big money moves to the same place across the summer of 2008.
The return brought indifference from a playing perspective, with him playing well in the first two seasons, but not playing a single game in his final campaign for City, a season in which they won the Premier League for the first time under Roberto Mancini.
Wright-Phillips moved onto London side Queens Park Rangers at the end of that season.
Kevin De Bruyne (Chelsea 2012-2014) & (Manchester City 2015-current)
The now world-renowned playmaker Kevin De Bruyne plays a key role in the current Manchester City side, under the stewardship of elite manager Pep Guardiola.
De Bruyne made his first foray into English Football by joining Chelsea in 2012 as the Blues signed a number of players. Chelsea had begun to look to the future acquiring highly-sought after European players, developing them and selling them for a large profit.
His time at Stamford Bridge would mainly consist of time spent away from the club, in an extremely successful loan spell with Werder Bremen in the Bundesliga.
The clout the young Belgian had gathered during the loan spell made him hot property across Europe.
Chelsea manager at the time, Jose Mourinho tried to put De Bruyne into his plans for the 2013-2014 season, but having been unimpressed with his nine appearances up to January, he was subsequently sold to German side VFL Wolfsburg.
Just 18 months later, De Bruyne was back in England. Manchester City and Pellegrini deemed him to be of the world class playmaking quality that they required.
De Bruyne has shone from the moment he walked through the doors at the Etihad, having so far amassed 51 goals in 211 appearances for the Cityzens.
Add to that two Premier League titles, three League Cups, an FA Cup and a Community Shield victory, it is fair to say that the now experienced attacking midfielder has certainly fared better in England second time around.
His sights will be purely set on upsetting his former club on Thursday evening.
Nicolas Anelka (Manchester City 2002-2005) & (Chelsea 2008-2012)
Former French International Nicolas Anelka has a foot in both camps for this Thursday's fixture.
Having played for several clubs up until 2002, including Real Madrid and Arsenal, for whom he won a Champions League (Real Madrid) and Premier League title (Arsenal) with retrospectively.
The all action forward that first appeared on English shores in 1997, was back again. This time with Manchester City manager Kevin Keegan who spent 13 million pounds to bring Anelka in from Paris Saint Germain.
In two and a half seasons at the City of Manchester Stadium, Anelka finished as the Clubs top goal scorer twice, before making a switch to Turkish giants Fenerbahce.
Several years later, with Anelka reaching a prime career age of 29, he could've been forgiven for thinking that the World-class clubs that once chased for his signature wouldn't be knocking again.
However, after a stellar 18-month period for his side Bolton Wanderers, who he'd joined after Fenerbahce, Chelsea came knocking, with manager Avram Grant looking for some extra firepower ahead of a long run to the end of the season.
Four successful years in SW6 followed, with Anelka winning the Premier League, FA Cup twice, the League Cup and the Community Shield, as well as the Premier League Golden boot in the 2008-2009 season.
Nowadays the Premier League icon is back in France, managing LOSC Lille's youth team.