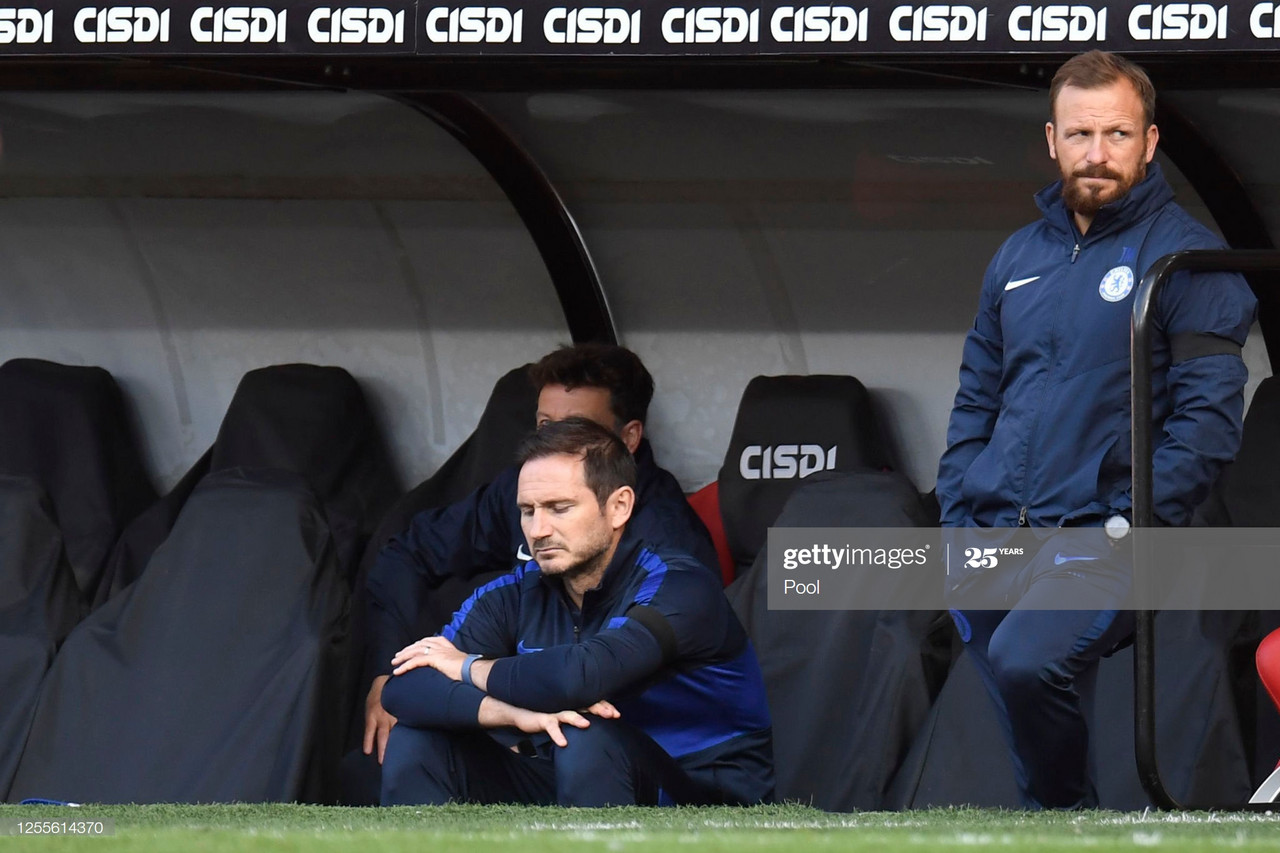 Second best throughout the entire contest was the main talking point that many an onlooker would've taken from Chelsea's performance.
It was sadly another case of the Blues not doing enough with the amount of possession they had; with them having 76% of the ball over the course of the 90 minutes at Bramall Lane.
Chris Wilder's Blades, on the other hand, came with a clear plan to stifle their opponents, with every man from one to eleven putting in a solid performance.
Two from David McGoldrick, incidentally his first two in the Premier League this season, as well as a header from Oli McBurnie, were enough to give Sheffield United all three-points.
Blades stronger in every department
Chelsea boss, Frank Lampard, was keen to point out the host's superiority throughout the contest when questioned by Chelsea's in house press team, with the former Blues midfielder stating that the Blades were physically and mentally sharper.
On this, he said: "They were better than us physically, in the mind and with the ball so you lose the game.
"They were stronger than us. We don't have crowds at the minute so you hear every voice and all I could hear was Sheffield United voices so they were stronger in that sense.
"They had more voice and more personality, which reflected in the way they played. They're good players and they're a good team - we all know that this season so if you come here and perform below-par collectively as we did, it's going to happen."
Too slow, too weak
Much of the Blues' play since the resumption of top-flight football has involved getting their wingers and flair players involved in the matches as much as possible, which has more often than not, been either Willian on the right flank, or Christian Pulisic down their left-hand side.
Lampard was clearly dejected by his side's inability to press on with what has served them so well in recent contests.
He continued: "We were too slow with the ball, we weren't even getting our wingers into the game and they have been fantastic since the restart."
He was also keen to add context to his changes at half-time, as the Blues were forced to change their shape in order to gain a foothold back in the contest.
He added: "We matched them because we have to respect their shape.
"'We tried to get some more control of the game, which we did have after that but we never looked overly threatening and they still had the counter-attack.

"It definitely made us look more solid against their shape but already at 2-0 down you make it very difficult for yourself."
Disappointing manner of defeat
To add to Lampard's frustration, was the manner in which each goal was conceded, with individual errors and lapses in concentration proving to be a killer once again.
The former Blues midfielder stated: "They're disappointing goals, mistakes that led to goals, individual errors, and if you do that you will lose football matches against good teams.
"I've got to be careful not to over-analyse this one because it's what you do, analyse all season and review things.
"What we have to do now with that game is put it to bed because the only thing that matters now is that we fight for top four and we're still in that race because of how we've been this season.
"We have to put this game away very quickly but I learnt a lot, I won't forget that. You tend to learn more in tough moments and tough games but that's for me to deal with moving forward."
Lampard is right with the last comment he makes, because at this stage of the season it is about dusting yourselves down and picking up as many points between now and the final day.
Difficult end to the season
Chelsea however, have a difficult run in, with Norwich, Liverpool and Wolves all to come in the league, as well as an FA Cup semi-final with Ole Gunnar Solskjaer's Manchester United to add to an already 49-game long campaign.
Points, in this case in particular, are not a given. Everything the Blues do on the pitch between now and in two weeks time will determine whether Lampard's first season as Chelsea boss has been a success or mediocre.
Chelsea could drop to 5th by the time they face Norwich at Stamford Bridge on Tuesday, if results elsewhere go against them. With the top four a must for automatic Champions League qualification for next term.
The reaction from here is important. Lampard will be keen to impress the wider public of Chelsea supporters worldwide, that his side are nowhere near where they want to be.
He said: "I'm not actually concerned so much about the top four today, even though all I do is watch the games on TV and consider where we're at and what we want to do.
"Of course I want to get there but today I'm concerned about how we performed and I learned a lot about that. We cannot approach Norwich or Manchester United or Liverpool or Wolves in the same way we did today.
"It's not one to cry our eyes out over for days. We know where we're at - we have the opportunity to fight for the top four, which not many expected us to do at the start of the season. We're nowhere near a finished article, I know that and we have to improve."