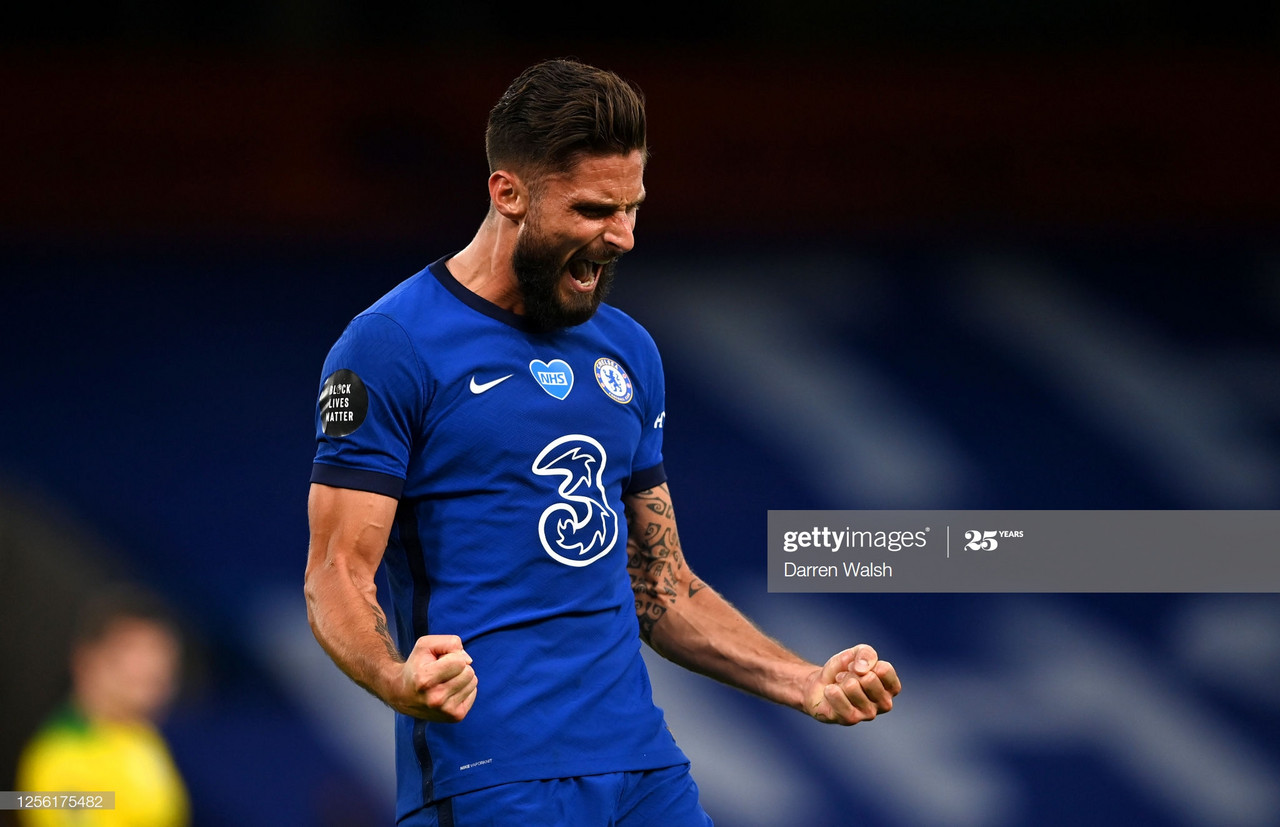 Chelsea got back to winning ways against Norwich City last night at Stamford Bridge via Olivier Giroud. There was not much to boast about, but at this point of the season, it simply does not matter.
It was vital that Chelsea won after losing to Sheffield United on Saturday evening. In addition, Leicester City and Manchester United dropping points meant Chelsea kept their place in third.
The loss to The Blades turned out to be more of a warning, a sign which shows next time, you will be punished.
Norwich did not muster any real kind of opportunity throughout the 90 minutes. The away side did not have a shot on target throughout the game, with just 32.5% possession.
A sign on why they have failed to beat the drop this season. Chelsea have been known for leaking goals this campaign, 49 in total, Norwich did not attack Kepa Arrizabalaga which suited the home side.
Left-back conundrum
Marcos Alonso came back into the side last night; his impact was noticeable due to the attacking capability he has on the side. Liverpool and Wolverhampton Wanderers are two final fixtures for Chelsea and there is an argument to say the Spanish left-back will not feature despite his impressive display.
His defensive duties have been exploited this season which leaves holes for Chelsea. Liverpool and Wolves will give Chelsea problems going forward, Frank Lampard may opt for Cesar Azpilicueta at left-back instead.
The return of Kovacic
The midfield added experience against Norwich with Jorginho, Matteo Kovacic and Ruben Loftus-Cheek. The latter had struggled since the football restart. His one year plus achilles injury has meant he has been rusty in his first team football; this was highlighted against Aston Villa in June.
Nevertheless, his sharpness is coming back after a good 60 minute plus in the tank.
Croatian midfielder Kovacic was selected by Lampard in aid to control the game. The number 17 gave a trademark performance in the middle of the park, seeing plenty of the ball and making the five-yard passes which eventually exploits space in the opposition two banks of four.
His performance will not make any highlight reels, but he did his job, and did it well.
Experience proving vital
The main point of the attack was Olivier Giroud. The French striker has been in good form since the restart, appearing in every game and scoring four in seven.
He is yet to see out a full 90 minutes in the Premier League this season, but he has been reliable for Lampard.
He had a few chances against Norwich so you may say he should have scored at some point. His header in first half stoppage time gave Chelsea the lead at the perfect time.
Uncharacteristically quiet
Christian Pulisic was quiet all evening for Chelsea. His form has been phenomenal since the football restart and despite a lesser performance, Captain America still managed to find an assist, which now takes him to nine goals and nine assists in his debut season.
This was a further display that he adds goal contributions even when not at his best, something in which top players are exquisite at.
Looking ahead to a tough end of the season
The game against Norwich will not be spoken about as a highlight of the season but it could be remembered as a valuable three points. Chelsea travel to Merseyside in the next Premier League game, all eyes will be on Liverpool and their trophy celebrations.
Before the trip to the new champions of England, Lampard seeks glory in the F.A. Cup with Manchester United on the horizon. The semi-final clash is set to be a good watch at Wembley Stadium.
Ole Gunner Solskjaer has beaten Lampard three times this season but this will not faze the Chelsea boss.
He will expect his side to excel through to the final, with Manchester City and Arsenal both seeking the same glory in the other semi-final tie.