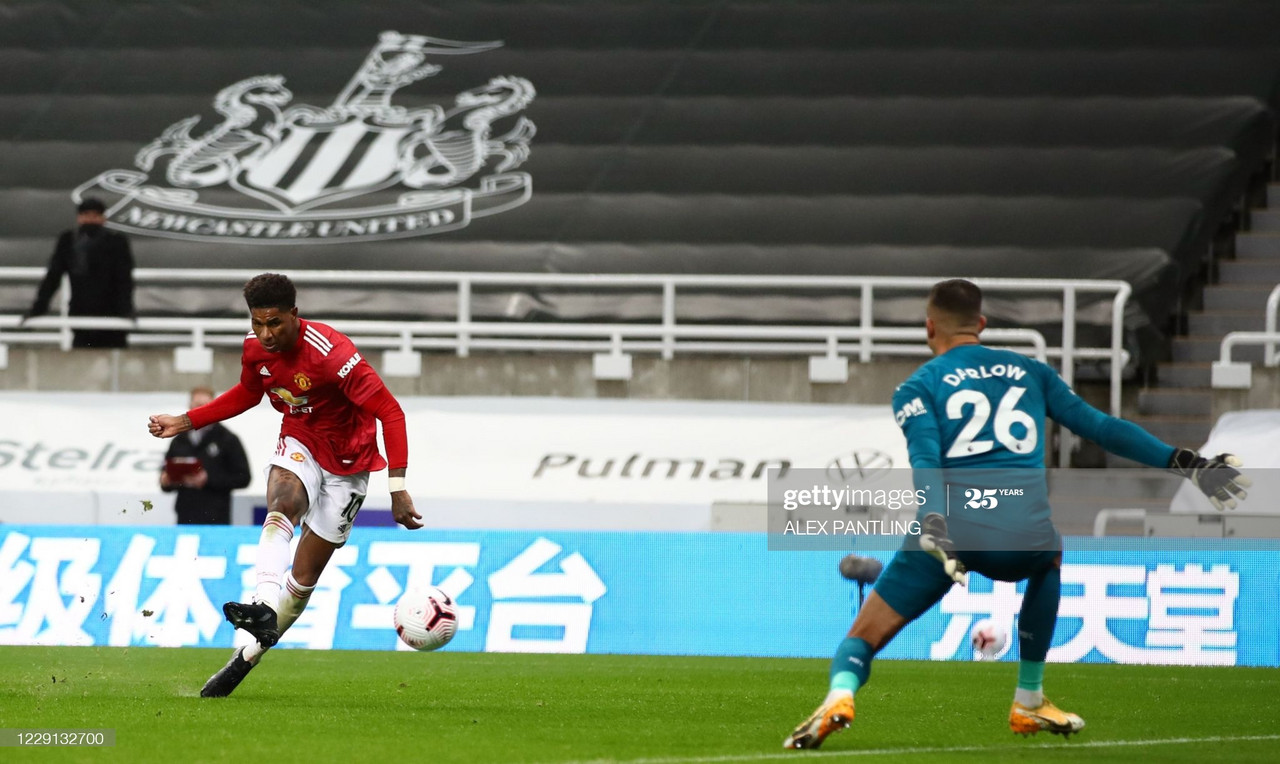 Will the Premier League calm down now? Probably not, although, my fantasy football team could do with some predictability. All is not well for Jonny in his mini leagues!
These fixtures comes after the first set of Champions League and Europa League matches and there was a lot of joy to be had for English teams. Those involved now enter another period of fixture congestion with European matches now being played on a weekly basis. Rotation will be needed.
Game of the week
Manchester United vs Chelsea: Stamford Bridge, Saturday 17.30 (Sky Sports)
To quote a line that Paul Merson used to use, Manchester United are like a bag of revels: you don't know what you're going to get! Despite an underwhelming transfer window, they have some brilliant forward options.
Chelsea, as expected, are taking a while to get going. A lot of new players came in, this summer, and some of those recruits are yet to start in the Premier League. Frank Lampard will take some solace from the fact that his team are yet to suffer a high profile embarrassment like many of their rivals have. Not many thrills but not many spills.
Ole Gunnar Solskjaer deserves tremendous credit for fighting back after the humiliating 6-1 defeat to Tottenham Hotspur. The Norwegian remained positive and has managed back-to-back victories against Newcastle United and Paris Saint Germain. His tactical switch from a back-five to a midfield-diamond worked wonders in France.
Lampard has tinkered his setups to counter opponents in the past. He first switched to a back-three against Wolverhampton Wanderers, catching everyone by surprise, and his team stormed to a 5-2 win. It will be interesting to see whether he switches systems against a United team that could stick with the same setup that fared well against PSG.
This clash will be a great tester for the in-game management of two managers who always seem to have a point to prove.
Solskjaer and Lampard are cut from similar cloth. They have both been fast-tracked into big jobs because of their playing days at Old Trafford and Stamford Bridge, respectively. It means that there are always a result or two away from getting the sack ... on social media at least!
Prediction: 1-1
Friday
Aston Villa vs Leeds United: Villa Park, 19.45 (BT Sport Box Office)
Aston Villa. Wow. What a remarkable start to the season for them. Defensively resolute with attacking sparks everywhere. A loan deal for Ross Barkley was a brilliant bit of business. It just adds another string to Villa's offensive bow, forcing opponents to reevaluate their priorities.
It was a poor result for Leeds United against Wolves. Their opponents have struggled to get going, this season, and the newly promoted outfit would have been smelling blood. But Leeds let themselves down by not playing to their usual high tempo.
Villa have been excellent but they can't keep winning forever! Tight games against Sheffield United and Leicester City could have gone either way. They'll fancy their chances at home to Leeds but Marcelo Biela's team are no pushovers.
Prediction: 1-1
Saturday
West Ham United vs Manchester City: Olympic Stadium, 12.30 (BT Sport)
It wasn't just the comeback of the season from West Ham United, it might be the best Premier League comeback in the past ten seasons! 3-0 down with five minutes to go against a rampant Tottenham Hotspur. And then it's 3-3! Kudos to Manuel Lanzini for the goal of a lifetime with virtually the last kick off the game!
Manchester City had been hammered by Leicester City in the third week of the campaign and, suddenly, their title fight was being written off. They're three points behind Liverpool with a game in hand! Their recent victory against Arsenal exemplified a strong level of maturity.
David Moyes will still be glowing after last week's drama but the Scot will be aware that his team were fortunate. Spurs won't often throw away three goal leads. Pep Guardiola's team are lacking explosively but they should back themselves to see the game out if they nudge ahead.
Prediction: 1-2
Fulham vs Crystal Palace: Craven Cottage, 15.00 (BT Sport Box Office)
Fulham look really up against it but they have responded well in recent weeks. Their performance against Wolves, before the international break, was worth a point. They then built on that optimism to secure that illusive first point against Sheffield United. In truth, that point should have been three.
Crystal Palace started the season like a bullet train but that euphoria has been halted. A 4-0 thumping at the hands of Chelsea and a disappointing 1-1 draw to bitter rivals Brighton & Hove Albion has frustrated fans. Roy Hodgson's defensive style is harder for supporters to accept when results are not yielded.
Scott Parker will be backing his team in this London derby. Their upturn in performances will have pleased him. They should have drawn with Wolves and they should have beaten Sheff United so, by that logic, the win is just around the corner!
Prediction: 1-0
Liverpool vs Sheffield United: Anfield, 20.00 (Sky Sports Box Office)
Liverpool will be full of anger. They played a really good game in the Merseyside Derby and seemed to be suffering against Murphy's Law in the end! That anger doesn't bode well for the Blades and they could be on the end of a backlash.
Jurgen Klopp withdrew Mohammed Salah, Roberto Firmino and Sadio Mane before the hour-mark in their midweek victory over Ajax. The German was eager to rest his attackers ahead of a hectic schedule. Another reason to worry for the visitors.
The Blades were my outside shout for relegation at the start of the new season. They were brilliant, last season, playing some wonderful football whilst keeping secure at the back. But it felt a little unsustainable. Goals required a big collective effort.
At the other end, Aaron Ramsdale, though good, is a significant downgrade on Dean Henderson. Henderson was a vocal leader whose excellent performances lead by example. This season, they have played six matches and have no clean sheets.
The hosts are looking defensively vulnerable without Alisson Becker and Virgil van Dijk. However, their attack is still intact and that will cause problems to just about anyone, especially a team that is struggling to pick up points.
Prediction: 3-0
Sunday
Southampton vs Everton: St Mary's Stadium, 14.00 (Sky Sports)
Southampton were my dark-horses to do well this season. They started the current campaign terribly but are slowly building themselves back up. The defence was all over the place again at Stamford Bridge but the Saints were more clinical at the other end of the pitch.
Can Everton qualify for the Champions League? Stranger things have happened! My big concern for them is in goal. Jordan Pickford is excellent with his feet and that helps the Toffees in their build-up play. But he is not good enough with the traditional aspects of goalkeeping, regularly making mistakes.
Everton have been amazing but they go into this match without James Rodriguez (injury) and Richarlison (suspension). That is a big dent in Carlo Ancelotti's attacking options against an opponent that have recently found their goalscoring touch.
Prediction: 2-1
Wolverhampton Wanderers vs Newcastle United, Molineux, 16.30 (Sky Sports)
It's amazing to think that Newcastle were level with Man United for 85 minutes. They were then punished for pushing for a winner as the Red Devils quickly exploited gaps in behind. It wasn't a particularly scintillating performance but Steve Bruce will defend his approach as it very nearly earnt his team a point.
Wolves were much improved after their feeble performances before the international break. Still, they were a little lucky with the winning goal against Leeds. Nuno Espirito Santo's men are usually defensively well structured but they are not known for scoring lots of goals.
Under Bruce, Newcastle are a pragmatic outfit. They hold a tight shape and take minimal risks on the attack. At times, attacking is Allan Saint-Maximin or bust! It could be an exercise in patience for Wolves but they should get the job done.
Prediction: 1-0
Arsenal vs Leicester City: Emirates Stadium, 19.15 (Sky Sports Box Office)
Arsenal fans have been frustrated by their team's slow build-up play. Such criticism is harsh. Mikel Arteta is doing wonderfully well with a squad that is not on the same level as that of their rivals. He has also avoided any embarrassing results in a season that has been surprising everybody.
Leicester's start was unsustainable. The Foxes had been dreadfully poor for most of 2020 and, suddenly, they had three wins out of their opening three Premier League games! It was even more remarkable when you look at their lengthy injury list. Reality is catching up with them fast.
Arsenal are a well structured outfit. Defensively solid and disciplined. That's exactly the type of team Leicester don't want to play. They thrive on feeble defences and teams who like to push a lot of bodies forward. It's the kind of game that the visitors would have loved in the past but Arteta's Arsenal will not be naive.
Prediction: 2-1
Monday
Brighton & Hove Albion vs West Bromwich Albion: AMEX Stadium, 17.30 (Sky Sports Box Office)
Brighton have received a lot of plaudits for their style of play. Unfortunately, they've only won once in their first five Premier League matches. Some of that is down to bad luck but their defensive frailties are also quite clear. Those frailties are a result of their expansive football, however, so it's arguably a necessary deficiency for Graham Potter.
West Brom notched their second point of the season against Burnley last Monday. It was a terrible spectacle but Slaven Bilic will be pleased with the defensive resilience that his team showed.
Brighton are absolutely due a victory. Many of their performances haven't been bad. In West Brom, they face a team that shouldn't have as much attacking threat as other teams that they have faced.
Prediction: 1-0
Burnley vs Tottenham Hotspur: Turf Moor, 20.00 (Sky Sports)
Burnley were better against West Brom, recording their first point of the season. They were back to being tough to break down. Dwight McNeil was also excellent as the main attacking outlet. Many felt that the Clarets should have been taking three points but you can't run before you can walk.
Tottenham will be devastated after their collapse last weekend. Their capitulation against West Ham was mortifying for fans. Lanzini may have scored a world-class equaliser but the goals conceded prior to that moment were easily avoidable. But it's not all bad!
Harry Kane and Heung-Min Son have a telepathic relationship. Two world-class performers that are absolutely loving each other's company.
West Ham may have awoken the beast. The Spurs group will be hurting badly. If they storm ahead at Turf Moor then don't expect complacency to set in.
Prediction: 0-2