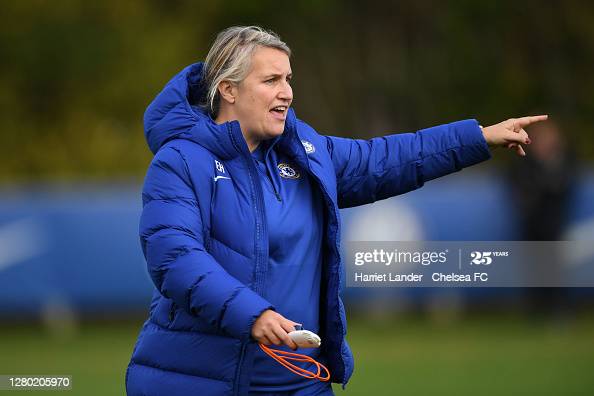 Women's football weekend has been a 'football feast' as Chelsea boss, Emma Hayes describes. Saturday saw four FA WSL matches played all at staggering times, eight hours of women's football to watch.
This thrilling weekend ends with a spicy match up, Arsenal vs Chelsea. The Gunners host their London rivals coming off a 1-0 loss to Manchester United and Chelsea come in off a 4-0 win against Everton. The two sides met early last month for the Continental Cup, where the Blues overcame Arsenal 4-1 at Kingsmeadow.
In the league, Arsenal were on a five match winning streak, a 100% start to the season, until they fell to Manchester United. Hayes knows what this team are capable of and expects them wanting to come at Chelsea to redeem themselves after a disappointing loss.
"I have huge respect for Arsenal and, knowing that they are wounded from last weekend, I always pay even more respect to a team that's been defeated," Hayes said.
"I know what defeat feels like and the natural response is to double their efforts. That's what I'm expecting from them."
A team's form doesn't come into much play for these occasions. There is extra incentive that isn't part of physical form or team performances. There is no extra motivation needed to perform against one of your biggest rivals.
Hayes is aware not to come in too confident just because she's beaten Arsenal in their last three encounters, on the contrary, she thinks that this fuels the Gunners' will to come out and beat her side.
"I know for us it will be a huge test because derby games are not normal games. They'll say the same in Manchester, there's a lot at stake and a lot of unpredictability to the game. Both teams know each other inside and out and I have huge respect for Arsenal."
"First of all, Arsenal are a top team, they score more goals than any other team, their attacking play, their build-up play is exceptional. They've got players who have won major honours and they've proved that they're always in and about the hunt for trophies every season."
These two sides have not met in the league for ten months, the last time being in January at Borehamwood where Chelsea had a three goal advantage in the opening 20 minutes of the match.
A sold out Meadow Park had 4,000 onlookers on this much anticipated match, where Sam Kerr scored her first WSL goal and Sophie Ingle smashed that ever so perfect volley.
The Gunners come into today's fixture with an array of injuries in the squad. Jordan Nobbs, Steph Catley, Noelle Maritz and Jen Beattie will all not feature in the squad today.
Kim Little and Jill Roord have just come back from injury and weren't fit to play a full match last Sunday against Manchester United, but both proved crucial to Arsenal's set up and style of play.
Chelsea come into matches with the likes of Sam Kerr, Jessie Fleming, Niamh Charles on the bench. Arsenal's lack of fit midfielders can prove to be crucial against a team like Chelsea who's strength is their midfield creativity and ability to gain possession back quickly through their middle. The Blues have hurt Arsenal by closing down their passing space in the past, and we saw Manchester United successfully doing the same on Sunday.
But Manchester United isn't Chelsea, and despite a light squad, any Arsenal player knows the pressure of a Derby and the expectations of winning don't change by who is and isn't on the pitch.