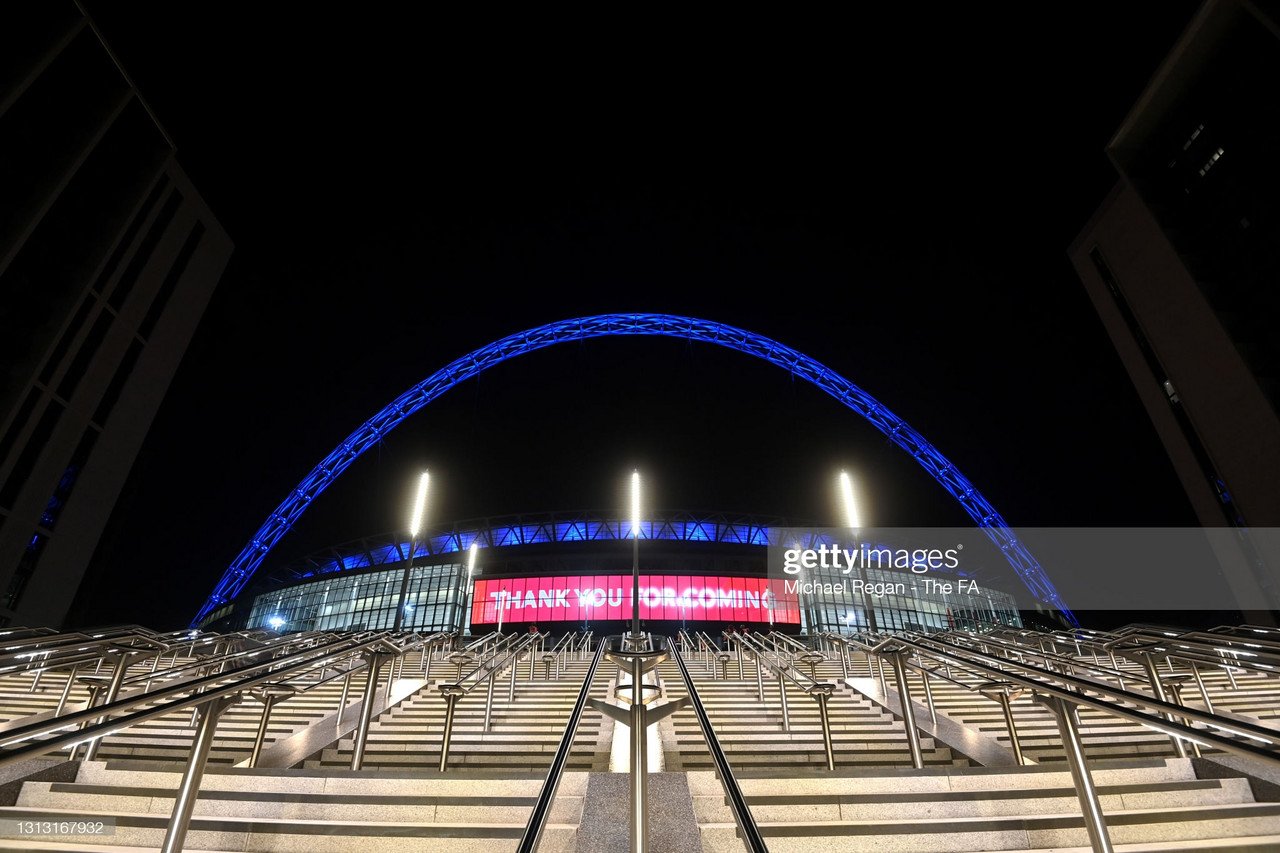 After a chaotic week in the world of football, two of the proposed European Super League founders meet for the Carabao Cup final at Wembley Stadium on Sunday.
Manchester City take on Tottenham Hotspur in what is a highly anticipated matchup, with City facing Paris Saint Germain just three days later in the Champions League semi-final.
Meanwhile, Spurs are desperate to reclaim some silverware having eluded it for 13 years. Their last trophy came in 2008 in the same competition, when they were again underdogs against a dominant Chelsea side.
The game was won by Jonathan Woodgate in extra time after Didier Drogba and Dimitar Berbatov cancelled each other out during the initial 90 minutes.
City currently sit eight points clear at the top of the Premier League table, with Manchester United their closest rivals. Spurs sit five points off the Champions League places, behind Liverpool, Chelsea, and West Ham United.
City will be looking to match Liverpool and win the league cup four times in a row. However, there has been speculation that they are more focused on fielding their best team in the Champions League next season, as Pep Guardiola seeks to bring that elusive European trophy to the Etihad.
Contrastingly, Spurs will be throwing everything they have at this one. The desperation surrounding the club and the pressure on chairman Daniel Levy to deliver trophies has been mounting during the last few seasons.
A win for the north London club would see them automatically enrolled into the new European Conference League next season, which is a new branch emerging from the Europa League. However opinion on this competition is split, and many Spurs fans would rather miss out than play in the third-best European competition.
During their last game, City emerged 2-1 winners against Aston Villa. John Stones and Matty Cash were both shown red cards, with the Manchester side coming from 1-0 down to solidify their lead at the top of the table.
Meanwhile, Spurs claimed victory against Southampton in Ryan Mason's first game in charge as interim manager. Spurs also came from 1-0 down to win 2-1 as Danny Ings' slick header was cancelled out by a Gareth Bale curler and 90th-minute Heung-Min Son penalty.
The victory kept Spurs in touching distance of the top four, as we approach the end of the season.
Manchester City Premier League form: WWWLW
Tottenham Hotspur Premier League form: WDLDW
Pep Guardiola confirmed that both Sergio Aguero and Kevin De Bruyne trained with the rest of the squad on Friday and Saturday.
However, we could see a lot of rotation from the Spaniard for this one, as he admitted that the Carabao Cup final is not at the top of his priority list.
John Stones is suspended following his dismissal against Villa on Wednesday, and it is expected that Aymeric Laporte will fill in during his absence, alongside the solid Ruben Dias.
Joao Cancelo could feature at left-back tomorrow, with Benjamin Mendy not finding favour under his current boss.
In the opposing camp, Harry Kane is facing a race to be fit in time for the trip to Wembley. The England captain trained outdoors on his own on Friday, and it is yet to be disclosed as to whether he joined in with the rest of the squad on Saturday.
It is likely that he will start, even if he is only 75% fit, as most are aware of the influence he has in the current Tottenham setup.
Joe Rodon missed out on Wednesday, likely due to the fact that he is cup-tied for the game on Sunday, however, he has been an important feature in the Spurs defence recently.
Matt Doherty may well be fit enough to travel, but not start, whilst Ben Davies also remains out with a calf injury.
Manchester City (4-2-3-1):
Steffan (GK), Walker, Laporte, Dias, Cancelo, Gundogan, Rodri, Sterling, Bernado, Foden, Jesus
Tottenham Hotspur (4-2-3-1):
Lloris (GK), Aurier, Alderweireld, Dier, Reguilon, Hojbjerg, Ndombele, Son, Lucas, Bale, Kane
Spurs arguably had the easier route to the final, which included a bye against Covid-19 struck Leyton Orient.
They saw off Chelsea on penalties in an entertaining game between the two sides, whilst City just about edged past Bournemouth with a 2-1 victory.
The Lilywhites went on to defeat Championship sides Stoke City and Brentford to book their place in the final.
City faced a trio of top-flight opposition as they comfortably beat Burnley 0-3 before they eased past Arsenal and saw of rivals Manchester United in the semi-final.
Ryan Mason
The 29-year-old described his side as underdogs going into the final. The former Spurs player suggested that anything can happen in a one-off game, but that City would be strong favourites.
"Listen, the Premier League and the Carabao Cup are completely different competitions. In the Premier League, they're probably going to win and they're in the latter stages of the Champions League, as well. But form goes out of the window in cup finals. We've seen that. It's a game, a one-off game on the day. They're a great side with great players but let's not forget, we're a great side with great players too. They know that, we know that about them."
From the perspective of someone who has been involved with Tottenham for 20 years, Mason also described what winning would feel like for him.
"It would mean a lot. It would mean a lot for the players as well. They've had to deal with some difficult moments. I think most importantly the feeling the fans would get and what that would do for the football club as a whole. These are the games Tottenham want to be involved in. Thankfully we are and hopefully, we can go there and get a positive result."
Pep Guardiola
Guardiola insinuated that City's approach to this years final will be different. He suggested that he will have one eye on the clash against PSG, and also against Crystal Palace next weekend.
"When we start we say many times, every game must be taken seriously. The Premier League is the most important competition of the season, after the Champions League or Europa League, then FA Cup then Carabao. When you play the competition at the beginning of the season when everybody's fit it's perfect to rotate and everyone is happy and in January is over. This season you play in the middle of the decisive part of the season. I would say the Premier League is the first title of the season, then the Champions League to qualify is the second [objective]. The third is Europe, then FA Cup, then after Carabao Cup."
However, he also reiterated that he and his team want to win and that they are good enough to win.
"We deserve to be here, we've had a tough competition, especially the semi finals. We are there. The final, every team wants to win. We travel to London on Saturday to do a good game and try to win the title."
Kick-off: 16:30 BST Sunday, April 25.
Live coverage of the game can be found on Sky Sports Football and Sky Sports Main Event with the build-up starting at 16.00 BST.