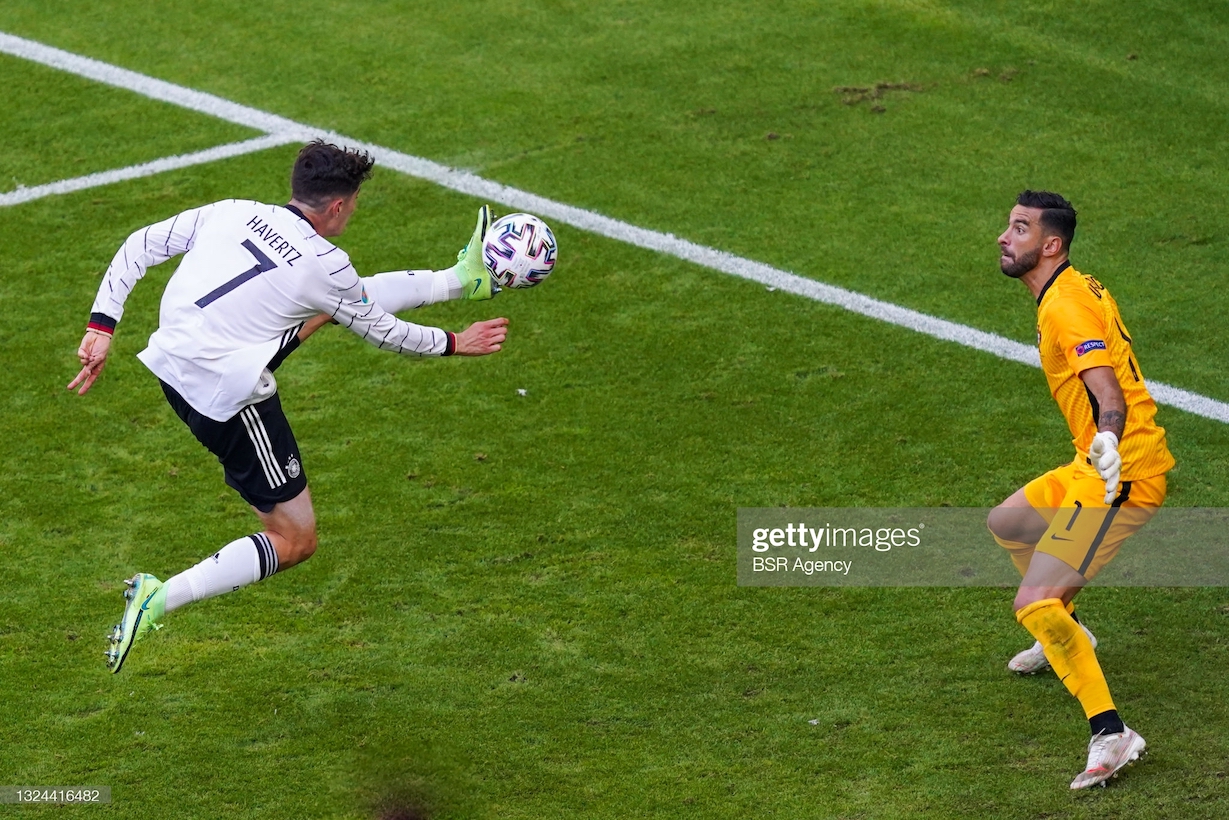 Kai Havertz has been compared to Zinedine Zidane by World Cup winner and captain Lothar Matthäus, in an interview with Kicker.
Germany's most capped international hailed the Chelsea youngster claiming there are elements of Havertz's game that remind him of the 1998 Ballon d'Or winner.
Joachim Low guided Die Mannschaft to a 4-2 win over Portugal which saw Havertz spearhead the Germany attack.
The 22-year-old was at the heart of the action and played a pivotal part in each of the four goals while scoring one himself.
Matthäus insisted that the 22-year-old's ability to seamlessly glide around the pitch with such ease, partnered with an incredible sense of anticipation and natural technique, reminded him of the former Real Madrid and Juventus midfielder.
He said: "I compare him to Zinedine Zidane in terms of skills, technique and overview and anticipating a situation.
"Zidane didn't seem quick, but it was when he hit the ball. Havertz can do that too."
The difference between world-class and very good
Matthäus showered Havertz with praise having given Germany a focal point in the final third of the pitch, but insisted the youngster has a long way to go until he reaches the very top.
He said: "He could score more goals and improve himself in the short movements with special training.
"He has a good eye, good ball control, good positional play, fine technique and plays intelligently using his body well.
Last time we faced our opening day opponents. 🍿

Kai Havertz with a big performance! 👌 pic.twitter.com/vTwOpLAArP

— Chelsea FC (@ChelseaFC) June 16, 2021
"Havertz is on the way, but nuances will decide whether he will make it to the top, whether he will be an excellent player or just a very good one."
First Ballack, now Zidane
Since the midfielder burst onto the scene at Bayer Leverkusen, like any exciting emerging talent, he has been frequently compared to many greats of the past.
Former Liverpool midfielder, Dietmar Hamann, likened Havertz with Michael Ballack.
He inundated Chelsea's number 29 with praise, applauding his versatility and 'perfect' technical ability.
Speaking to SoccerAM in 2020, Hamann forecasted Havertz's positional development and eventual arrival to the Premier League.
Hamann said: "He reminds me of a young Michael Ballack, I said this months or years ago.
"He's just a brilliant player, he's so flexible, he's tall, he can hold the ball up.
"He's physical, technically he's very gifted. He's perfect. He knows where the goal is.
✅ Goal against Man City in the Champions League final
✅ Goal against Portugal in the Euros

Just Kai Havertz things ✨ pic.twitter.com/JQUVtyGE7D

— ESPN FC (@ESPNFC) June 19, 2021
"His best position, at the moment he plays up top, but I'd say it's a number 10 or a number eight. An attacking midfielder."