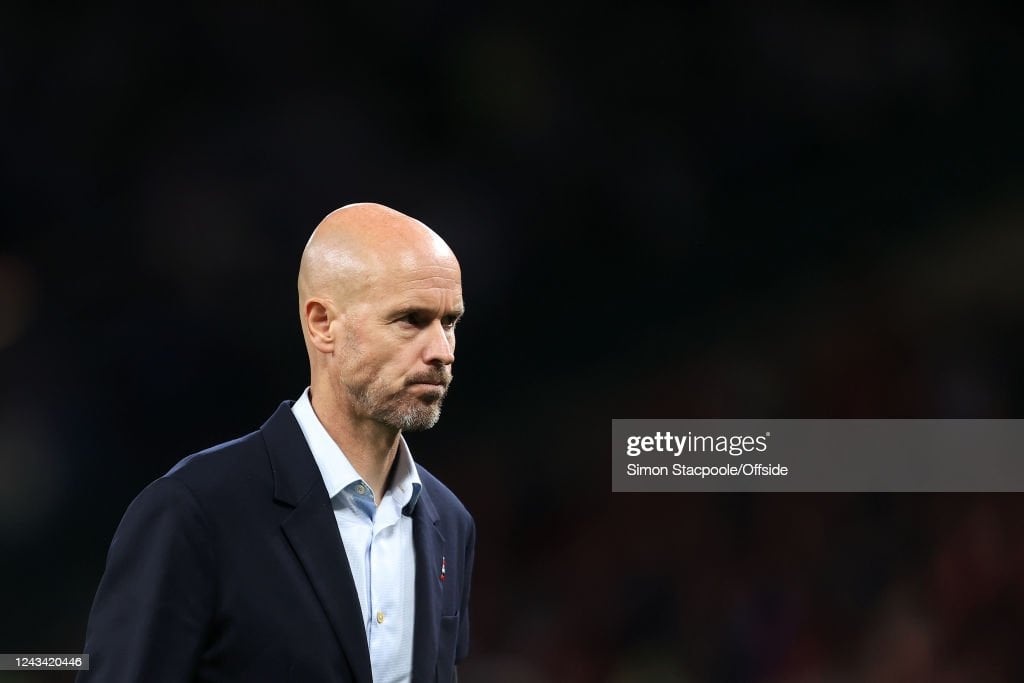 Former Manchester United left-back Patrice Evra thinks that new boss Erik ten Hag deserves credit for his side's start to the season, despite their rocky start.
United's start to the season was, for lack of a better term, abysmal. Following convincing losses to both Brighton and Brentford, fans were fearing the worst. However, since then, the Red Devils have gone onto to win every other game in the league. Two wins against rivals Arsenal and Liverpool put the cherry on top of what has been a good start to life under the Dutchman's stewardship.
Manchester United legend Evra sung the praises of Ten Hag whilst speaking to Betfair.
Ten Hag got his big calls right
Following the embarrassing 4-0 defeat away to Brentford, Ten Hag quickly changed the side drastically. Something previous manager's have struggled with, suggested Evra.
"I'm always positive, when I talk about United I talk with my heart. The first two games were a nightmare, losing at home and away to Brentford."
"What I like about Ten Hag, and we have to give him a lot of credit, I think he has been fooled like other previous managers at the club."
"He got the players in preseason, everyone looked sharp, everyone looked great so you feel that you come in and maybe he thought he could do better than the previous manager with the same players, but it wasn't the case and that's why I think after the Brentford game he made some massive decisions," Evra added.
The Frenchman believed that the most important step Ten Hag has made is dropping his big-name players.
"He dropped the captain, he put Cristiano Ronaldo on the bench, he gave the left-back [Tyrell] Malacia an opportunity and that was a massive statement."
Evra noted that it was a courageous decision to go ahead and drop Harry Maguire and Cristiano Ronaldo, but credited the Dutchman for going ahead with it.
"Things changed with a few players, it's not because they were playing that bad, but around those players there was a lot of negativity, and sometimes you have to get rid of this negativity. He had the courage to do it."
Ten Hag sent 'shockwaves' by dropping Maguire and Ronaldo
There is no question that it was bold for Ten Hag to drop Ronaldo and Maguire. Ronaldo, one of the best players of all-time, and Maguire, the man he stuck with as captain to lead the ranks.
When it came to Ronaldo, Evra said he understood the Portuguese man's frustrations:
"With those big decisions Ten Hag sent massive shockwaves. Let's be clear, to put Cristiano Ronaldo on the bench is a massive statement, because Ronaldo will think it's not fair, last year he scored like 18 goals, so in his head he will be like 'why am I on the bench?' He's right, but you have a manager and you have to respect his decision."
"I understand the frustration of Cristiano Ronaldo, but also Ten Hag was like 'I'm going to start a new era, Ronaldo is still in my plan,' and I'm sure [he] is in his plan."
However, Evra was soon to come to the aide of his former teammate, suggesting that his side would need the Portuguese hitman.
"Maybe United need to suffer right now and they will need other players, but you will always need Cristiano Ronaldo, trust me, there will be a moment when we say thanks Cristiano, please stay, I'm convinced about that," he added.
"I think Ten Hag and Ronaldo need to, if they haven't already, have an honest discussion. Everything that is happening right now is logic."
When it came to Maguire, the left-back was sympathetic to the Englishman's current position, stating how 'important' he is to the side.
"The captaincy is always a big issue, especially when you play for Manchester United. To drop the captain is a massive statement. This is more important than Cristiano Ronaldo or whoever."
"It must be hard for Harry Maguire. People have been unfair with him, because even now when he plays a good game people will criticise him, even when he's not playing if we lose people will blame him and this is unfair."
The Old Trafford legend was quick to come to the praise of the players who have replaced Maguire, particularly new summer signing Lisandro Martinez.
Embed from Getty Images
"Right now, they have [Raphael] Varane, Martinez and the way they are fighting, giving everything, I'm really pleased with what I see. I played centre back in Italy and for Manchester United, height is not a problem."
How the Liverpool match turned the season around
Beating your toughest rivals is one of the best feelings in sport, and Patrice Evra is no stranger to that. He suggested that had the result gone differently against United's great rivals, Erik ten Hag and his team would've been sweating.
"I'll be honest with you, before the Liverpool game, even when we have struggled, like in the previous season, I thought we always perform against Liverpool, it's a big game, the biggest two teams in England."
"Before the game, the logic was Liverpool are going to beat us, but they are also struggling, so I wasn't surprised about that win. But, I knew that if we lost that game Ten Hag and his team would have been in massive trouble. After that, the Southampton win was really important."
Embed from Getty Images
He also noted a significant change in the team's attitude, and credited the turnaround in form to this change.
"What changed with United? They're now happy to suffer. You are United, you are one of the biggest clubs in the world, the players still want it to look beautiful and play their own football.
"Ten Hag arrived and came with his philosophy, playing out from the back. No, right now, United can't do that, they just have to win games, even in an ugly way. Then we have to trust the process and give Ten Hag consistency and time.
"Of course, I'm really happy with what's happening right now because no matter if they were losing games, I see some players and they refuse to lose challenges, they refuse to concede goals, so they are playing for the shirt and that's what I want to see right now," he added.
Evra was quick to point out he, like many others in the Old Trafford faithful, don't expect to win every game; but they do expect their team to stand a chance in every game.
"I don't expect United to control the game for 90 minutes, because for more than six years now we have been struggling, so step by step, if you work hard, bleed for the shirt, this is a massive step."
"United fans are really fair, you can lose a game, but not in the way we were losing those games at the start of the season, where they feel the players weren't giving everything. Against Liverpool we were in survival mode, and that's why I'm happy with what I see now."
Top four still the aim
Evra says the team will still be aiming for top four. Whilst it's not where the team should be, it is a step in the right direction for United, following what was an abysmal season last term.
"Top four is still the target for Manchester United, at the start of the season I didn't include United in there, but this is the goal for every United manager that comes in. We have to trust the process.
"I'm 100% convinced that in the transfer window some players didn't come to United simply because they're not playing the Champions League."
Evra was quick to point out why Ronaldo was so keen to depart from Old Trafford this season, attributing it to a lack of Champions League football.
"The Cristiano Ronaldo saga was about him wanting to leave because they're not in the Champions League, it wasn't like a financial reason. So that's why, if we want to attract players, we have to qualify for the Champions League, but also, for United, for the history and what United represents to the fans."
Title race will be much tighter this year
Despite the facts he believes Liverpool and Manchester City are still favourites for the title, Evra wouldn't be surprised if there was a shock or two along the way.
"It's a crazy Premier League, there have been a lot of surprises. The favourites were Liverpool and City, but anything can happen. More games are coming and I always say you know more around December, but now we've got the World Cup. So, everything is weird.
"I think City and Liverpool are still the favourites, but you have so many others too including Tottenham, Arsenal, and Chelsea. Although, it's really weird with Chelsea at the moment."
Of course, the former Manchester United man didn't take long until he threw their name into the hat as well.
"United can surprise people now if they keep fighting like the way they have been doing, they can be there."
Evra also pointed out how every team provides a difficult game in the league now.
"Every team is tough, playing against Crystal Palace you're going to struggle, playing against Newcastle you're going to struggle, every game is going to be tough."
Haaland leads the way
Whilst acknowledging the great list of strikers in the Premier League currently, Evra believes that United's rival, Haaland, is the best of the lot.
"It hurts me to say it, but Erling Haaland will be the top goalscorer. He is a goal machine. It's like what Guardiola said when he scored a hat trick, it's not like it's something special, because that's what he's done all his career.
"He is a monster. He is using his physique, he's a killer in front of goal, he does the right movements, he's sharp for someone tall and strong. I think it would be really difficult to stop him. When he's going to play against central defenders who aren't bigger or stronger than him, they're going to have serious problems. He's like a cat."
Evra also came to the praises of England captain Harry Kane and Liverpool new boy Darwin Nunez.
"Harry Kane will still be here, it's like when you get new toys, everybody forgets the old toys. I'm sure he'll want to win silverware, and for that they need their best goalscorer and he will be there.
"Darwin Nunez has just come to a new league but when Liverpool wins and he doesn't score I know he won't sleep.
"It's in their DNA. I remember Van Nistelrooy, when we won a game 4-0, and at 4-0 he was picking up the ball and running to the centre to put the ball down because he wanted to score a goal. After that game, he just took a shower and was angry, we'd just won 4-0," he added.
Evra was quick to note that this will be one of the toughest Champions League's to date.
"The Champions League is even tougher. You get out of the group stage and anything can happen. It depends on the draw. You don't have the away goals rule anymore, so there's no advantage there. It's tough."
"I'm going to surprise people. I will say the two finalists of this year's Champions League will be PSG and Bayern Munich," he predicted.
*This interview was provided by Betfair - please gamble responsibly. If you or someone you know would like further information or support, GamCare provide a confidential service.