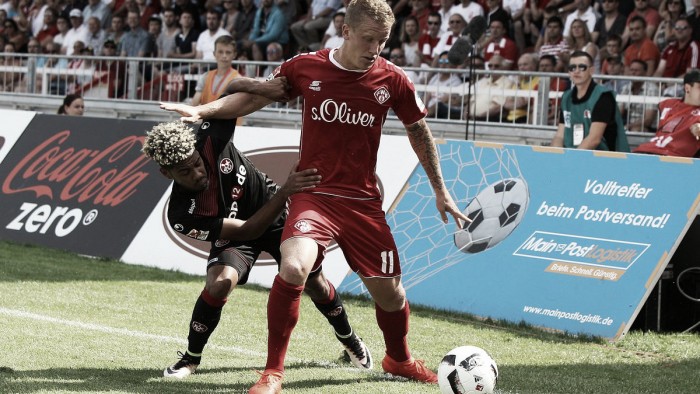 In their first home game in the 2. Bundesliga since the 1970s, Würzburger Kickers held 1. FC Kaiserslautern as both teams earned their first point of the season.
Marcel Gaus had given the Red Devils the lead with a shot on the bounce, but after an awful back pass from Stipe Vucur and a foul Christoph Moritz, Würzburg's Richard Weil brought the hosts level from the spot just before half-time.
Würzburg had the better chances to secure a shock win in their first ever meeting with Kaiserslautern, but in truth the draw was the right result, and welcome for both sides after opening weekend defeats.
Both sides looking to bounce back
Both teams had lost their first matches to two of the early pacesetters. Würzburg's first game at this level in 38 years ended in a 2-1 defeat to Eintracht Braunschweig, with Emanuel Taffertshofer's sending off putting paid to a hopes of a comeback after Elia Soriano had pulled one back for them.
Greek midfielder Anastasios Lagos was given his debut in place of the suspended Taffertshofer, whilst the other change in their starting line-up saw former Karlsruher SC man Sascha Traut named ahead of Ioannis Karsanidis for a first start for the club.
Kaiserslautern's first game under Tayfun Korkut ended in a heavy defeat at home to newly promoted Hannover 96. Despite looking the better of the two sides early on, they were eventually put to the word by Korkut's former club, and particularly Artur Sobiech, who scored two second half goals as they won 4-0.
They made just one change from that humbling defeat, with Lukas Görtler coming in for Robert Pich on the right wing. Zoltán Stieber was named on the bench following his arrival from Hamburger SV, but fellow new arrival Jacques Zoua was not ready to make the matchday squad.
Gaus strikes first blood
Both sides looked bright in the opening exchanges of the game, but good defending at both ends kept shots to a minimum. Gaus had a header saved by Robert Wulnikowski for Kaiserslautern, and then gave away a free kick on Clemens Schoppenhauer, who was wrestling the ball away from him.
Würzburg's lone striker Soriano didn't have much luck either, getting in a good position early on but have the ball taken away from him, whilst Görtler, brought in to have an impact further up the pitch, was back to cover with an excellent tackle to take the ball from Nejmeddin Daghfous.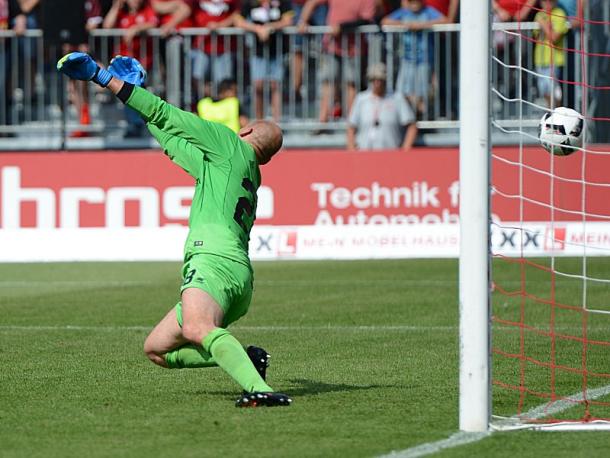 Kaiserslautern were having a lot of luck down the wings, and eventually they got the breakthrough. Daniel Halfar exchanged the ball with Chistoph Mortiz on the right, with his cross going to Gaus, who was able to beat 39-year-old keeper Wulnikowski, despite having it in his grasp.
Shocking defending lets 'Lautern down
New English striker Osayamen Osawe impressed in patches against Hannover, and he began to make inroads here as the game started to opening up. He should have scored when he fought his way past Schoppenhauer and Sebastian Neumann to move through on goal, but he couldn't beat Wulnikowski.
At the other end, Tobias Schröck's shot from outside the box proved no trouble for André Weis, and Soriano couldn't connect with a cross. With his side struggling to make an impact, Bernd Hollerbach made a surprise tactical substitution, with Lagos hauled off for winger Patrick Weihrauch.
And he made the desired impact, although the equaliser was as much of Kasierslautern's own making. A horrendous pass from Vucar was jumped on by Weihrauch, who got round Weis and was then fouled by Mortiz.
Weil put the penalty away to his left, despite Weis going the right way, and the hosts were back level just as the half was coming to an end.
Würzburger have the better of quiet second half
It was a quiet second half, with neither side crafting any clear chances. Eventually with just over 60 minutes gone it was time for Stieber to make his debut, coming on for Görtler. He came close to having an immediate impact, although his free-kick was taken by Wulnikowski.
Finally the game started to come to life again. Weihrauch could have given the hosts the lead, but he didn't quite get it all behind the ball and had to watch it go wide. And then Alexander Ring could have done likewise for Kaiserslautern, if not for another save from the impressive Wulnikowski.
Soriano had two more chances to snatch it for new boys. First he was able to shoot on the turn despite having both Tim Heubach and Patrick Ziegler surrounding him, and then late on he had a header saved by Weis, before being replaced by Marco Königs.
In the end both sides lacked the creativity to deserve a first win of the season, with a draw the fair result in the Sunday afternoon sunshine.