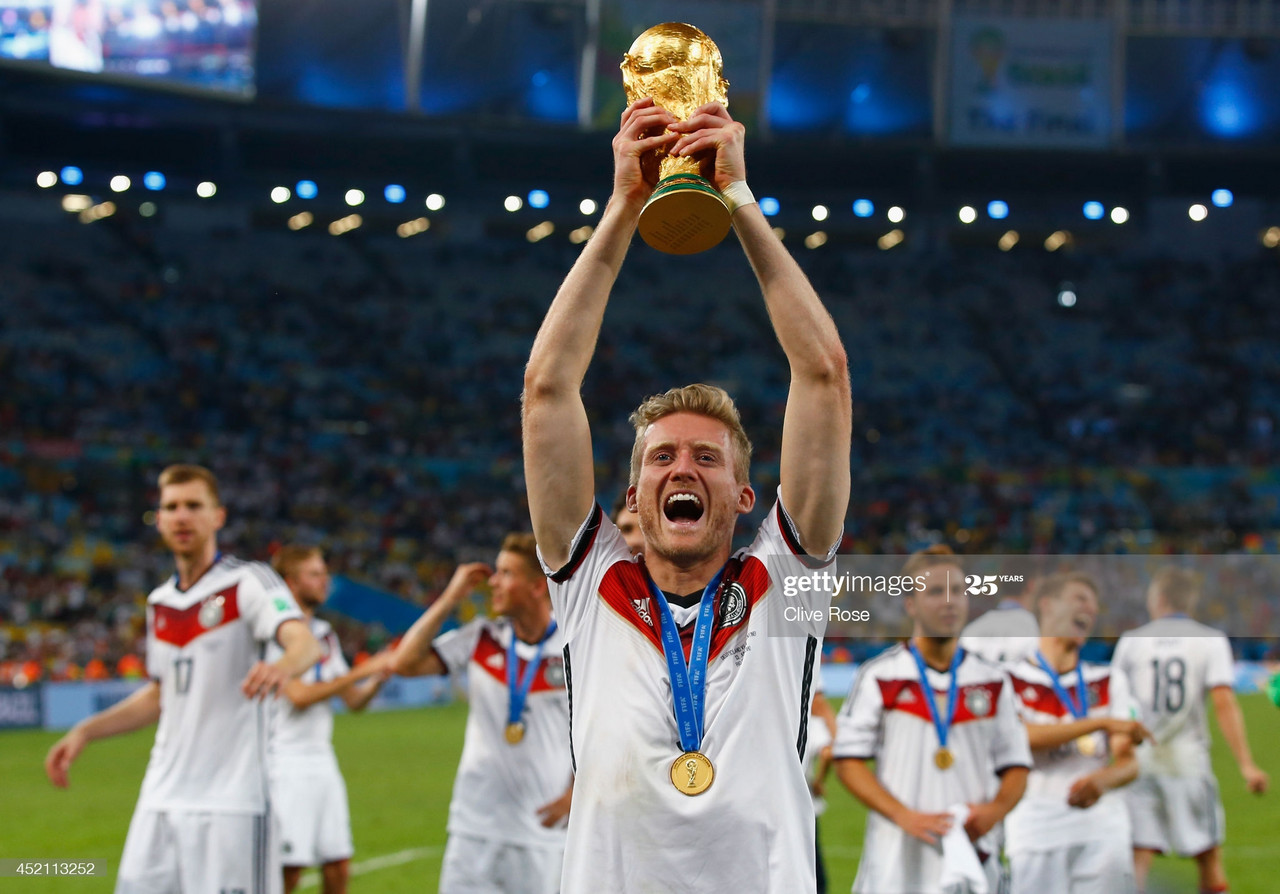 This past weekend saw one of world football's most curious characters call it a day, as former Chelsea and Germany winger Andre Schurrle announced his retirement on Friday afternoon.
He had spent this season on loan at Russian league side Spartak Moscow from Borussia Dortmund, but hadn't featured for them since December of 2019. An ankle injury ruled him out of action before lockdown, and he never returned to the field when the league restarted.
Ultimately, it was the uncertainty of his future that led to Schurrle retiring, as he had grown weary of the constant travel and adaptation his journeyman career required. Instead of going out on loan once again, he decided to call it quits a year before his Dortmund contract expired.
It's an admittedly sad ending to such a promising career, but that doesn't mean supporters should not celebrate the run Schurrle had.
A brief bio
Schurrle started his professional career at Mainz, joining the first team after graduating from the clubs academy. He hit the ground running, scoring five goals in his debut season before grabbing 15 in the following campaign.
Those performances led to a move up to Bayer Leverkusen, who looked to develop the young phenom even further. The winger became a consistent goalscorer, chipping in during league, cup, and European games. As a result, Schurrle was attracting attention on the international stage, and would end up making Germany's 23-man roster for Euro 2012.
Chelsea soon came calling, as the Blues paid around 18 million pounds to bring the player to Stamford Bridge. He made a solid start to life in the Premier League, grabbing a hat-trick versus Fulham and scoring one of Chelsea's most memorable goals in a game against Burnley, finishing off Cesc Fabregas' phenomenal first time pass over the top of the defense.
Schurrle would go on to make the Germany squad for the 2014 World Cup, which we will get to, but the London move was ultimately the beginning of the end for his career at the highest level.
He found game time hard to come by in his second season despite winning the league title, which led to a move back to the Bundesliga, this time joining Wolfsburg. The winger found some more success there, winning the DFB-Pokal and the German Supercup while trying to rebuild his international status.
However, just like everywhere else, he would not stay long. Schurrle made the jump to Borussia Dortmund, but would never crack into the starting lineup on a consistent basis.
The lack of playing time led to him joining Fulham on loan, but that deal was cut short when the Cottagers were relegated from the Premier League. Schurrle's career ended with another loan, as he spent this past season in Russia with Spartak Moscow, but never did much due to injury problems.
All in all, he played for seven different teams, never staying with one for more than two seasons. He was the ultimate journeyman player, with the constant travel and uncertainty on where he'll be next leading to him retiring so early.
His magnum opus
If you just looked at his club career, Schurrle would go down as a reliable goalscorer who never topped the charts but was always a reliable option. However, he made his mark on the history books at the 2014 World Cup, helping Germany win football's most illustrious trophy.
Some players, like Adil Rami, Eric Durm, and Victor Valdes have picked up winners medals despite not playing a single minute in the tournament. Schurrle is not like those cases, though, as he was a key player throughout the run.
In the opening game against Portugal, Schurrle assisted Germany's fourth goal, as his low cross was eventually poked home by Mario Gomez. He only played a minute in the two other group stage games, but the winger made a huge impact in the knockout rounds.
Coming in as a substitute at halftime in the round of 16 matchup versus Algeria, Schurrle would open the scoring in the second minute of extra time. Making a sharp run towards the neat post, he got on the end of a pass from Thomas Muller before flicking the ball past the goalkeeper. That goal would prove to be crucial, as it got Germany into the quarterfinals, where they went on to beat France in a close contest.
Schurrle was subbed on when Germany were already up 5-0 against Brazil in the semis, but that doesn't mean he couldn't add to the hosts misery. He got on the scoresheet after placing a low shot into the bottom corner, and then made it seven when he absolutely slammed a volley off the underside of the bar and in past a helpless goalkeeper.
In an incredibly tense final, Schurrle would create the goal that won Germany the World Cup. He flew down the left wing, getting past a defender before chipping a cross into the area. Mario Gotze was able to do the rest, chesting the ball down and hitting a volley into the side netting from a tight angle. Die Mannschaft held on to secure the trophy, and Schurrle left the tournament with a deserved winner's medal.
Streets won't forget
He was far from a perfect player, of course.
Schurrle was never the most consistent performer, and disappeared in certain important games. That prevented him from ever settling down somewhere, as teams eventually moved on from him for one reason or another. He didn't help much defensively either, and was too lazy to track back most of the time.
None of that matters in terms of his legacy, though. Schurrle was someone who fans were always excited to see, as he could turn on the style on any given day. As a goalscoring winger, arguably the most hype role in all of world football, the German was a threat whenever he stepped onto the field. His dribbling ability allowed him to dance past defenders, and he knew how to finish too, slotting home from seemingly any angle with either power or precision.
Not everyone will remember Schurrle in the future, but those who do will never be able to forget the World Cup winner no matter how much time goes on.
Auf wiedersehen, Andre.