When it comes to overall dominance in the women's game, you will not find two more evenly matched teams than Olympique Lyonnais and VfL Wolfsburg. The two sides have met two times before in the UEFA Women's Champions League final, most recently in 2016 when Olympique Lyonnais triumphed in a penalty shoot out.
This year, OL have a star-studded roster at their disposal, even more than usual for them and they will look to use every player at their disposal to counter the sheer grit, talent and determination that Wolfsburg have shown this season.
OL have a host of game-winners waiting to shine
Throughout this season, Ada Hegerberg and Camille Abily have been arguably Olympique Lyonnais' best players, both domestically and continentally. Hegerberg has not slowed down in her goal-scoring exploits and has tallied 14 goals in the competition so far. Abily has been just as creative as she has ever been, racking up five assists so far this season. These are not unfamiliar names to those who follow the game and most people will expect these two to somehow try and influence the game to their advantage.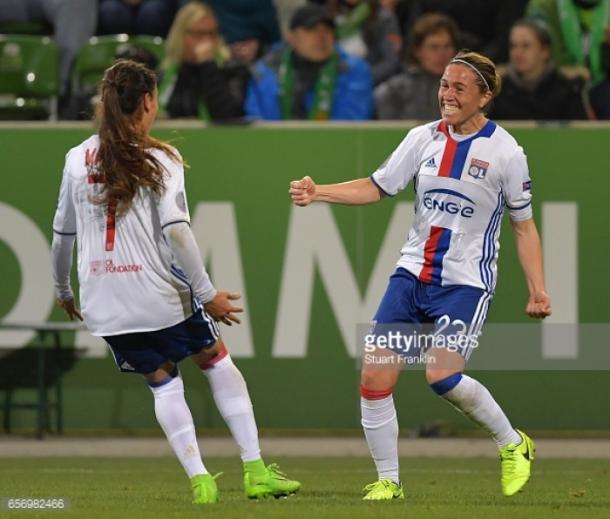 OL's biggest weapons this season have been their wing-backs. Summer signing Lucy Bronze and Amel Majri have been immense in both defense and attack and they could be the key figures in this match up. Bronze has settled well into life in France and her performances for OL also made her the first England player to win the BBC Women's Footballer of the Year award yesterday. Majri has been just as impressive as her teammate on the other flank. The French international has popped up with goals and assist this season that have helped propel OL to the final. Many teams look to shut down the likes of Hegerberg and Abily but in Bronze and Majri, Reynald Pedros has the ability to use the flanks and change tactics if needed to win the game.
Harder and Popp lead the way for the 'Wolves'
Pernille Harder took her game to the next step after a great UEFA Women's Euro with Denmark and more time to settle in with her team in Germany. The Dane's abilities have never been in doubt but this season, Harder has been the best player for Wolfsburg from the first whistle of the season. Her seven goals so far in the UWCL are testament to that and she will be looking to add even more when Wolfsburg face off against OL in the final. Alexander Popp is a name that has become almost synonymous with Wolfsburg. The striker-cum-winger has been as influential as ever and her six assists in the competition, leading that particular chart, are testament to that. OL will have a very difficult time shutting down both Harder and Popp as either player is capable of going through a game without scoring but still manage to strike fear into opponents and thus, open up spaces for their teammates to exploit.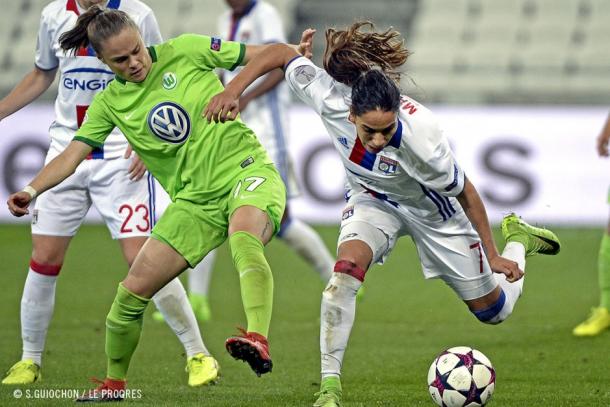 One of the players to watch in a very good Wolfsburg side will also be Sara Bjork Gunnarsdóttir. The Icelandic international has six goals this season and has forced her way into a regular starting position thanks to how well she has played. Alongside Lena Goeßling in Wolfsburg's midfield, Gunnarsdóttir has had an exceptional season and will look to cap that off with a Champions League medal. Another name to note in this Wolfsburg side is that of Caroline Graham Hansen. The Norwegian has always been a talented player but her final product was what stopped her from becoming a truly great player. This season, Graham Hansen has seemingly found that clinical edge in the penalty area to not only score goals but find her teammates regularly. She will be one to watch in tomorrow's final.
Goalkeeping could be the difference
There's not much separating these two sides and previous meetings have shown that. Both sides have the ability to score goals for fun, both sides can dominate midfields and both sides have solid but shaky backlines. This game will come down to which backline holds up better to be honest and which goalkeeper makes the least amount of mistakes. Both Sarah Bouhaddi and Almuth Schult are prone to making bad judgment calls and that could be what ultimately decides the game.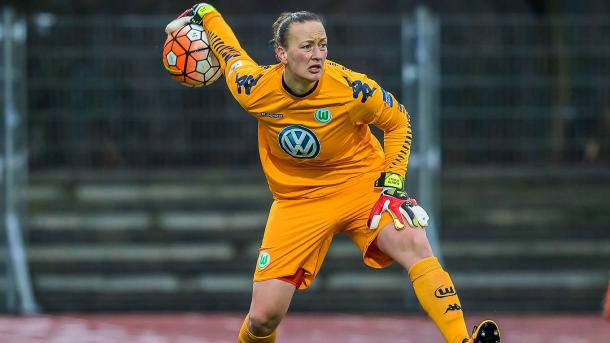 Even though both goalkeepers are international veterans and have played for many years as starting goalkeepers, they are susceptible and give the opposition a chance to win the game through an error. It may not come down to that but based on how close this game could be, the probability of either of these goalkeepers influencing the match in such a manner is high especially during normal time.
Prediction
All things considered, one just cannot see Wolfsburg having enough about them to defeat OL. The French champions have talent everywhere on the pitch and with Abily playing in what could be one of her final games in her career, her teammates will want to do everything they can to send her off on a positive note.
Olympique Lyonnais 2 - 1 VfL Wolfsburg