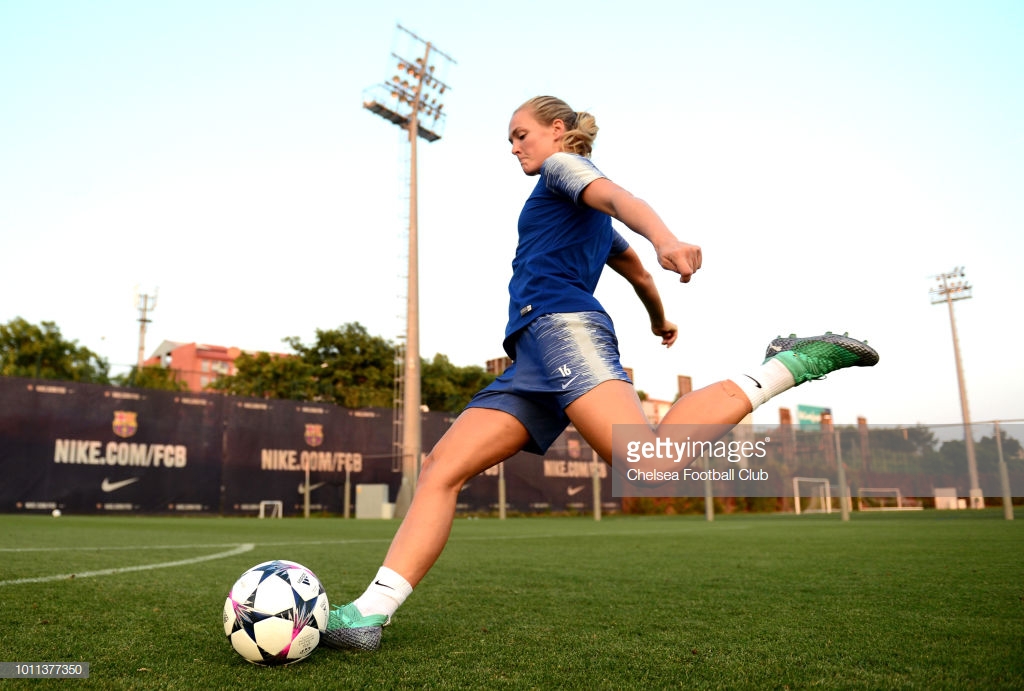 In a Swedish training camp ahead of a friendly against England, VAVEL UK caught up with Chelsea centre-back Magda Eriksson about life in England, Sweden's chances of winning the World Cup and what she'd take to keep her warm on a desert island.
Perfect season
Announced as a Chelsea player on the eve of the European Championships last year, Magda Eriksson has had an eventful 16 months. From Sweden getting knocked out of the Euros to going straight into the new-look WSL season, helping Chelsea navigate the season unbeaten, picking up an FA Cup final win on the way, the young defender has barely had time to catch her breath.
Although the 2018-19 season hasn't started in such glorious fashion, Eriksson hopes that the Blues are back on course.
"We've gone through a tough part of the season now but hopefully we've gone past; the three games we had last week we performed really well, we won, had three clean sheets and it feels like we're back on track."
But little can compare to her almost-dreamlike first season in London.
"Last year was amazing and maybe it was a bit too easy and we had too high expectations, the league is getting better so we need to step up our game and we felt that the first few games of this season when we drew nil-nil and the defeat to Arsenal of course."
A Stockholm native, prior to the move, Eriksson had spent her playing career close to home, whether at Enskede, Hammarby, Djurgården or Rågsved in Stockholm or Linköping 200km south-west of the Swedish capital. Moving to Chelsea didn't just represent moving away from Damallsvenskan but from her home, moving to an entirely foreign culture.
Fluent in English and joining a team with a healthy number of Scandinavians – Chelsea now bursting at the seams with Nordic players – the move was unexpectedly an easy one for the former Linköping captain.  
"I thought it was going to be harder than it was. The language was very easy for me to come in and know everything from the start. I've heard from a few of the other girls who've moved to France and Germany that they've struggled a bit more. But I think I did it at the right time; I waited long enough when I thought I was mature and secure enough in myself, so it was good timing and the team I came to was really welcoming, really nice people… the coaches as well."
New home
Warming into the team instantly, Eriksson soon found herself in the starting XI, the Swede fast becoming an integral part of Chelsea's defence.
"I feel like I'm a different person really. My first year at Chelsea, the way I grew as a person, it was the biggest year of my life for development and it gives you some confidence to move away from home and succeed in a club. To get a good place in the team and to manage that in a year, it just gave me much more confidence in myself as a football player and as a person as well."
An unknown quantity for most in England, Eriksson fast began to rack up appearances for Chelsea, the belief put in her by Blues boss Emma Hayes repaid on the pitch. But joining a new team in a new league in a foreign country, the defender certainly didn't expect to be a regular name on the team-sheet.
"I didn't really expect anything to be honest, when the opportunity came I was just like, I want to do this, it's such an amazing team. I went in with no expectations but I've always had a belief in myself that I can do it so I just did my best in every session, and got minutes and one thing lead to another."
With the Damallsvenskan season neatly slotted into the middle of the year, the league starting in April and wrapping up at the start of November with a summer break in the middle, the winter league came with its own challenges.
"It was a hard year last year because we had the Euros then we went straight into the season and it's a pretty long season with a lot of games. You have the Champions League, Conti' Cup, FA Cup and the league, luckily we have a really big squad so we can rotate, so there was a few games that I didn't play and I think that helped me a lot. It's going to be challenging this year because the World Cup is coming up in June and well… you've just got to put your head down and go."
With few commonalities between Sweden and England, the culture is something Eriksson has had to adapt to, but unsurprisingly, feels right at home on the pitch.  
"It's a special culture, I think it's fun and it suits me in some ways; the football culture definitely suits me. The culture outside of football is very loud and more noisy than Swedish; we're calm, we think before we talk but I think English people are reversed – mostly, I don't want to generalise – but then we have a lot of Scandinavians in the team so it's not as extreme as it can be in some teams, we have a good mix of personalities so it's not been that challenging, it's just been fun to see how people can be so different from Swedish."
With the Swedish style more subtle and tactically minded, Eriksson's meaty challenges and knack of leaving attackers floored is much more evocative of the English style. A fast fan favourite, the 25-year-old clear enjoys the appreciation she receives from those in the stands.
"It's really fun, especially the way that they appreciate tackles and appreciate defensive, you can hear like… I'd never heard a crowd cheer you on when you've given away a foul or a tough tackle, that's different for me and I kind of like the fighting side of football. But of course, I want to develop my playing style as well and I don't want to get too aggressive either so I'm trying to find a balance between the two."
With Chelsea a little off of the boil so far this season, Eriksson submitted her application for goal of the season with a perfectly executed overhead kick to give the Blues all three points against Liverpool at the end of October. Having tried and failed something similar in Chelsea's pre-season friendly against Juventus the Swede, who has received a healthy dose of media attention following the match-winner, insists she never practices bicycle kicks.
"I've never practiced, it was just one of those things that came to me, my touch went straight in the air and my back was to the goal and I was just like, I want to try and get it on goal, I don't know."
Sweden on the front foot
Away from Chelsea, Eriksson has had to adapt to changes in the national team as Peter Gerhardsson took over from Pia Sundhage after the Euros. The new coach a world away from his predecessor, the new ideas thrown around by the 59-year-old, something Eriksson has enjoyed.
"Things have been very good, very refreshing, he's a type of coach that talks about new things we've never really talked about before. I think because he comes from men's football he has a lot of details which is really good but I've never heard of them before so it's been really good and invigorating for our team."
Not just winning matches but putting in increasingly strong performances, the team is brimming with confidence.
"We're trying to develop a new style of play which is starting to come together and we've had some good results as well with Peter, he's the type of coach to give you the confidence you need – especially in the national team where you're not really as synced as you are in the club. He's been really good about giving us confidence, giving us details in our play that's really helped us a lot."
Freer in attack and no longer just sitting back and trying to counter their opposition but harnessing the creative and attacking strengths of the midfield and attack, under Gerhardsson Sweden are moving into the modern era.
"That's what we're working on now and that's what we're going to work on until the World Cup to develop a more modern style instead of defending and playing long balls which has been the Swedish style for so long. So, we're trying to find a mix of that now, a mix of a really solid defence with a good attacking style as well."
But, can Sweden win the World Cup?
"I definitely think so, we're not going to be the favourites, we're not going to be the team that everyone talks about but we're going to be the team right behind them, it's a pretty nice position to be. We know we have the possibility to do it, just two years ago we went to the Olympic final so we know we can do it but we know we're not going to be the favourites."
Highs and lows
With domestic cup and league success a plenty in the last few years not to mention a second-place finish at the Rio Olympics, Eriksson's trophy case is starting to fill up nicely but her proudest moment?
"That's a hard question… I was super proud when we won the FA Cup as it was such a big occasion, there were so many people in the crowd and we managed to play the best game we played the whole year in that game. I thought that was cool, not to get blown away with the spectators and nervous but instead to perform and play really well, that was one of my favourite games as well."
But it hasn't all been rosy for Eriksson over the years, her worst moment one that will resonate with the Chelsea faithful.
"Of course, there's been a really hard few moments in the last month but the Wolfsburg defeat in the Champions League semi-final. Of course, we weren't the favourites in the tie but it just felt like we weren't even close to beating them."
The two-legged defeat a low moment but instantly something Eriksson and her teammates could learn from.
"We had higher expectations for that game but it was a good reality check to be like, we need to work harder, we're not close to the top two in Europe yet but we can be and that's what we can work on."
A lover of the game, the defender mulled over her least favourite thing about the sport before settling on something her peers can surely relate to.
"I feel like people have pre-conceptions about the game before they've even given it a chance and that's something I think is really frustrating. Every person that watches at a women's game without those prejudices they think it's really good but the people who have already made their minds, they always judge us for the mistakes that always happen in the men's football."  
Snakes and toothbrushes
Having occasionally resembled Zorro after breaking her nose, Eriksson is just a cape and pseudonym away from fighting crime but when it comes to superpowers?
"I would be like to be able to fly."
And of course, in the perfectly conceivable scenario of being stranded on a desert island with just three things (or people) with her…
"I'd bring my girlfriend of course, she wouldn't want to be without me and I wouldn't want to be without her. And then, I'm pretty practical so something so I could start a fire with and…. a toothbrush."
At ease in English, there is one particular term Eriksson has picked up from her teammates that she's fond of, even if the Scandinavian contingent at Chelsea sometimes get mocked for aping their counterparts.
"We call people snakes and lizards and I think that's fun to say… there are so many things that the girls use and whenever we Swedes use them, they always laugh at us and think we're really funny that we try to sound like they do."