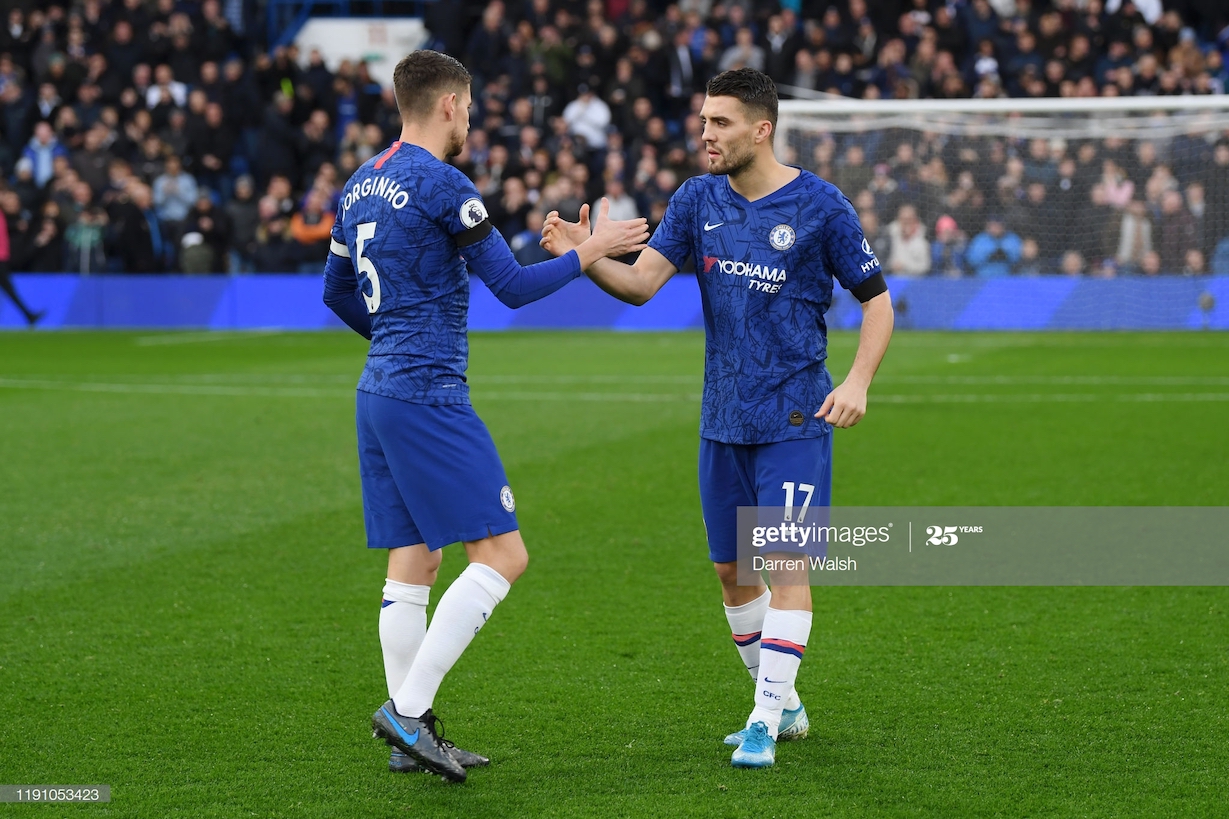 Chelsea head coach Frank Lampard can't complain about a lack of depth to choose from, particularly in midfield. Generally favouring a three-man midfield in a 4-3-3 formation, Lampard has had no fewer than seven midfielders to call upon.
Looking ahead to next season, the Blues squad will be boosted by the return of loanees who will further increase competition in midfield.
Bearing all options in mind, let's take a look at who will be manning the midfield at Stamford Bridge next season.
Jorginho
A summer signing from Serie A side Napoli last season, Jorginho is the quintessential pass master in midfield. Occupying the central position in Chelsea's midfield three, being able to dictate play from deep and possessing an impressive range of passes, he has been the fulcrum of Chelsea sides under both Maurizio Sarri and Lampard.
Though many have questioned his physicality, Chelsea's number five has persisted in the face of criticism, displayed commendable fight and attitude and been rewarded with the role of vice-captain. Given Chelsea's more expansive style and desire to build play from the back, Jorginho's important role in Chelsea's future is hard to overlook as few in world football can do what he can does.
Mateo Kovacic
The Croatian sensation joined on loan from Real Madrid in 2018 and endured a mixed start to life at Chelsea. Operating on the left of a midfield three under Sarri, Kovacic would often struggle under the shackles of the Italian's rigid tactical system.
Given a new lease of life under Lampard, Kovacic has reveled in it, turning in standout performance after standout performance with his characteristic running and supreme dribbling ability. Not renowned for his goalscoring, he has nonetheless chipped in this season and displayed standards that reaffirm why he was so sought after in Madrid and by Inter Milan.
With many modern sides employing a relentless press, Kovacic is a jewel in the Chelsea crown for his ability to evade opposition markers and find a pass in the smallest of spaces. Widely tipped to be the Player of the Year for the 2019/20 season, it's hard to see him being dislodged next season.
N'Golo Kante
Twice a Premier League winner, a FIFA World Cup winner and a UEFA Europa League winner, Kante's role in each of those accolades has been pivotal. One of the game's nicest players, its ironic that the Frenchman is arguably the world's best midfield pick pocket, able to intercept, tackle and retrieve the ball like no other player.
Due to the sheer volume of football Kante has played since his Leicester City debut in 2015, it's no wonder he has struggled with injuries this season. Despite this he has proven his world class pedigree in games against Liverpool and Manchester City, working as tirelessly as always from a box-to-box role on the right of a midfield three.
Edging close to his thirtieth birthday means there is logic to be had in thinking Kante's days at the top are numbered. However, his skillset and ability at the highest level are matched by few other midfielders in world football. With so many attacking players available in SW6 next season, Kante may well provide the perfect balance in midfield that allows them to express themselves.
Mason Mount
Mason Mount has enjoyed a sparkling debut season in the Premier League, appearing in all thirty matches so far, contributing six goals and four assists across all those games. A Chelsea academy graduate and still just 21, this is an impressive return for a relative novice.
What makes these numbers all the more impressive is the fact that Mount has delivered them from a variety of positions: left central midfield, left wing, number ten, right central midfield or right wing. Arguably best in midfield, Mount has nonetheless displayed world class levels of versatility, adaptability and self-sacrifice that suggest he will be a crucial cog in Chelsea's wheel for many years to come.
Also a prodigious dead ball specialist, his ability to play a number of positions, consistency and near flawless injury record will come in particularly handy next season should Chelsea qualify for the UEFA Champions League even if he isn't necessarily first choice in any position.
Ruben Loftus-Cheek
Ruben Loftus-Cheek has long been thought of as the great hope of Chelsea's academy. Tall, strong, mobile, and technically gifted, Loftus-Cheek reminds fans of Premier League greats like Yaya Toure and Michael Ballack for his ability to get between the boxes, impose himself and evade markers.
What has held him back thus far in his career is his injury record. Missing the entire season so far save for the previous outing at Aston Villa, Loftus-Cheek hasn't been able to build momentum nor develop his very obvious talent.
Due to the attributes he possesses, Loftus-Cheek has the potential to be a great player but, at 24, is running out of time to realise it. If he is to cement a place in the side in the long-term, he needs to remain fit and consistently demonstrate his talents in order to usurp the world class talents he is competing with or risk remaining a squad player for the rest of his Chelsea career.
Ross Barkley
Ross Barkley is a curious player. With undeniable technical ability, the former Everton player has demonstrated on a number of occasions just what he is capable of. But, for every wonderful goal against Liverpool in the EFL Cup, there is a penalty miss against Valencia such is the paradox that is Barkley.
If he were to deliver more consistent performances, we would perhaps talk about Barkley as one of England's foremost talents and a Chelsea certainty. But his inconsistency means he is unlikely to command anything more than a squad role unless a reported move to Newcastle United comes to fruition, according to an article published in The Express last month.
Billy Gilmour
Billy Gilmour has enjoyed a breakout season at Chelsea. Donning the number forty-seven, the Scotland teenager has demonstrated his superb ability in two back-to-back man of the match displays against Everton in the league and Liverpool in the FA Cup.
Preferring to operate at the base of midfield much like Jorginho, Gilmour is diminutive and skillful but tough in the tackle. At just nineteen, though, he still has a great deal of development ahead of him and needs the freedom to make the mistakes typical of young players.
Nevertheless, his displays and overwhelming eagerness to play for Chelsea suggest that he has a long and bright future at the club even if that isn't necessarily as a guaranteed starter next season.
Marco van Ginkel
Chelsea's forgotten man, Marco van Ginkel has been a Chelsea player for the last seven years. Struck down by two damaging knee injuries, the latest injury has kept him out for more than two years.
A very capable midfielder who has been compared to Frank Lampard, van Ginkel has, according to Goal, been offered a new deal by the club. Having been out of the game so long, it would be curious to suggest that van Ginkel would become a mainstay in the Chelsea midfield.
Nevertheless, a player who has been capped by the Netherlands, taken in spells at PSV – where he captained them to the Eredivisie title – and AC Milan may prove to be a valuable addition to a Chelsea squad competing on all fronts next season.
Faustino 'Tino' Anjorin
Faustino Anjorin is another in a long line of Chelsea academy products. Big, powerful and excellent technically, Anjorin broke into the first team this season and recently committed to the club for the next five years.
Rated extremely highly by the Chelsea coaching staff and capable of playing anywhere in attacking midfield, Anjorin has a bright future ahead of him. Although available for selection next season, it is unlikely that he will command a place in Chelsea's starting lineup.
Conor Gallagher
Conor Gallagher is a prodigy of Chelsea's academy who has been plying his trade in the EFL Championship for Swansea City and Charlton Athletic this season. Making 37 appearances and registering six goals and nine assists in the league this season per Transfermarkt, the twenty-year-old has been incredibly impressive from a variety of central and attacking midfield positions.
Another with a long-term future at Chelsea who won't necessarily command a starting spot next season, Gallagher is one who could nonetheless form part of a healthy Chelsea midfield next season.
Ethan Ampadu
The mightily impressive Wales international has had a tough time of things at RB Leipzig this season. In what was heralded as the ideal developmental move for Ethan Ampadu, he has seen first team opportunities limited to just three in the Bundesliga this season.
An excellent performance at the base of a defensive three against Tottenham Hostpur in the Champions League, Ampadu is a very able defensive midfielder. At just 19, it is unlikely he will be able to usurp Jorginho in midfield, but could command a squad place next season if a more suitable loan move doesn't come to pass.
Tiemoue Bakayoko
Tiemoué Bakayoko has thus far taken in one ill-fated season at Chelsea during the 2017/18 season wherein he was supposed to be the replacement for the departed Nemanja Matic. That underwhelming season meant a loan to AC Milan before taking in another at his former side AS Monaco.
Having had a more impressive season this season, Monaco had the option to make his move permanent. With the global pandemic severely impacting the global economic climate, Bakayoko's former club cowered in the face of his £38m option to buy, according to Goal.
Thus, it leaves the player in a state of uncertainty regarding his career. At the time of writing, he has a fight for his Chelsea career as his only option. If he can realise his previous form that saw him help Monaco to a Champions League semi final in 2016/17, he may have a place at SW6 next year.
Danny Drinkwater
Danny Drinkwater made his name as one half of a fierce Leicester City midfield two in their 2015/16 Premier League title win, the other being N'Golo Kanté. A less than impressive debut season at Chelsea proved to be the peak in an otherwise downward spiral since then.
In loan moves to Burnley and Aston Villa, Drinkwater has hit the headlines more for his off-field exploits than anything else. Currently on a six-figure per week salary at Chelsea, the player will be hard to shift should the club want to.
Nevetheless, he is a player on Chelsea's books for next season and, unless a loan or permanent switch materializes, will need to knuckle down and fight to resurrect his Chelsea and footballing career.
The Verdict:
With a near embarrassment of midfield options to choose from, it is a headache head coach Frank Lampard will not mind having next season, provided everyone is fit.
Competing in four separate competitions means there will be more than enough games to go around for young players like Billy Gilmour, Tino Anjorin or Conor Gallagher.
All else being equal, if there were a midfield three to be chosen to start every game it would have to be: Mateo Kovacic in central midfield, Jorginho in defensive midfield and N'Golo Kanté at right midfield. All three players are world class in their ability and provide the perfect balance for what will be a very attacking Chelsea side next season.
Although Mason Mount misses out, his versatility means he will inevitably fill in at left or right wing, at number ten if the system changes or in midfield if one of Kovacic or Kanté are injured. Regarding Loftus-Cheek, a lot of question marks surround his fitness. It remains to be seen whether or not he will be able to command regular inclusion in Chelsea matchday squads. Ross Barkley also misses out due to the wavering nature of his form, but should he remain at the club should provide welcome competition for the other midfielders at the club.
Having Kanté and Kovacic in there may sap the midfield of goals but it would provide a suitable platform for the system Lampard wishes to employ – an attacking system with full backs high up the pitch and one where pressing is imperative – and will remove the defensive responsibilities from the front three who will have license to do what they do best, score goals and win games.