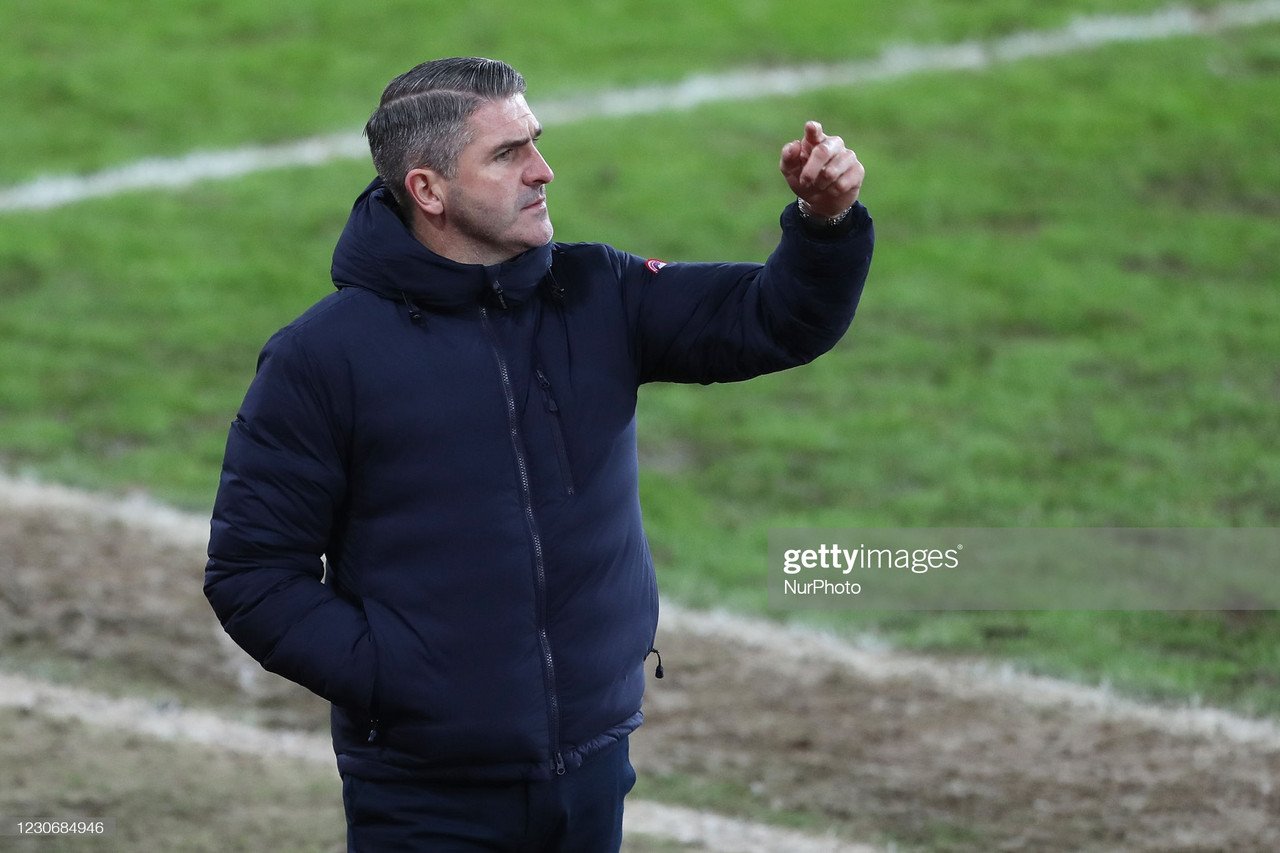 Plymouth Argyle host Accrington Stanley at Home Park on Saturday, as the Pilgrims hope to extend their unbeaten spell in League One so far in 2021.
The new year's form has seen Ryan Lowe's side climb up to 13th in the league – trailing the play-offs by just six points.
Whilst Argyle are on the up, Stanley are fighting their way out of rough waters.
A 2-0 win against Hull City in midweek showed promise that the club were back on course, though, after a triple header of losses in all competitions - which saw the side concede eight and score none - John Coleman will be keen to get another win under Accy's belt to settle the nerves.
The game will need no extra motivation for Argyle, who were humiliated 5-1 last time the sides met – spelling the end of Derek Adams' stewardship of the club.
With the South Coast side back in the third tier and under new management, they will certainly want to rectify the infamous fixture.
"The lads just want that next game"
"When you are winning, you want to go again," said Lowe.
"What we have to do is be complacent and calm our jets. I think next week, after Accrington, we can rest and recover the lads because it has been a tumultuous couple of weeks in terms of games and travel."
Lowe was quick to add that taking their foot off the gas was temporary and normal service will resume in due time.
The Pilgrims' boss continued: "The points tally so far is good and we want to keep climbing up and see where it takes us."
Despite Coleman's side undergoing a rough patch of recent, Stanley have performed above expectation this season.
The Lancashire outfit – who survived the drop by eight points in last season's curtailment – find themselves with a chance of going second in League One if they win their games in hand, and Lowe believes the man at the helm is a big part of their success.
"You know what you are getting out of a John Coleman team," said Lowe.
"You are getting 110% every game you play – they are committed to the cause.
"They are working under great coaches in Jimmy Bell and John Doolan, they are drilled well, and we need to make sure we are on our mettle because of where they are in the league.
"People will say he [Coleman] is overachieving but for me he is not. He is a good bloke who does things the right way, and ultimately, Accrington's position in the table proves that.
"But that being said, we are at home so we want to take the game to them as much as we possibly can. We will respect them, but you have got to go toe-to-toe if you want to win any game of football."
"We try and give them everything they want"
Argyle will be thankful for a home fixture on Saturday, after travelling 1700 miles in the last 10 days.
In the last three weeks, the Pilgrims have faced Huddersfield Town, Sunderland, Sheffield United and Swindon Town away from home.
Spending that long on the road wouldn't have been easy for the team and the Plymouth boss explained how he helps make life that little bit easier for his players.
"The travel has been tough, but the lads have adapted to it very well," said Lowe.
"They wanted to stay over after playing Sunderland, they wanted to travel up to Sheffield United the day before and then we gave them hotel beds on Tuesday afternoon for the Swindon game.
"When you are travelling all those miles and you are picking up points with good performances, it is worthwhile."
"We will see one - possibly two - go out the door in the next few days"
The Liverpudlian has been very open that he will not stand in the way of any player that wants to leave the club.
More importantly, however, the Pilgrims need to replace those that have departed the South Coast this month.
𝘿𝙊𝙉𝙀 𝘿𝙀𝘼𝙇!🚨

The Exiles have completed the permanent signing of Dom Telford from @Only1Argyle.#OneClubOneCounty

— Newport County AFC (@NewportCounty) January 28, 2021
Argyle have sold defender Niall Canavan and forward Dom Telford this month, bolstering the attack by signing Wolverhampton Wanderers striker Niall Ennis for an undisclosed fee.
Wing-back Adam Lewis was brought in on loan a fortnight ago, though, the side still lack another centre-back.
"We are still hoping to bring one in," Lowe explained.
"If another one falls our way that is right for us then we will look at it, but it will not be a big overhaul.
"We are looking for another defender and we will continue to do that, we have a couple of irons in the fire. We will only do something if we need to."
Plymouth recently had a bid rejected from Ipswich Town for Janoi Donacien, with the club preferring for the defender to leave on loan to Fleetwood Town instead.
With the bid reportedly in the £50,000 region and striker Ryan Hardie signing a permanent contract on Friday, freeing up a loan slot at Home Park, Lowe will have even more manoeuvrability in the market – which closes on February 1.