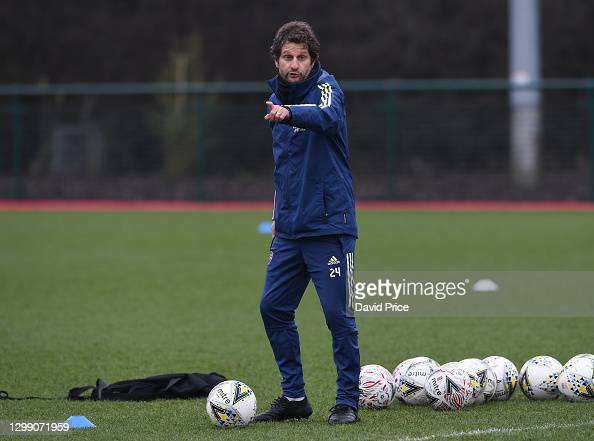 Arsenal travel to Aston Villa for the first time in the Women's Super League to play a fixture previously postponed four times.
Joe Montemurro's side has experienced a rough start to the year having only played three games since the start of the year due to weather and COVID. In comparison, Chelsea have played seven WSL matches this year.
"There's been a gap between games and players coming back at all different levels. It's an important game for us, that we get into some sort of rhythm. It been difficult with the frequency of games," said Montemurro.
"They have some very talented players and obviously they have a new coach and they're battling for survival, to get every point they can get so we know it'll be a tricky game."
With 10 fixtures left to be played for the Gunners, finding a steady and winning rhythm has never been so important. Arsenal currently sit fourth and out of a Champions League spot, needing the maximum amount of points to keep up with the three clubs above them.
"We seem to be setting a reset button every 2 to 3 weeks with games cancelled and scheduling to be honest. But yes [international break allowed a reset] and maybe no, we wanted to continue playing, we felt that we could've kept the rhythm of games going which would've been really good," said Montemurro.
"And obviously we've had players that missed out through injuries and not making match day squads through a few other things. So it's been a good little reset in regards to getting the squad back to some level of normality so hopefully we do get the games and scheduling frequency that we've been craving for the last 3 or 4 months."
Leah Williamson, Lotte Wubben-Moy, Jordan Nobbs and Beth Mead featured in England's 6-0 win over Northern Ireland.
Danielle van de Donk, Jill Roord and Vivianne Miedema won the 3 Nations 1 Goal tournament which featured Belgium and Germany. Jen Beattie and Lisa Evans finished Scotland's Euro qualifying campaign and Swiss trio Lia Walti, Noelle Maritz and Malin Gut featured in training camp.
With the current restrictions, it seemed like every player needed to get out of the club environment they've been stuck in.
"Give them a new face instead of looking at my ugly face day in and day out. I think it's really important that they join up with their national teams," said Montemurro.
"It's been an interesting one because it hasn't been a classic because some teams have just gone into camp. Then all protocols and testing to get players back has been challenging. Yes, I [am happy] that they got playing time and got out of the environment, it's really important for their mental health and a footballing perspective. But it has been challenging just the different protocols that we had to adhere with."
The Dutch enjoyed wins over Belgium and Germany, with the Arsenal trio getting starts in both matches and all got on the scoresheet.
"They come back smiling having won games, that's always an important thing. The important thing is that they have to balance out the two different scenarios.
"They have to go into a stimulus of a tournament football or a one-off game scenario and then they come back into a league. It's really important on the human performance side, in terms of balancing out the physical load so they maximise both games. From a mental perspective, they come back ready to get into a league and club scenario. We're lucky that a lot of our girls are very professional in their attitude towards that."
"We've had our challenges this year. Not only football challenges, but also the other challenges that everyone is experiencing. I'd be lying to say that we're all not going through spouts of exhaustion and spouts of fatigue.
"But I can't fault the attitude and professionalism of players and staff adhering to the task ahead of us. It's been difficult to plan and be able to do our normal 4 to 6 weeks block of work. We've had to adjust things and somehow stimulate things at times, but I can honestly say that we're still smiling, we're still enjoying training and we still believe in what we're doing."