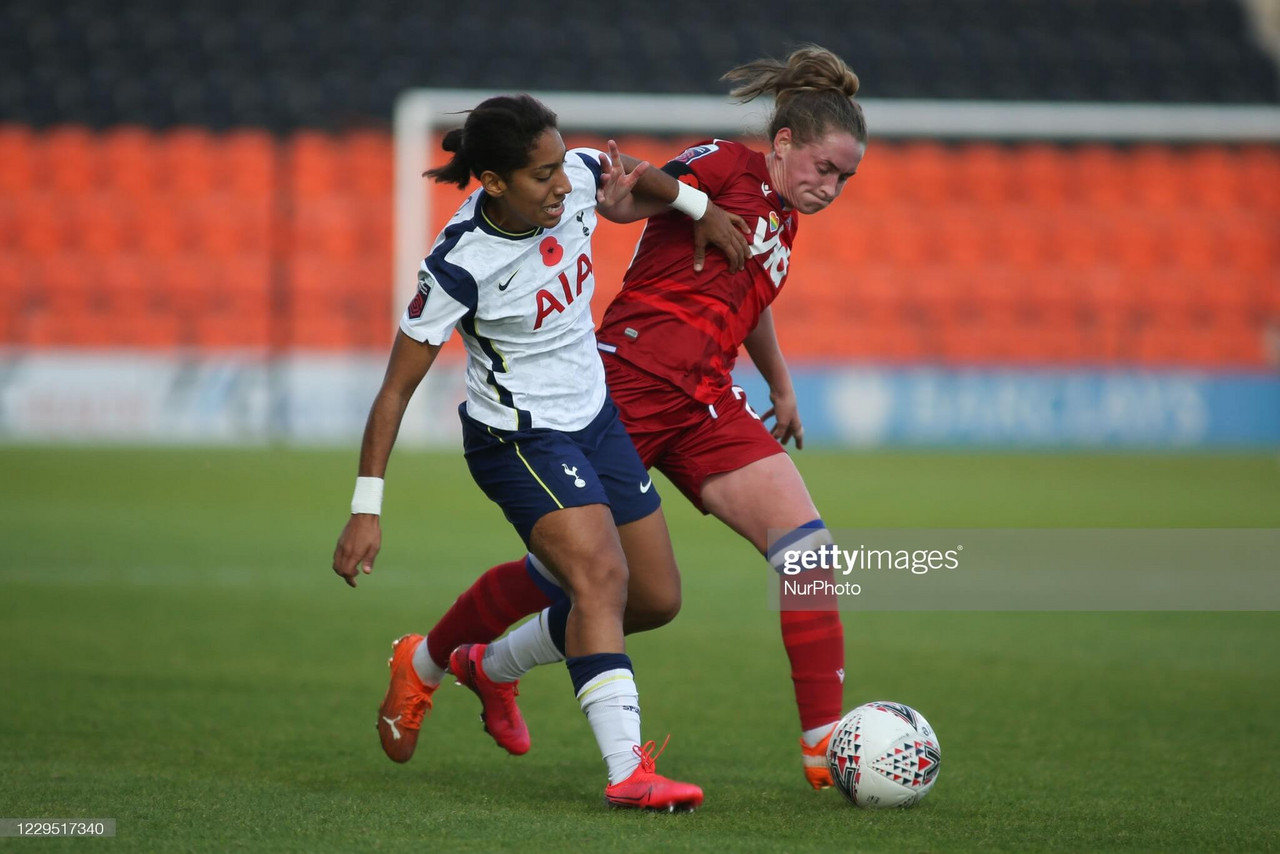 Both Reading and Tottenham Hotspur will be looking to get back to winning ways when they face each other at the weekend.
Reading, who have only won one of their last six league games, lost 3-2 against Bristol City last week in a game where they dominated possession. Whilst Tottenham, who have lost their last four games, were defeated 2-0 against Brighton and Hove Albion.
In the table, Brighton sit in between eighth placed Tottenham and sixth placed Reading. Although a win for either side would not see their position move, both sides will be set to fight for the vital three points to close the gap on those above them and add distance between those below them.
Consistency is going to be key for both sides following defeats last weekend.
Reading welcomed back Fara Williams and Emma Harries to their starting line-up in their game against Bristol City.
Reading boss Kelly Chambers told their media team: "I know I get a reaction from the team following a loss. I always do. But we can't keep doing this and having a reaction; we have to have consistency with these games.
"We performed against Arsenal and Man City, we beat Man United. To do what we did against teams like that, you also have to be beating teams that are sat at the bottom of the table."
Spurs were forced into a late change to their starting line-up last weekend which saw the now fit Siri Worm, who hadn't featured since December, come in to replace the injured Kerys Harrop. Cho So-Hyun, who was a late omission from their game two weeks ago, also didn't feature.
Looking forward to Sunday's game, Tottenham's boss Rehanne Skinner told their media team: "Ultimately, the things that we are doing well we've got to be able to deliver more consistently.
"There's a definite attitude towards the fact that we just need to keep working in the context that we have to try and get these results turned over."
Reading:
Moloney (GK), Mitchell, Cooper, Bartrip, Harding, James, Williams, Rowe, Harries, Bruton, Carter
Tottenham:
Mikalsen (GK), Zadorsky, Davison, Percival, Addison, Worm, Graham, Kennedy, McManus, Ayane, Morgan
Emma Harries, who has been at Reading since she was eight, got her first goal for the club in their defeat to Bristol City. Harries has been nurtured through the Reading academy and made her debut for the senior side in October last year. The 18-year-old striker can be a dangerous player and will be one for the Spurs defence to look out for.
After scoring her first goal for the club, head coach Chambers said: "Credit to Emma. We've had her since the age of eight and to see her come into the first-team set-up, perform, get those chances and ultimately score her first senior goal is fantastic."
Young Tottenham player Esther Morgan made her second appearance in the Women's Super League last week but has made a good impression on her coach. The 18-year-old Welsh international received her first senior call up in November and is now finding her feet within the Spurs squad.
Following the last fixture Skinner said: "She's been working incredibly hard, she's worked within the group and they are obviously teaching her a lot and I think she's come on leaps and bounds in a very short space of time.
"She has earned her opportunity and off the back of her first game last week she's showing the quality she is capable of."
The reverse fixture between these two sides took place back in November where the points were shared after a 1-1 draw. Reading opened the scoring with a goal after just 13 minutes from Brooke Chaplen. Tottenham found the equaliser after 25 minutes through Ashleigh Neville, who is currently facing a spell on the sidelines with an injury. The teams looked relatively evenly matched last time out but both sides will be fighting to take home all three points on Sunday.
The match kicks off at 12:30 GMT at the Madejski Stadium on Sunday 14 March.
It will be broadcast live on the FA Player.