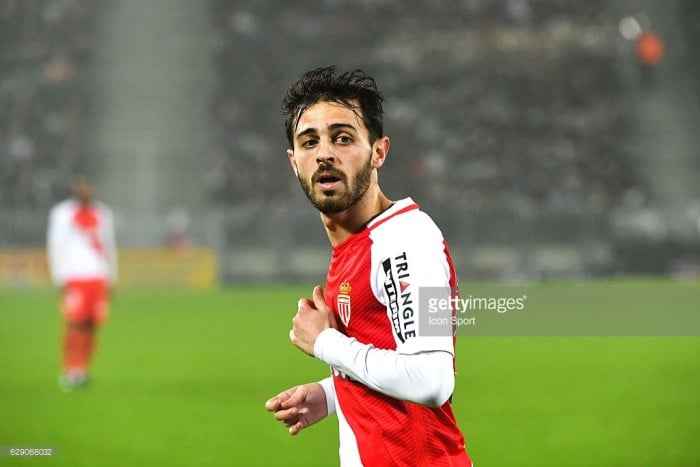 The red and white strip of Benfica has become synonymous with success since the club was founded by a host of students 112 years ago. The Lisbon outfit hold the record for the most Primeira Liga titles (35), the record for the most Taca de Portugal triumphs (25) and the seven Taca da Liga trophies obtained over the decades is also a record within their domestic game.
While Aguias' finest spell remains in the early 1960s, when an Eusebio inspired squad ended Real Madrid's stranglehold on the European Cup by winning it twice in succession, achieving a domestic treble in 2014 is still an unprecedented dizzy height to reach in the country's hilly capital.
While the fans inhabiting the Estadio do Dragao during an encounter with rivals Porto on the final day of a superb season might have been in the presence of a vast array of talent, the 25,121 supporters were blissfully unaware that they were witnessing the birth of a star.
Bernardo Silva was born in Lisbon rather than in nebulae, though. A self-confessed fan of Benfica since his days as a child, he was snapped up by the Reds at the tender age of eight. Progressing rapidly through the academy's ranks while still gaining an education, with Silva opting to study economics in his final three years of school, the youngster earned his first call-up to Benfica B in 2013.
His first team debut arrived just months later as his development continued at an exciting pace, replacing Filip Djuricic in a Taca de Portugal victory over CD Cinfaes that was settled by a fortuitous Ola John strike just after half-time. A further two appearances for the then-number 94 followed in the Taca da Liga and in the aforementioned defeat to Porto on the final day, with Djuricic making way for the midfielder once more.
Portugal's second division is where the 19-year-old began to prosper as Silva scored on seven occasions in 38 Segunda Liga appearances during his stay with the club. His performances in the number 10 role, which drew comparisons with boyhood heroes Rui Costa and Deco, saw a Segunda Liga Breakthrough Player of the Year Award bestowed upon him in 2013.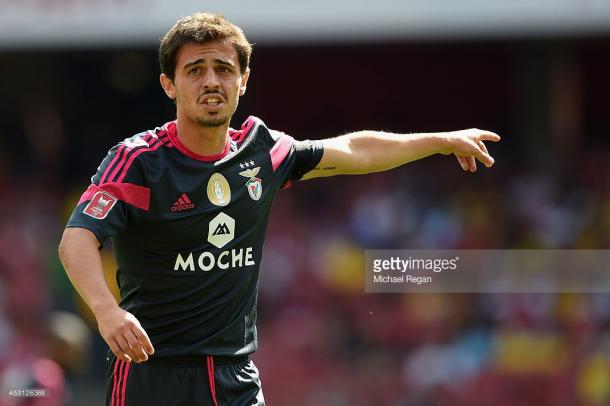 Unlike fellow Portuguese giants Porto and Sporting Lisbon, Benfica had been struggling to promote from within despite harbouring an academy that won Best Academy of the Year in 2015. During the 2012-13 season, seven players in the squad derived from Portugal with just one product of the youth system making over 10 appearances across all competitions. It improved the following term as five Benfica youngsters were listed in the squad but game time was severely limited as Jorge Jesus aimed for a quadruple.
Silva sees no future at boyhood club, Benfica
As concerns over Bernardo Silva's future loomed, the diminutive playmaker was jettisoned on loan to AS Monaco with an option to buy. With intriguing prospects such as Andre Gomes, Joao Cancelo and Ivan Cavaleiro also seeking fortunes away from the Estadio da Luz, president Luis Filipe Vieira vowed in November 2014 that the following year "would start a cycle of players raised at Benfica, integrating into the squad and fighting for regular chances".
"I trained with the first team at Benfica, but as a left-back. I realised I didn't have a future in the team." - Bernardo Silva
It was too late to recoup the Portugal under-19 international, though, who had already partaken in 10 Ligue 1 fixtures before December began.
Silva appeared extremely obsequious in an interview with AS Monaco TV during his medical, telling the camera of his work ethic numerous times perhaps in a bid to dispel worries about his size and appease the fans after a lack of commitment was portrayed by their big-money signings.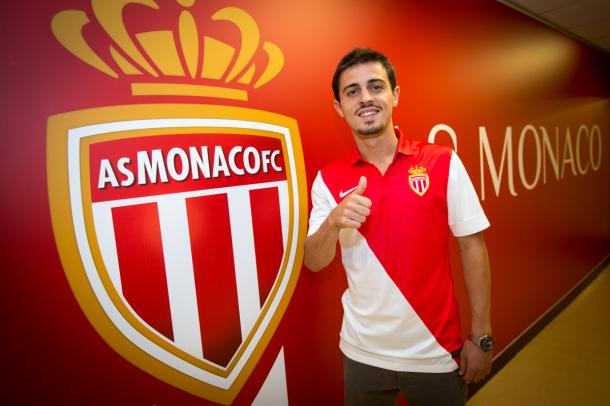 His arrival at the Principality, as a small, rather unknown, young loanee, was rather muted due to the departures of first team players such as Radamel Falcao (Loan), James Rodriguez and Emmanuel Riviere. The club looked to tackle the power of Paris Saint-Germain head on the season prior but these four transfers showcased the transition from spenders to money-makers as Monaco began purchasing gems for small fees.
Gifted youngster delivering in Ligue 1
Silva's statistics made promising reading in his first term, though, especially after he made his move permanent during the January transfer window - recording nine goals and three assists. This not only helped his new side obtain a place in the Champions League but also catapulted the technically gifted winger into the limelight.
A similarly successful season from an individual point of view maintained his reputation as a hot prospect across Europe, with the now full Portugal international appearing in just about every listicle involving football's next worldwide superstars.
The player's maturity and superb attitude have been the basis of his success during the embryonic stages of his Ligue 1 career. Despite a strong Portuguese contingent within the ranks at Monaco, moving to a foreign country at such a young age would be difficult enough without the constant knocks and fouls that being a tricky, skilful wideman would inevitably bring.
Bernardo Silva now flourishing
We are now beginning to see Bernardo Silva flourish at exactly the right time. Leonardo Jardim's attack-minded side has become the perfect environment for a player of Silva's extraordinary talent in the final third of the pitch. Still, despite four assists in the last ten games, matching his tally in his last 70 outings, Silva perhaps unfairly remains overshadowed by a resurgent Falcao and young Thomas Lemar. Silva has been the standout, though.
Silva has the ability to both instigate and sustain vital Monaco attacks with his superb movement, dribbling ability and positional awareness. The 22-year-old has thrived on the right-hand side, in the middle and in behind the defensive line of the opposition. Impressive performances against Bordeaux, Marseille, Tottenham Hotspur at Wembley and a last-gasp equaliser against CSKA Moscow in the Champions League has epitomised his importance to a side full of players reaching their peak.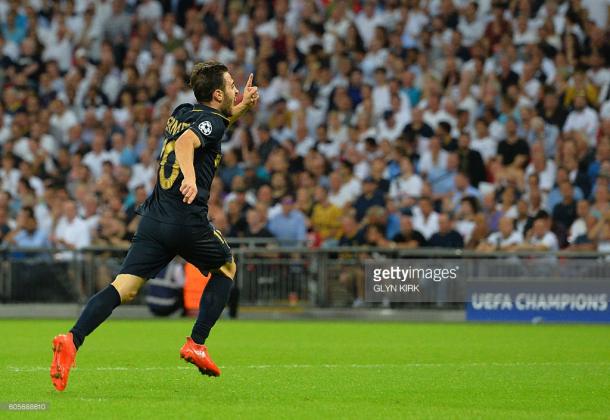 This has ensured recognition has arrived from fans, experts and former players alike. Silva was rightly nominated for Ligue 1 Player of the Month for November and was later included in the Eurosport's best Ligue 1 XI for the first half of the current campaign.
The European Championship winner also received kind words from Deco, one of Portugal's finest midfielders of all time and a boyhood hero.
"I think Portugal now have a good generation with lots of good young players in midfield mostly but I think Bernardo Silva, who plays for Monaco, could be one of the greatest players in the world," Deco told Squawka.
"He has a lot of quality. He is a good player. He takes risks. That's why I like him. He can be the No. 10 of the national team for the next years." High praise indeed.
Can it continue?
A stellar year has surpassed expectations at club and international level, but can it continue? History, unfortunately, says no. A usually defensive division should wise up to Jardim's tactics while a Champions League campaign could very much come to an end when they face last year's semi-finalists Manchester City over two legs.
Bernardo Silva, meanwhile, has been linked with the likes of Chelsea as the Blues look to secure a first Premier League title under Antonio Conte. The move seems a possibility under Monaco's aforementioned plan of buying low and selling high but the bid would certainly have to be large. Jardim will be hoping they can keep hold of their talismanic playmaker to overcome leaders Nice and champions Paris Saint-Germain to win a first title since 2000.
The journey from Benfica B to Monaco's first team has been a seemingly fluent one but the work to be one of Europe's leading lights has only just begun.