World number one Novak Djokovic will be competing in his 21st Grand Slam final, and seventh US Open final in ten years, and the Serb will be chasing his third Grand Slam title of 2016, a feat he achieved in 2011 and 2015.
Meanwhile, third seed Stan Wawrinka comes into the US Open final hardly with any form except for his run to the semifinals of the Rogers Cup, although, he missed the Olympics due to a back injury, and suffered a third-round exit to Grigor Dimitrov at the Western and Southern Open in Cincinnati.
The two-time US Open champion has been in imperious form in 2016 by winning the Australian Open for the sixth time and he finally won the French Open to complete his long-awaited Career Grand Slam becoming the first male singles player since Rod Laver in 1969 to hold all four Grand Slam titles consecutively.
However, he suffered a shocking third round exit at Wimbledon, and a first round loss at the Rio Olympics to eventual silver medalist, Juan Martin del Potro which left the Serb tears.
Djokovic was suffering from a wrist injury coming into the US Open, subsequently, skipping the Western and Southern Open, the only Masters 1,000 event that eludes him from claiming all nine Masters 1,000.
Wawrinka's run to the final in New York has been similar to his title triumphs in Melbourne and Paris, where he virtually went into both tournaments with hardly any form.
Djokovic's route to the final
The 12-time Grand Slam champion began his quest for his 13th Grand Slam singles title against 2013 Wimbledon semifinalist Jerzy Janowicz.
The Pole's progress has stagnated in recent years due to unfortunate injuries, nonetheless, Janowicz posed a tough test for Djokovic, and the world number one came through that match in four sets, 6-3, 5-7, 6-2, 6-1.
Djokovic received treatment on his forearm during his first round encounter, however, in the second round, the Serb was due to compete against Jiri Vesely, the player who ended his title defence in the first round of Monte Carlo but Djokovic received a walkover in the third round.
It was a similar story for the defending champion in the third round against former top ten player Mikhail Youzhny, unfortunately, the Russian received medical timeout on his hamstring, eventually retiring from the match at 4-2 down.
The Serb may have been lacking matches in New York but he was in ominous form against the in-form Kyle Edmund, and the Brit was competing in the second week of a major for the first time.
However, it was a clinical 6-2, 6-1, 6-4 victory for Djokovic who reached the quarterfinals in New York for the tenth consecutive year.
In the quarterfinals, he was pitted against ninth seed Jo-Wilfried Tsonga, the man he defeated for his first Grand Slam singles title at the Australian Open in 2008.
However, Djokovic lead 6-3, 6-2 before Tsonga was unable to compete, therefore, retiring at the beginning of the third set, struggling with a knee injury, securing a berth in the semifinals at Flushing Meadows for the tenth consecutive year.
Once again, another Frenchman was awaiting in the semifinals which, and it was the charismatic, tenth seed Gael Monfils competing in his second Grand Slam semifinal.
Furthermore, it was a weird semifinal encounter with both players struggling to deal with the humidity in the latter stages of the match, and the Serb was cruising to win this match in straight sets until a lapse of concentration in the third set allowed Monfils to pinch it.
On the other hand, Monfils was booed by the crowd for his poor performance, although Djokovic weathered the storm and defeated Monfils, 6-3, 6-2, 3-6, 6-2 to reach his 21st Grand Slam singles final.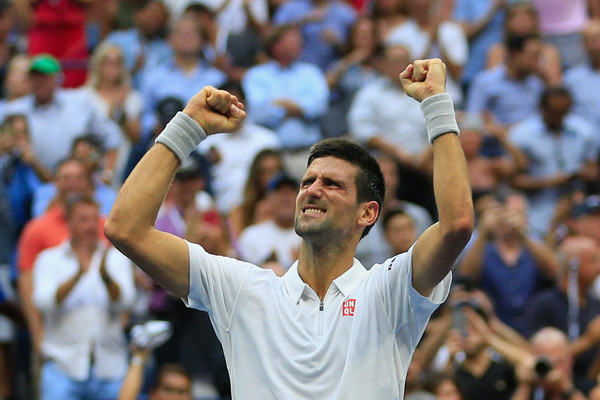 Wawrinka's route to the final
The third seed began his quest for his third Grand Slam singles title against a tricky leftie, Fernando Verdasco, and the Spaniard upset Rafael Nadal in the first round of the Australian Open back in January.
However, it was a routine straight sets victory for Wawrinka with a 7-6 (4), 6-4, 6-4 victory, and in the second round, the Swiss number one was victorious over Italian qualifier Alessandro Giannessi, 6-1, 7-6 (4), 7-5.
In the Louis Armstrong Stadium, the two-time semifinalist survived an almighty scare against Britain's Dan Evans, where he had to save a match point and came back from two sets to love down recording a 4-6, 6-3, 6-7 (6), 7-6 (8), 6-2 to advance to the fourth round.
Wawrinka had a slightly easier time on the same court against Ukraine's Ilya Marchenko, and the Ukranian was participating in the second week of a Slam for the first time, nonetheless, the Swiss star advanced in four sets to the quarterfinals in New York for the fourth consecutive year.
In the quarterfinals, Wawrinka was pitted against 2009 champion Juan Martin del Potro, and the Argentine defeated Wawrinka in four sets in the second round of Wimbledon.
However, it was a different story this time as a clinical Wawrinka ended del Potro's fairytale run in four sets to advance to his third semifinal in four years at the US Open.
Finally, there was the joy for Wawrinka as he defeated a top-ten player for the first time this year against 2014 finalist Kei Nishikori, and the sixth seed was unbeaten against top ten players at the US Open, including a quarterfinal five-set victory over Wawrinka two years ago in that remarkable run.
The match started with the roof off in the Arthur Ashe Stadium but finished with the roof on as it started to rain, nonetheless, Wawrinka rallied from a set down to defeat Nishikori, 4-6, 7-5, 6-4, 6-2 in a tough semifinal encounter to reach his first US Open final.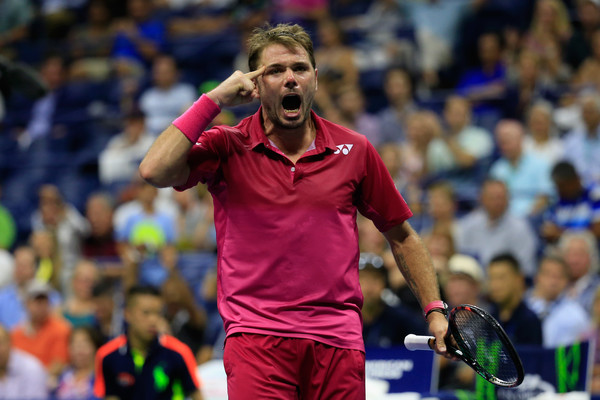 Their history
Djokovic and Wawrinka have contested on 24 occasions on the ATP World Tour with the world number one having a commanding 20-4 lead, however, in recent years their encounters have been close.
The two-time US Open champion leads 4-2 in the main draw of Grand Slams and has a flawless 10-0 record in Masters 1,000 events.
Their first meeting at a Grand Slam was in the fourth round of the US Open in 2012, Djokovic was leading 6-4, 6-1, 3-1 before the third seed retired.
They met the following year in the fourth round of the Australian Open which started to kick-off things for Wawrinka but it was a valiant effort, despite losing in a five-set epic, 1-6, 7-5, 6-4, 6-7(5), 12-10 and the Serb went on to win his third consecutive title in Melbourne.
The duo had another thrilling five-set epic at the US Open in 2013, however, Djokovic was trailing two sets to one but came back to win, 2-6, 7-6, 3-6, 6-3, 6-4 to progress to his fifth final in New York.
The pair once again battled in a five-set encounter in the quarterfinals of the Australian Open in 2014, and this time, Wawrinka got the better off the Serb ending his reign as the three-time defending champion with a 2-6, 6-4, 6-2, 3-6, 9-7 victory.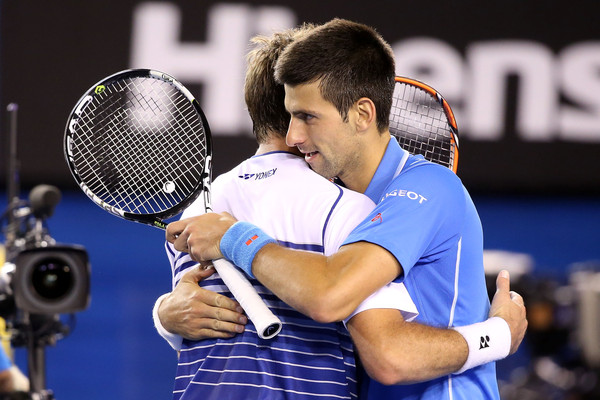 Wawrinka went on to clinch his first Grand Slam singles title defeating 2009 Australian champion Rafael Nadal in four sets, although Nadal was hampered with a back injury, nonetheless, the Swiss star played scintillating tennis throughout the final and deserved the title.
The two Grand Slam champions met at the Australian Open for the third consecutive year in 2015, and it was a third successive five-set battle with Djokovic prevailing 7-6(1), 3-6, 6-4, 4-6, 6-0 in the semifinals ending Wawrinka's title reign.
Wawrinka got his revenge in the final of the French Open a few months later, trailing a set down but came back in empathic fashion, 4-6, 6-4, 6-3, 6-4 clinching his second Grand Slam title in the process, and halting Djokovic's chances of completing the Career Grand Slam, which he would go on to complete the following year.
Who wins the Championship?
Djokovic has hardly been tested throughout these championships, and despite a mental lapse of concentration in his semifinal match with Monfils, he responded strongly.
Wawrinka is 2-0 in Grand Slams, and the third seed boasts a 10-match winning streak in finals with his last loss in a final dating back to 2013 losing to Nicolas Mahut in the grass court final in 's-Hertogenbosch.
The top seed will need to serve well in this contest because if Wawrinka's backhand is firing on all cylinders, it will be a difficult match for Djokovic, and the Serb received medical treatment on his shoulder in his semifinal with Monfils.
The third seed will need to get a lot of first serves in and his scintillating backhand will be a key weapon in this match, if he is to win his third Grand Slam title.
Djokovic's return of serve will be key in this final, and whilst Wawrinka will try to dictate play from the baseline, the Serb can employ his drop shot to get the Swiss off the baseline.
Wawrinka can extend the points in rallies but he will need to keep the points short, as the top seed will be able to wear down the third seed and come out on top in the longer exchanges.
However, Djokovic's shoulder has seemingly been bothering the Serb throughout this tournament, therefore, Wawrinka will need to try to win one of the first two sets to make this a physical battle.
The Serb cannot afford to have another lapse of concentration, as he is fully aware that Wawrinka is a big-time player and thrives on competing with the very best for the top prizes in tennis.
Magnus Norman has been a major factor for Wawrinka to realize his potential, therefore, since he has beaten Djokovic in a Grand Slam final before it will give him more confidence to do it again.
The third seed has been mentally tough since saving a match point in his third-round match with Evans, which will help him immensely in his third Grand Slam final.
This will be an entertaining final on Sunday which takes place in the Arthur Ashe Stadium at 4pm local time.
If the Serb retains his US Open title, he will be one win away from equalling Rafael Nadal and Pete Sampras in joint-second place on the all-time list of Slams won in the Open Era, and four wins behind Wawrinka's compatriot Roger Federer.
Should Wawrinka be victorious, he will need to win Wimbledon in order to complete his Career Grand Slam, which will be a remarkable achievement for Wawrinka considering being a late bloomer.
Prediction: Novak Djokovic in 4 sets
Other VAVEL USA's writer's predictions
Joshua Coase: Djokovic in 4 sets
Jake Best: Wawrinka in 4 sets
Pathik Gamana: Wawrinka in 5 sets
Haley Hunt: Wawrinka in 4 sets
Oliver Dickson Jefford: Djokovic in 5 sets
Pedro Henrique: Djokovic in 4 sets
Joely Cook: Djokovic in 4 sets
Noel Alberto: Wawrinka in 5 sets
Grace Cooper: Wawrinka in 5 sets
Sian Brown: Djokovic in 4 sets
Thomas Cluck: Wawrinka in 4 sets
Liliana Martinez: Wawrinka in 4 sets
Hania Paluska: Djokovic in 4 sets
Ramona Toderas: Wawrinka in 4 sets
Brooks Giardina: Djokovic in 4 sets
Pavitra Ganesan: Wawrinka in 5 sets
Silas Low: Wawrinka in 4 sets
Amy Stevenson: Djokovic in 4 sets
Max Gao: Wawrinka in 5 sets