 With mixed fortunes in the group stages, teams learn it's not always beneficial to finish top of their groups in the WSL Cup.
Bristol City vs Manchester City
In a tight southern group, Bristol City were one of the three teams that scooped six points in the group stages, their goal difference that little bit better than WSL 2 pair, Brighton & Hove and Spurs. Having been dealt a 2-0 loss away to Spurs and a narrow 2-1 loss against Chelsea at the Stoke Gifford, the Vixens progressed after a 3-0 win over Brighton and a 2-0 over West country rivals Yeovil.
Bristol's reward for navigating themselves out of a trick group a draw against a Manchester City team who are unbeaten in all competitions. Including an impressive 6-0 over WSL 2 side Oxford United, City claimed a 2-0 over last year's finalists Birmingham City and squeeze past both the Donny Belles and Everton by a scant goal.
Chelsea vs Liverpool
In a group that shouldn't have posed much trouble, Chelsea eased through the group stages with hearty wins over Spurs, Bright and Yeovil before surviving a slight scare against Bristol, a quarter-final draw against Liverpool their reward.
Struggling for form this season, the Conti Cup has provided little respite for Liverpool, big wins over Sheffield and Aston Villa their highlights as they were held scoreless by Durham – gaining an extra point with a shoot-out win – and suffering a narrow loss to Sunderland.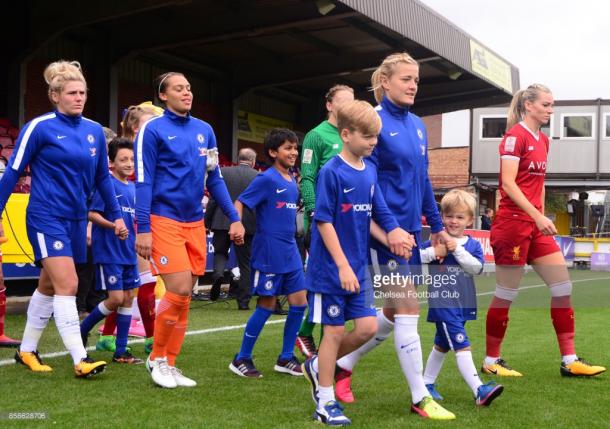 Arsenal vs Sunderland
A team that's looked a little off of the pace in recent times, the Gunners made light work of WSL 2 trio Watford, Millwall and London Bees before being shocked by an improved Reading team, their 2-1 loss enough to see them finish second in the group.
A 1-0 win over Liverpool, a 3-1 over Villa and two shoot-out wins over WSL 2 duo Sheffield and Durham was enough to see Sunderland navigate the group stages unbeaten. Though with little reward for finishing top, the Lady Black Cats will travel down to Borehamwood looking to finally make some happy memories at a group they've so frequently struggled at.
Everton vs Reading
In a banana-skin group, WSL 1 newcomers Everton did well to navigate their way out of group stages with comfortable wins over Oxford and the Belles, a tight 1-0 over Birmingham enough to consign the Blues to an early exit, a 1-2 loss to City the only blemish on their record.
Routine wins over Millwall, Watford and the Bees comprised the bulk of the Royals group phase, a memorable 2-1 win over Arsenal enough to see them finish top and be dealt a fascinating tie against Everton.
Three quarter-final ties are scheduled for the weekend of the 16-17 December with Bristol and Man City yet to officially release a date for their clash.