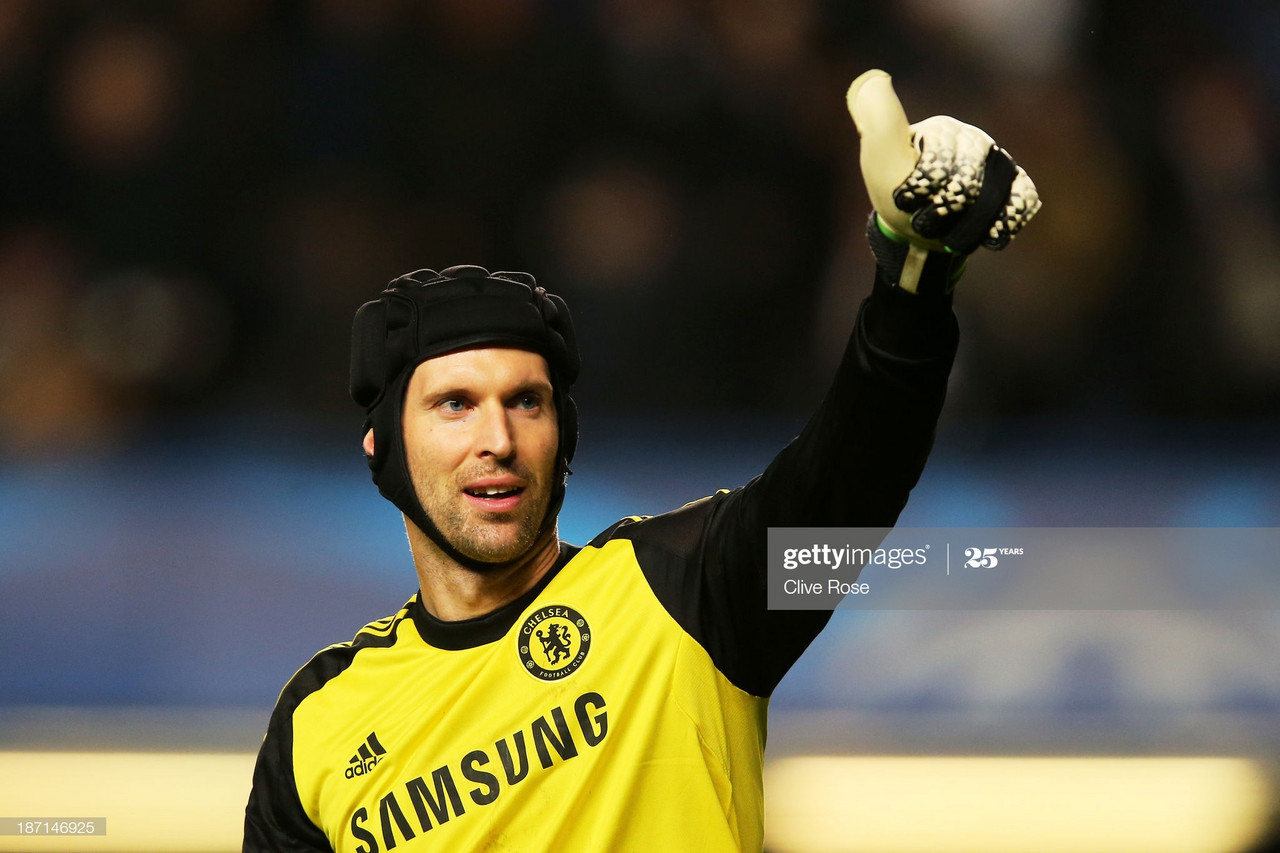 28 years on, the artists that began sculpting the landscape of the Premier League can step back and admire their work. Furious strokes of red and blue cover the page; a wash of drama; finely coated foreign exports mixed into homegrown colours; a splattering of winners and losers; a faint outline of the uncertain future of the division.
Cast your eye over the prominent Chelsea section, brushed with arguably more consistency over then any side, and bold portraits a made visible. Jose Mourinho's now slightly faded figure; Frank Lampard sitting upon his new throne; John Terry the triumphant gladiator; Didier Drogba donning a full suit of armour.
And the tallest of them all wears a titanium helmet and golden gloves, the protector of Stamford Bridge; Petr Cech's priceless portrait will be forever hung amongst the greatest to have ever graced the English game.
Crossing the Bridge
Fairy tales often depict a simple narrative: the hero has to overcome a dilemma (often against an evil villain), aided by a magical element and they eventually all live happily ever after.
Cech's Chelsea scripture followed a similar pattern, becoming an instant hero shortly after he arrived in London, signing from Rennes in February 2004 for a fee of £7 million, a remarkable steel in today's market.
He would remain in France until the end of the campaign, watching from afar as his future team mates finished second in the league and reached the Champions League semi-finals.
'When Chelsea came in, a big club with huge potential and ambition, I wanted to go,' he admitted to the Chelsea website.
'I pushed a little bit and in the end the clubs managed to get the agreement. I had five months knowing I was going to move, and for me it was actually an advantage. I felt like I could prepare better. I could make sure I learned more English.'
Carlo Cudicini was number one under Claudio Ranieri, but the pair were soon dislodged by Mr Mourinho, taking over the handles from his Italian counterpart, instantly installing Cech as 'keeper over Cudicini and laying the basis for the story's early dilemma.
During a pre-season of America, Cech was thrown straight into the action, a little to his surprise, sparking an unprecedented reign as the Blues go to in goal for the next decade.
He revealed, 'I found out in America I would be starting the first game against Man United, before we flew back to London. When we played the Zola (testimonial) game against Zaragoza, as soon as we walked out for the warm-up, the whole stadium was singing 'Carlo! Carlo!'
'Then when we played the Man United game, that started as well when we walked out for the warm-up. Everyone expected him to play.
Dream debut
Inevitably, Cech kept a clean sheet in the 1-0 over United, foreshadowing Chelsea's epic upcoming campaign.
Mourinho masterminded the clubs first league triumph for 50 years in record fashion, chucking in a League Cup win for good measure.
The 'Special One's' success was shaped by his undented defence, orchestrated by Cech, recording 24 clean sheets (most in competition history), conceding just 13 goals , impressing fans and opponents alike through his commanding presence and authority of his box.
'As a defensive unit we had a very good communication from the start,' he divulged, entering into the mindset of Mourinho that made them so formidable.
'My game was based on a lot of communication, and understanding between me and the people who played with me. If you look back, they were defenders overall. Ricardo Carvalho and JT were brilliant with their feet, they were technically so good, but they were defenders first. That helped. '
'Our confidence grew with every clean sheet, with every win. The moment we scored we felt like we had won the game because people couldn't break us down. The more you win, the more you stop thinking about everything else. You just enjoy the fact you keep winning. We had no fear of losing. The confidence went through everybody.
Through the help of Roman Abramovich's investment, Chelsea had assembled a squad for the ages, their spine in particularly prominent: Cech at the base, Carvalho and Terry in front, Lampard and Claude Makelele representing the midfield and Drogba leading the line. It was simply, iconic.
To Blues supporters pleasure, one fixture that stands out to Cech was the denial of Tottenham Hotspurs in a tight 0-0, in which he outstandingly denied Robbie Keane to secure the point.
'That was a little bit of a turning point because people realised this guy was playing because he can; he actually has the quality to play and help his team win something. That was a moment I showed everybody there was a reason why I was there.'
Skull and silverware
Ensuring he lived up to his self-acclaimed title, Mourinho and Chelsea defended their crown in 2005/06, sealed by a 3-0 win over United, Cech's 18th clean sheet in 34 appearances.
Remarkable highs come unexpected lows; unable to win a third league honour on the spin, the Blues did compensate with an FA Cup and League Cup double, however all headlines focused around their Czech goalkeeper and his life changing incident.
Perhaps unfairly the villain in this story, Reading's Stephen Hunt collided with Cech, causing a depressed skull fracture and treatment at the Royal Berkshire hospital for emergency surgery.
'Nobody knew if I would be able to come back,' he remembered. 'There were plenty of questions, and not many answers. In my head I had to prepare for the end of my career. That made me see things in a different way.
Thankfully for Cech and the eventual legacy he left the Premier League, he was able to come back, bigger and better than before, but not after a flexible recovery programme, led by the doctor who saved his life at Madjeski Stadium, Bryan English.
'I found my way through it, and with every week and month I was getting better and better. Suddenly I realised how fit and strong I felt because of all the work I'd done.'
A miraculous return was speed up by our fairy tales' magical element: his protective helmet, becoming Cech's signature and one of the game's most recognisable features.
Eager to re-join the team, he leapt at the opportunity when Mourinho offered him a start against Liverpool, 98 days after his fabled incident. Luck wasn't entirely on his side, as he suffered two broken shoulders in the 18 months prior to his head injury.
'I thought about having surgery during the second season, but I didn't want to risk missing the World Cup in Germany that summer. Nobody really knew how long it would take me to come back.
'To my relief I decided to have the surgery after the World Cup. I came back fast from that and I was enjoying games and not having pain while training and moving. A few games later, we played Reading!'
Now asserted again between the sticks, Cech's happy ending would be held twice at Wembley in both cup finals, denying United in the FA Cup and defeating London rivals Arsenal 2-1 in the League Cup.
'I just enjoyed every moment,' he reflected, appreciating how close his career was to being finished.
'I suddenly realised every game could be my last one. So whenever I played from then on, I enjoyed it because I had another game to play.'
As here we close one chapter of Cech's all to real fairy tale, yet this story has plenty more in store in tell...