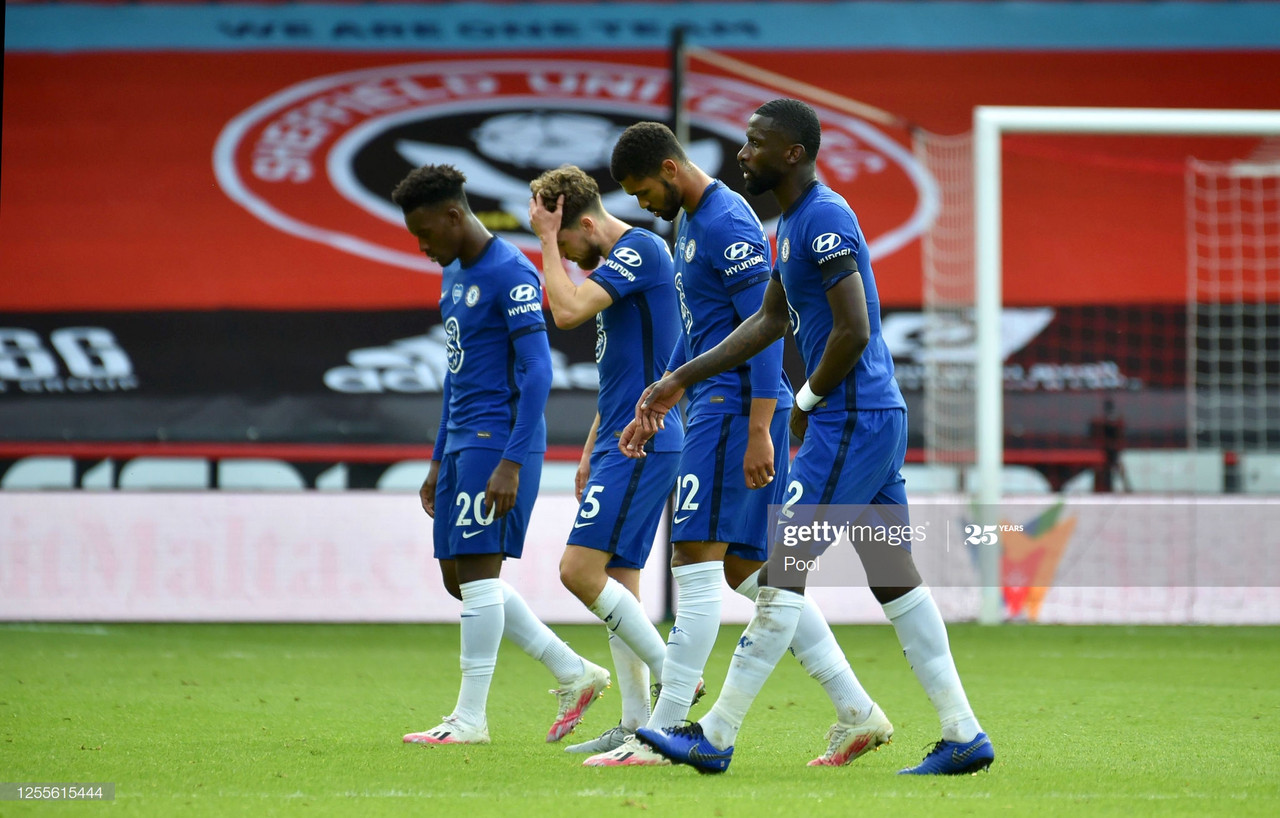 Since unveiling their new strip and sponsor for next season, telecommunications company Three, Chelsea have either scored or conceded that exact number in each of their past four fixtures. Unfortunately, they were on the wrong end of the magic number after being scythed down by Sheffield United at Bramall Lane on Saturday afternoon.
Whilst the Blades dreams of European football took a sharp boost, the Blues hopes of a Champions League campaign were given a harsh reality check, not to mention highlighting once again their calamitous record for conceding goals.
Frank Lampard must take a long look at his team and improve them quickly if they are to maintain their spot inside the top four. With Liverpool, Manchester United and Wolverhampton Wanderers still to play in the Premier League, and taking their recent damning result into consideration, Chelsea have a very steep mountain to climb.
Misery from the first minute
Chris Wilder's men looked sharper, more organised and well-drilled compared to Chelsea's haphazard approach and the home side were rewarded with the three goals and the three points.
Cesar Azpilicueta echoed the failings of the Blues, commenting on their sluggish start that allowed the Blades to score within the opening 20 minutes.
'It was really bad since the kick-off,' the captain admitted to the Chelsea website. 'They put the long ball and we gave straight away a corner. So we were not ready to compete.
'We knew that they are a very organised team, that they know very well what they have to do, and to be fair we didn't find spaces.'
Lampard reinstated Jorginho into his midfield, as well as Tammy Abraham upfront, but neither made a strong case for their selection, especially the young striker, who managed just one shot on target all afternoon.
This again mirrored Chelsea's lackluster performance; outmanned, outgunned and outmuscled in all areas of the pitch.
Azpilicueta continued his honest assessment by saying: 'I think we shot once in the first half and every time they played the long ball they looked dangerous. We lost that fight and we knew it was a massive game and we lost a big opportunity.'
Worrying signs for a weak defensive
If United were the epitome of a well oiled defensive machine, then Chelsea were a flashy sports car with a broken back windscreen. Defensively, they were extremely fragile, and not for the first time under Lampad, even allowing misfiring David McGoldrick to score his first league goals of the season.
Often, the back-line has been rescued by the free-scoring forwards. Unfortunately, the inform pair of Christian Pulisic and Willian were not at their best, given little service by a mediocre midfield.
The Blues captain, who started at left-back for the third game running, did not downplay the faults that ultimately cost Chelsea dearly.
'They are a well-organised team, they don't concede many goals, but we were not sharp enough, we were not quick enough to move the ball to find the attacking players in good positions. We were quite flat on the passes, going sideways, backwards.'
'We were not dangerous in attacking the space, creating spaces for our team-mates and obviously when we concede the goals that we have conceded it is difficult and something that is a big issue we are having through the season.
'We are conceding a lot of goals, and it is like against Crystal Palace you have to score three goals to win the game and this time we were not even able to score one.'
Questions may be raised over Lampard's decision to drop inform Olivier Giroud for Abraham. The Frenchmen has been in red hot form, whist his team mate has struggled to rediscover his shooting boots, finally ending his six-month goal drought in the narrow victory over Crysta Palace mid-week.
Blades were simply better
As previously mentioned, Chelsea's run-in doesn't get any easier after being battered by the Blades. Trips to Old Trafford and Anfield are on the horizon, as well as welcoming Wolves to Stamford Bridge, therefore the Blues could not have put themselves in a worse position to face a terrifying trio of opponents.
They are now tantalizing close to losing their top-four spot to one of the chasing pack and on yesterdays showing, their grip looks very likely to slip away.
Azpilicueta ended his blunt review by commenting on the hunger of the Chelsea contingent, saying: 'It was more about the desire, about the determination, that they were always ahead of us, that they were more determined than us, always they put the toe in before us.'
It is no doubt the Blues have quality in certain areas, but without this desire and passion shown by their hosts, then they can wave goodbye to Champions League football and say hello to the harsh landscape outside the grandest domestic competition on the continent.