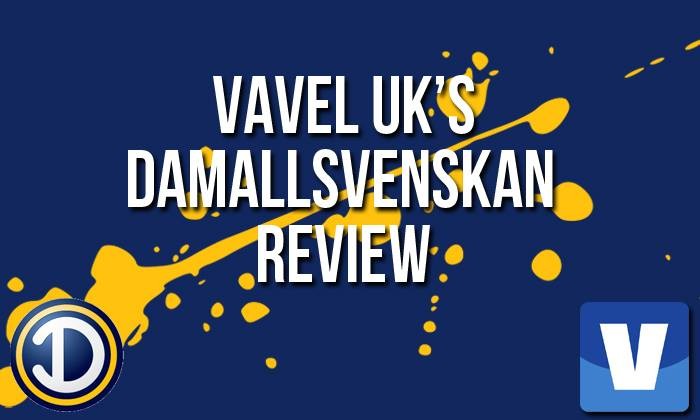 The Damallsvenskan is back after the European Championships.
When we last left the top tier of women's football in Sweden, Linköpings FC led the league with five points down to FC Rosengård, while Eskilstuna United were third, five points behind Rosengård.
At the other end of the table Kopparsberg/Göteborg and KIF Örebro found themselves under the relegation line, but from fourth placed LB07 to last placed Kopparsberg/Göteborg there was only seven points.
Status quo between the top two
Linköping was the first of the league favourites who were in action after the break, when they were up against second-to-last KIF Örebro. Linköping have had a busy summer, losing two of their main defenders in Magdalena Eriksson (Chelsea) and Jessica Samuelsson (Arsenal), but they have also brought in Kosovare Asllani (Manchester City) and some of Scandinavia's biggest talents in Anna Oscarsson (Hammarby), Frida Maanum (Stabæk) and Nicoline Sørensen (Brøndby IF). KIF Örebro's summer has not been as busy, but they have brought in Nora Abolins from Östersunds DFF.
Linköping, who for this game had a rather alternative backline, made short process of KIF Örebro. It took three minutes before Linköping's new signing Nicoline Sørensen had made an impact as she headed the ball in after a cross by Kosovare Asllani. Linköping doubled their lead in the 25th minute when Marija Banusic scoroed a peach of a free-kick.
Linköping made it 3-0 before the halftime when Nicoline Sørensen popped up again. KIF Örebro were not without chances, but nothing came of them and Linköping made it both 4-0 and 5-0 in the second half thanks to goals from Banusic and Maja Kildemoes.
The other two teams in top three, Rosengård and Eskilstuna, were up against one another in an encounter that ended 1-0 to Rosengård. Rosengård has, like Linköping, seen big changes over the summer.
Starting centre-back duo Amanda Ilestedt (Turbine Potsdam) and Emma Berglund (PSG) have both left and been replaced by Simone Boye (Brøndby) and Glódís Perla Viggósdóttir (Eskilstuna). The latter has been brought in from today's opponent Eskilstuna. Additionally, the summer transfer window saw Sofie Junge Pedersen leave for Levante, while both Hanna Persson and Emma Pennsäter has been loaned to Brøndby.
The most high profile loss has come in the form of Lieke Martens to Barcelona. Other than Boye and Vigosdottir, Caroline Seger (Olympique Lyonnais) and Jenna Hellstrom (Kent State Golden Flashes) has been brought in.
Other than Viggosdottir, Eskilstuna has said goodbye to Elin Wahlström who moved to AIK, while they have brought in the talented Loreta Kullashi from AIK.
Despite the many changes, Rosengård ran away with three important points against a direct competitor. It was Rosengård who were on top in the first half, but they had to wait until the 41st minute when Rosengård where awared a penalty after Ella Masar was taken down in the penalty area.
Anja Mittag was the woman of the hour as she stepped forward and put it behind Emelie Lundberg in Eskilstunas goal. There were no more goals in the half and it ended 1-0 to Rosengård who are still five points behind Linköping. Eskilstuna is now eight points behind Rosengård, while the likes of Djurgården and LB07 are closing in on them.
Late joy for Djurgården and LB07
Just one point separated Djurgården and Kristianstad before their games against eachother this round, and it went all the way to the wire before a winner was found. Alice Nilsson got Kristianstad of to the perfect start when she netted in the 16th minute, but the joy was short-lived.
Four minutes later Djurgården's strong midfield dynamo Katrin Schmidt equalised. For a long time it looked like the two teams would share the spoils, but then Mia Jalkerud popped up for Djurgården in the 89th minute. The experienced forward pounced after a bad clearance and secured all three points for the Stockholm side. Djurgården is now 4th in the table with just two points up to Eskilstuna. Kristianstad on the other hand is 7th in the table.
Another Stockholm side, Hammarby, looked like securing all three points against LB07, but a late goal saw the two side share the points. Hammarby and LB07 was also a battle of the two promoted sides ahead of this sason, and while LB07 has surprised everyone and was 4th before this round started, Hammarby has had a more modest season and found themselves around the relegation line.
Hammarby have lost one of their biggest profiles in Anna Oscarsson this summer, as she has departed for Linköping, but they have also brought in Maja Göthberg on loan from Kopparsberg/Göteborg and Murielle Tiernan from Virginia Tech. The latter got a perfect start to life in Sweden, as she made it 1-0 to Hammarby just before the half-time whistle.
That score line stood all the way to the 87th minute when Anna Welin was left wide open in the Hammarby area. The game ended 1-1, and Hammarby are now just above the relegation line with the same amount of points as Kvarnsveden who is under it. LB07 continue getting points and are fifth.
Important wins for Kopparsberg/Göteborg and Vittsjö
Kopparsberg/Göteborg have struggled this season and were last in the table before this round. They had a tough game against fifth placed Piteå all the way up in the northern part of Sweden to look forward to.
Before today, Göteborg had not registered a win in eight games, nor had they gotten a clean sheet in the same amount of games, so it was a given that it was a Göteborg side that were desperate for a win. It was a close match, that for a long time looked like ending 0-0, but in the 78th minute Adelina Engman scored the game's only goal and ensured Göteborg a long awaited win.
With the first clean sheet in eight games for Göteborg it was yet another successful debut for a new player, as Danish keeper Line G Johansen, who was brought in this summer, guarded the goal.
With this win, Göteborg climb above the relegation line. Piteå drop a place and are now sixth in the table, but there is only five points up to Eskilstuna in third. However, they are also only four points above the relegation line.
The last game of the round was between Vittsjö GIK and Kvarnsvedens IK who both found themselves at the bottom half of the table. Vittsjö proved too strong for Kvarnsveden and went ahead in the 16th minute when Lisa Klinga put ithe ball in the net.
They extended that lead when their top scorer Linda Sallström made it 2-0 on a penalty after 59 minutes. This game also featured a debut goal, when Genessee Daughetee, brought in from Montpellier, scored in the 82nd minute. Kvarnsveden got a consolation goal when Tabitha Chawinga scored in the 88th minute. That was remarkably her goal number 17 this season in 12 games.
Kvarnsveden are now below the relegation line, while Vittsjö are three points above it.