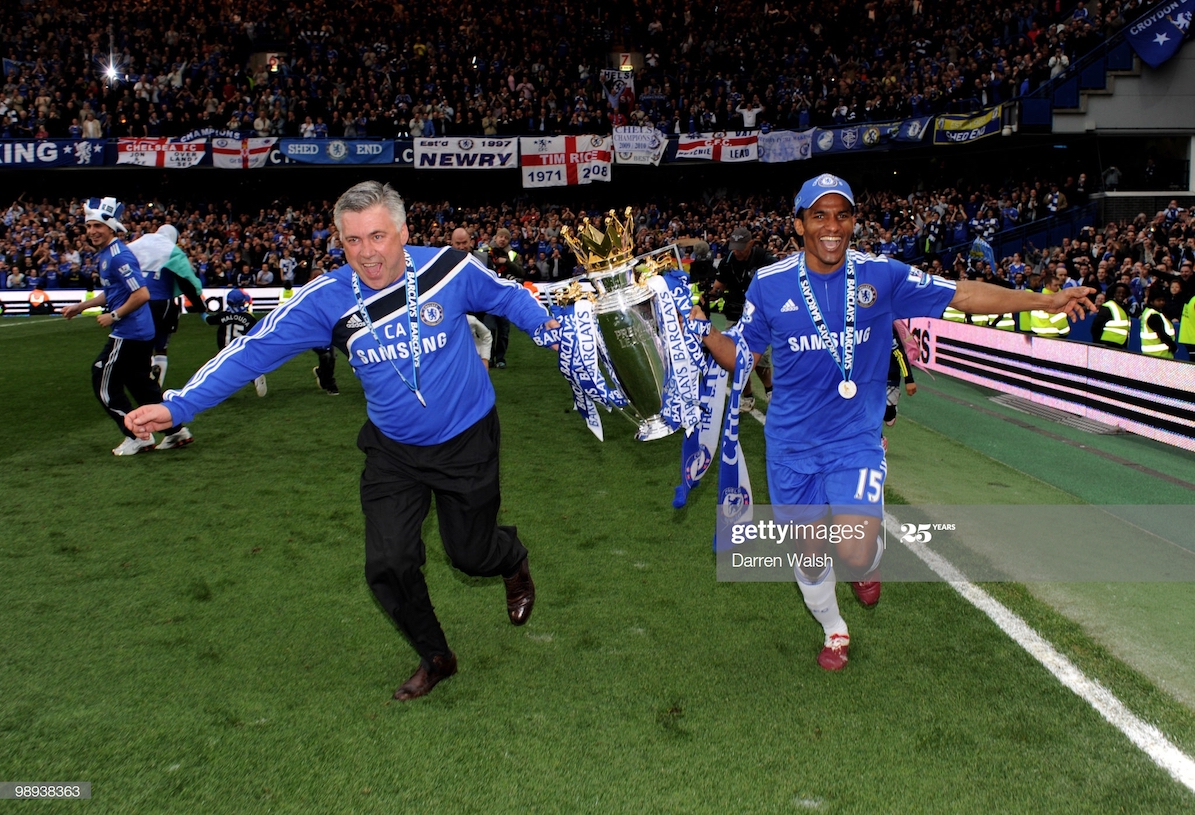 On this day in 2009, serial winner and Italian boss, Carlo Ancelotti was named as Chelsea's new manager.
The five-time Champions League winner took reign at the helm of Stamford Bridge looking to add an abundance of silverware to his all-conquering trophy cabinet.
Ancelotti logged an incredible track record leading the Blues into war on 109 occasions, losing just 24. He averaged an impressive 2.07 points per Premier League game.
The journeyman spent two seasons in South West London winning the league title in his first and finishing runner-up in his second.
Ancelotti also won the FA Cup and Community Shield, both of which came in the 2009/10 season, sealing the domestic treble.
Not only did the Italian bring home numerous pieces of silverware, he also showcased he sheer managerial excellence. Ancelotti rotated and utilised many systems at Chelsea displaying why he is one of the best managers in footballing history.
Chelsea VAVEL takes a trip down memory lane, reliving some of his most famous moments.
2009/10 Premier League
Ancelotti took the Premier League by storm. The Italian came with a reputation and track record for his ruthless winning tactics. Intimidating and omnipotent; the now 60-year-old manager casted his shadow over any side who got in his way sweeping them aside.
Chelsea began the season with six successive victories coming against Hull City, Sunderland, Fulham, Burnley, Stoke City and Tottenham Hotspur. In the seventh game, the Blues fell short as they disappointingly lost 3-1 to Wigan Athletic.
31 Premier League games and 87 goals later, Ancelotti wanted revenge. Chelsea completed their brutal deconstruction of Wigan at Stamford Bridge winning 8-0. The visitors were left looking on as the Blues bathed in Premier League glory.
Ancelotti had secured Chelsea's first league title since 2005/06, rebutting Manchester United's three-year dominance as the Italian took to the throne.
2009/10 FA Cup Winner
While in England, Ancelotti did not hold back. He wanted a full sweep. He won not only the league, but the FA Cup too. Chelsea defeated Portsmouth 1-0 at Wembley to complete a domestic treble.
Didier Drogba's incredible free kick broke the deadlock in the second half before the Blues wheeled away victors.
Chelsea and Ancelotti had conceded just one goal throughout the whole tournament meanwhile scoring 17. An incredible achievement that bookmarked 'that' 09/10 side one of the best in FA Cup history.
Manchester United 2 – 1 Chelsea
On April 3rd, 2010, Chelsea leapfrogged Sir Alex Ferguson's United in the charge for Premiership glory.
The clash was highly anticipated and deemed as either club's most important game of the season. Chelsea came out victorious at Old Trafford thanks to goals from Joe Cole and a thunderous strike from Drogba.
Ancelotti's firepower was too much for the Red Devils' defence. Drogba netted his 25thof the season, meanwhile Frank Lampard was on his 17thand Malouda on his 11th. Having won such an integral fixture so late on in the season, Chelsea went on to lift the league title.
Over a century of Premier League goals
With just three games to go until the end of the Premier League, in 2009/10, Chelsea had scored 87 goals. They ended the season scoring 103.
Ancelotti's cold-blooded ability to churn out goal, after goal, after goal from his Chelsea team was a credit to his tactics he employed and the players at his disposal.
The Blues not only achieved a club first but became the first Premier League side to score over a century of goals since Spurs did so in the First Division, 1961.
Liverpool (2013/14) and Manchester City (2013/14, 2017/18) would later join Chelsea in the elite club, making the Blues one of the best teams in Premier League history.
Chelsea 8 – 0 Wigan Athletic
If there was ever a game that could resonate with fans more than this in regard to Ancelotti's legacy – it was this game.
An enormous 8-0 thrashing and demolition of Wigan, teetering on disrespectful, sealed the Italian's first Premier League title.
A free-flowing, merciless and cultured Chelsea side finished the 2009/10 season in style which hosted Drogba's golden-boot-winning goal of the season, Lampard's 22nd goal and the number eight's 16 assist of the season.
A renowned partnership that struck fear into the best of defenders.