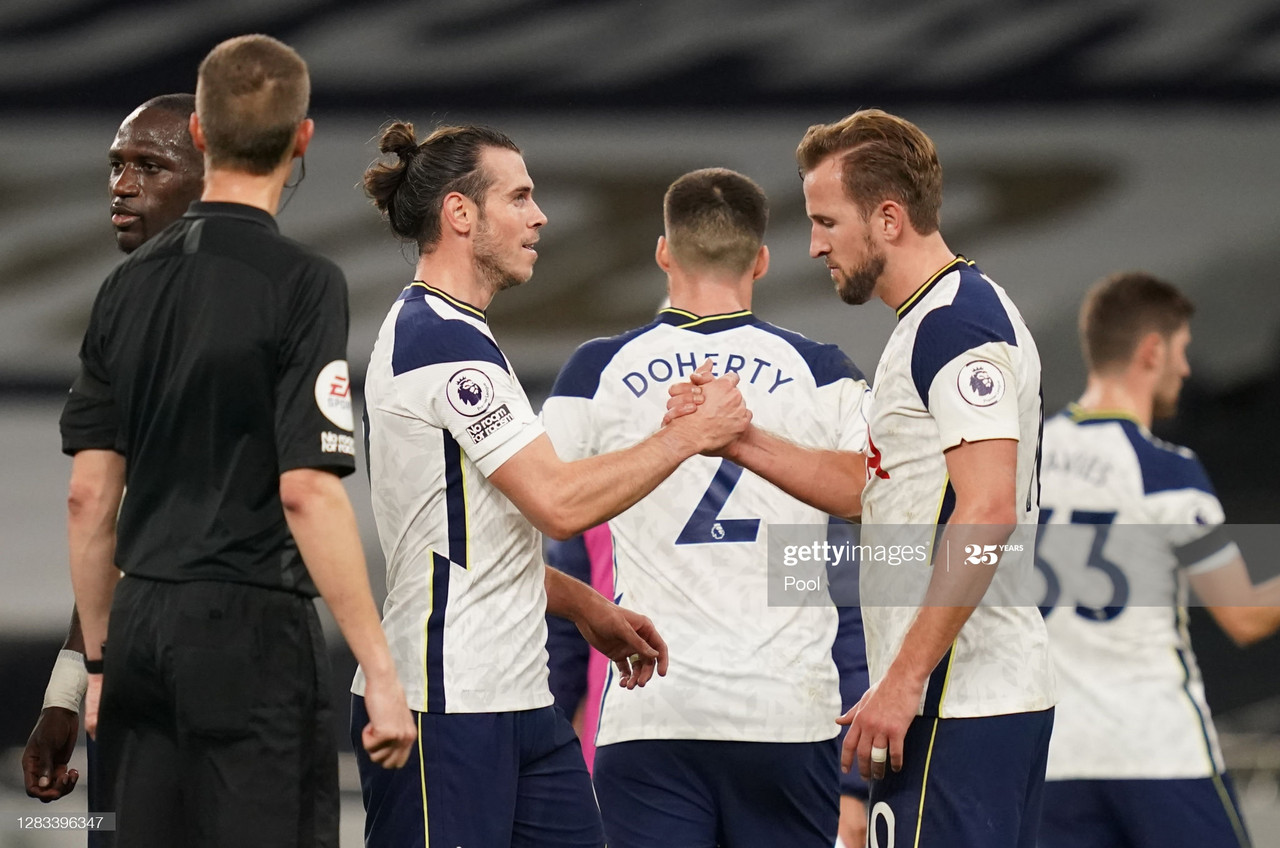 If there's one thing supporters have learned from the opening months of the Premier League season, it's that they need to expect the unexpected.
From surprising scorelines to shocking upsets, this campaign has kept fans on their toes on a weekly basis. No one has set themselves apart from the rest, with only six points separating 1st place from 13th. With that in mind, we're potentially set for one of the most unpredictable title races in league history.
One team who has impressed many as of late has been Tottenham Hotspur. After a shaky start, they have grown in confidence over the last few games, and now find themselves in 3rd, only two points off the top of the table.
There's still plenty of the season left to go, but this Spurs side might just be genuine title contenders.
Got it all
Spurs may not be the best in the league in any particular category, but they've not got any major weaknesses either.
They've been surprisingly dangerous going forward. Currently leading the league in terms of goals for with one more than Liverpool, Spurs have scored 18 in seven games. It is important to note that six of those came in one game against Manchester United, but it's still a very impressive number nonetheless.
The main reason for Spurs' attacking output is due to the dynamic duo of Harry Kane and Son Heung-min. With 14 goals and 10 assists between them, the pair have lit up the league on a weekly basis. With a seemingly telepathic connection, they just know where the other is at any given time.
Dropping deeper than ever before, Kane has selflessly changed his game for the betterment of the team. Instead of waiting for loose balls in the box, he now finds himself closer to the midfielders than the opposing goalkeeper. That is for a good reason, though, as Son pounces on the space left in behind. It's worked perfectly so far, and it'll be tough for any team in the league to stop them.
Those two have carried the goalscoring load so far, with no one else able to step up to complete the attacking trident. Lucas Moura, Steven Bergwijn, and Erik Lamela have all tried, but have all failed to produce on a consistent basis. However, Spurs might finally have their big three after all.
Finally returning to the side this summer after seven seasons and countless trophies in Spain with Real Madrid, Gareth Bale needed time to reacclimate to life back at Spurs. An injury ruled him out for the start of the campaign, and even when he made his long awaited return to the field, he was clearly a bit rusty.
Just as some were starting to write him off, Bale got onto the scoresheet, heading home the winner this past weekend. The goal showed just how clinical the Welshman has become in the final third. Instead of using his speed and raw talent to carve out a chance, he used his experience to find space in the box before coolly picking out the bottom corner.
Bale's not in his prime, of course, but he doesn't need to be. His job is to support the likes of Son and Kane, making the most of the chances that fall to him while the attention of the defense is on his teammates. It's what he did in Madrid alongside Cristiano Ronaldo and Karim Benzema, so he shouldn't have any problem doing the same thing in London.
If Bale, Kane, and Son can all get on the same page, then the rest of the Premier League is in danger.
Things might finally be coming together at the back as well. They picked up their first clean sheet of the campaign against Burnley last week, surviving the endless amount of crosses that came into the area. Spurs did concede at home to Brighton & Hove Albion, but that goal really shouldn't have stood since there was a clear foul in the buildup that VAR failed to notice.
Eric Dier has done very well since converting back into a centerback following years in the middle of the park. His time there has made him a lot more comfortable with the ball at his feet, and he's often the one starting attacking moves for Spurs. Next to him has been the always underrated Toby Alderweireld, who makes up for his lack of pace by knowing where to be and when to commit to tackles.
Fullbacks Matt Doherty and Sergio Reguilon were both brought in during the most recent transfer window, and even though each likes to make overlapping runs whenever the chance arises, they've now also learned when to play it smart and stay back.
The backline is getting some much needed support as well. Fellow summer signing Pierre-Emile Hojbjerg has been immense, dropping deep and anchoring the midfield while also helping out defensively. He's become a true leader as of late, guiding the team on the field to make sure everyone's doing their job.
Tanguy Ndombele, meanwhile, has continued to grow as a player. Finally starting to live up to the hype and the transfer fee Spurs paid for him, the Frenchman brings a new dynamic to the team with his ball-carrying abilities. He's got different partners to work with as well, either playing alongside the physically dominant Moussa Sissoko or the creative Giovani Lo Celso.
Spurs are a true team at the moment, and that balance might be what sets them apart from the rest of the league.
Winning ugly
Everyone would like to see their team play beautiful football week in and week out. However, that's simply impossible in the modern day, as every game in the Premier League is a tough one.
That's why winning ugly is the true mark of a champion. Getting a result while playing well is easy enough. The true challenge comes when trying to win while the team is clearly struggling out on the pitch
In the past, Spurs were never able to get the job done when they felt like things are going against them. The slightest issue would lead to collapse, which led to the club deservedly being referred to as bottlejobs. After Juventus came back to eliminate them in the Champions League a few years ago, defender Giorgio Chiellini famously stated that it was just the history of Tottenham on show once again.
With Jose Mourinho at the helm, this might have finally changed.
It's taken some time, as Spurs dropped points late on against both Newcastle United and West Ham United this season. However, they've responded well to those disappointments, winning two tight games in a row.
Spurs defeated Burnley 1-0 at Turf Moor just over a week ago. That result, on the surface, seems like an unremarkable one. Burnley are a tough team to play against, especially on the road, but they've struggled this campaign, only picking up one point in their first six games.
It was the way Spurs won which was truly impressive. They came into the contest as a free flowing side going forward, but that gameplan had to be thrown out the window quite quickly. The team bunkered down in the second half and got to work, scrapping a goal off a set-piece before holding on at the back to secure all three points.
This past weekend saw the Lilywhites beat Brighton despite playing quite poorly. They had less of the ball, and they didn't do much with it when they had it. The circumstances of the contest didn't help, as referee Graham Scott had an absolute nightmare, getting nearly every decision wrong. However, the home side were still able to get all three points, with a Bale header sealing the victory.
Both games were textbook examples of winning ugly, which is something Tottenham haven't been able to do much of historically. They completely collapsed earlier in the season, but to respond this way only a few weeks later shows a potential newfound mental strength.
That is mainly down to the mindset of Mourinho. The king of pragmatism, the Portuguese manager makes every single team he's at tougher. His preference for defensive tactics isn't for everyone, but more often than not, it leads to results and trophies. That's why Spurs brought him in, and his experience at this stage has helped the team get across the line these last few games. When the going gets tough, the tough get going, and there are few tougher than Mourinho.
Whether they can keep this up for the rest of the campaign remains to be seen, but for now, there's plenty of reason to believe things have changed.
Best of a bad bunch
It is important to remember that a big reason why Spurs have such a genuine chance is because of the struggles of everyone else.
Liverpool would be clear favorites at this stage if they were healthy, but that's not the case. Star man Virgil Van Dijk will likely miss the rest of the season due to an ACL injury, and it's impossible to explain just how badly he'll be missed. The Dutch defender commands the backline, and without him, the Reds will inevitably fall apart defensively.
Manchester City, meanwhile, are going through something. They aren't as dominant as before, losing at home to Leicester City while drawing against the likes of Leeds United and West Ham. City lack a certain dynamic in the final third, and still suffer from mental mistakes at the back. They just seem a bit stale in Pep Guardiola's 5th season in charge, so maybe the magic is starting to wear off.
Arsenal have looked promising under manager Mikel Arteta, but they don't have nearly enough talent to compete at the top of the table. Sure, the spine is excellent, as summer signings Gabriel and Thomas Partey have supported lethal talisman Pierre-Emerick Aubameyang very well. However, the rest of the team is severely lacking, with issues all over the field. They might be contenders in a few years, but for now, their aim is just to get back into the top four.
Chelsea and Manchester United are dealing with the same issue. Unlike Arsenal, they have the talent. Sure, neither squad is perfectly balanced, but there's still enough there. Their problems are due to their coaching, as Frank Lampard and Ole Gunnar Solskjaer are both quite dreadful. Both lack a true definitive style, and it seems like they just put players out there and hope they figure out what to do. If either club makes a coaching change and brings in a proper manager then they'll be in business, but for now, there's no need to fear either side.
Unfortunately there won't be a fairytale title winner either, as the big six simply have too many resources both on and off the field, and no outsider poses any real threat.
Someone's got to win the Premier League, though, so why not Tottenham?
Plenty left to do
Spurs are not perfect, of course, and still have flaws of their own.
Not blessed with the most depth, a few injuries to key players could derail their entire season. Even if no one gets hurt, it'll be tough for Mourinho to rotate the lineup much as he doesn't have faith in a number of squad players.
They've improved defensively, but there's still reasons to worry at the back. The fullbacks prefer to go forward, while those in the heart of the defense are error prone. Goalkeeper Hugo Lloris isn't elite anymore, and can make a mistake at any given moment as well.
The Europa League will also be a factor. Spurs will likely have to play a lot of games in the tournament, which means tons of midweek travel. Those added miles will eventually lead to both mental and physical fatigue, making league games on the weekend that much tougher.
All that considered, this is still Spurs' best chance of winning the title in years, if not longer. Tottenham teams of the past would inevitably bottle it, but there's a chance this season's side is different.