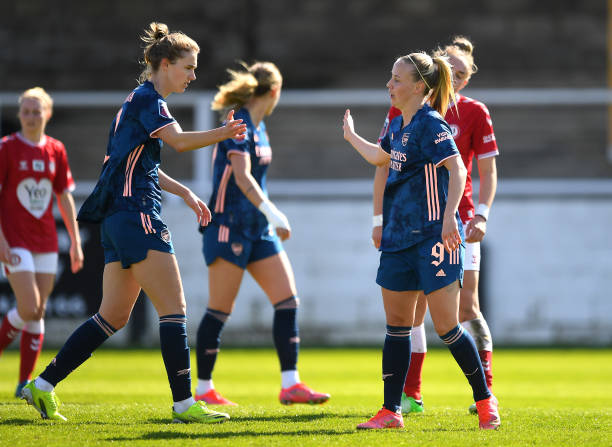 Arsenal have overtaken Manchester United to go third in the Women's Super League table, edging them one step closer to qualifying for next season's UEFA Champions League.
Bristol City succumbed to the constant attacking threat of Joe Montemurro's visiting side. They remain just one point clear of Aston Villa at the bottom of the table as the ongoing relegation fight goes down to the wire for both struggling sides.
From the get go, it was clear that Arsenal intended to dominate Bristol City. But an early attacking run from Jemma Purfield in the opening minutes indicated the Robins would not be pushovers.
Early tactics from Matt Beard were to simply crowd out Arsenal players on the ball, utilising much of Bristol's pace and energy. An early example of Arsenal's phenomenal connective play saw Jill Roord connect with Danielle van de Donk to play a lovely ball through to Vivienne Miedema for the first goal of the match just three minutes in to the first half. Adding to her tally in the race for the golden boot.
The early first half goal and a second from Miedema extend her lead as the player to have scored the most goals against any one WSL team, with 14 netted against Bristol City.
Bristol City were able to break free of their own half to secure chances against Lydia Williams in the Arsenal goal, but there was a distinct lack of clinical ability for the likes of Charlie Wellings whose headed effort was sent wide by her own poor technique.
Leonie Maier and Lia Wälti had their work cut out for them in the first half, as the Robins grew in confidence and switched from a defensive mindset to a more pro-active stance.
An unselfish Miedema was able to find van de Donk in the 46th minute for the Dutch forwards first Arsenal goal since October. Landing a delicate tap in to edge the Gunners further ahead at the break.
The second half had a more pedestrian feel in the opening minutes, with Arsenal bringing on Leah Williamson and Beth Mead to turn up the heat.
Arsenal quickly got back into the swing of relentless attacking football as the half progressed, but Sophie Baggaley and the woodwork of Bristol City's goal posts meant the Gunners would build in frustration as they searched for that elusive fourth goal.
Bristol City looked increasingly worn out and were struggling to connect passes or gain possession from second balls. Mead spotting this weakness in their armour, powered through a shot after a deflection to confidently secure three points for her team.
Arsenal garnered themselves 11 shots on target throughout the match, with some chances looking to be shoe-ins that could have upped their tally. Both Jordan Nobbs and Miedema lacked vital technical ability from close range, denying what could have been an even higher score margin.
The Gunners can be pleased that they look to hold the necessary longevity and big picture pace needed as they seek a Champions League spot for next season.
Bristol City will need to go into their next games with more of a strategy. Their formation and approach to today's game felt entirely like damage control from the second that first whistle went.
Lia Walti worked incredibly hard for the entirety of her first half tenure, neutralising Bristol City players across the field and at every opportunity. Her intellect kept her clear of the referees' notebook and allowed for Arsenal to press incredibly high up the pitch, much to their benefit.
Sophie Baggaley may have conceded during the game, but her one one one's with the likes of Miedema and Nobbs showed a self belief and doggedness that Bristol City need at this crucial point in their season.