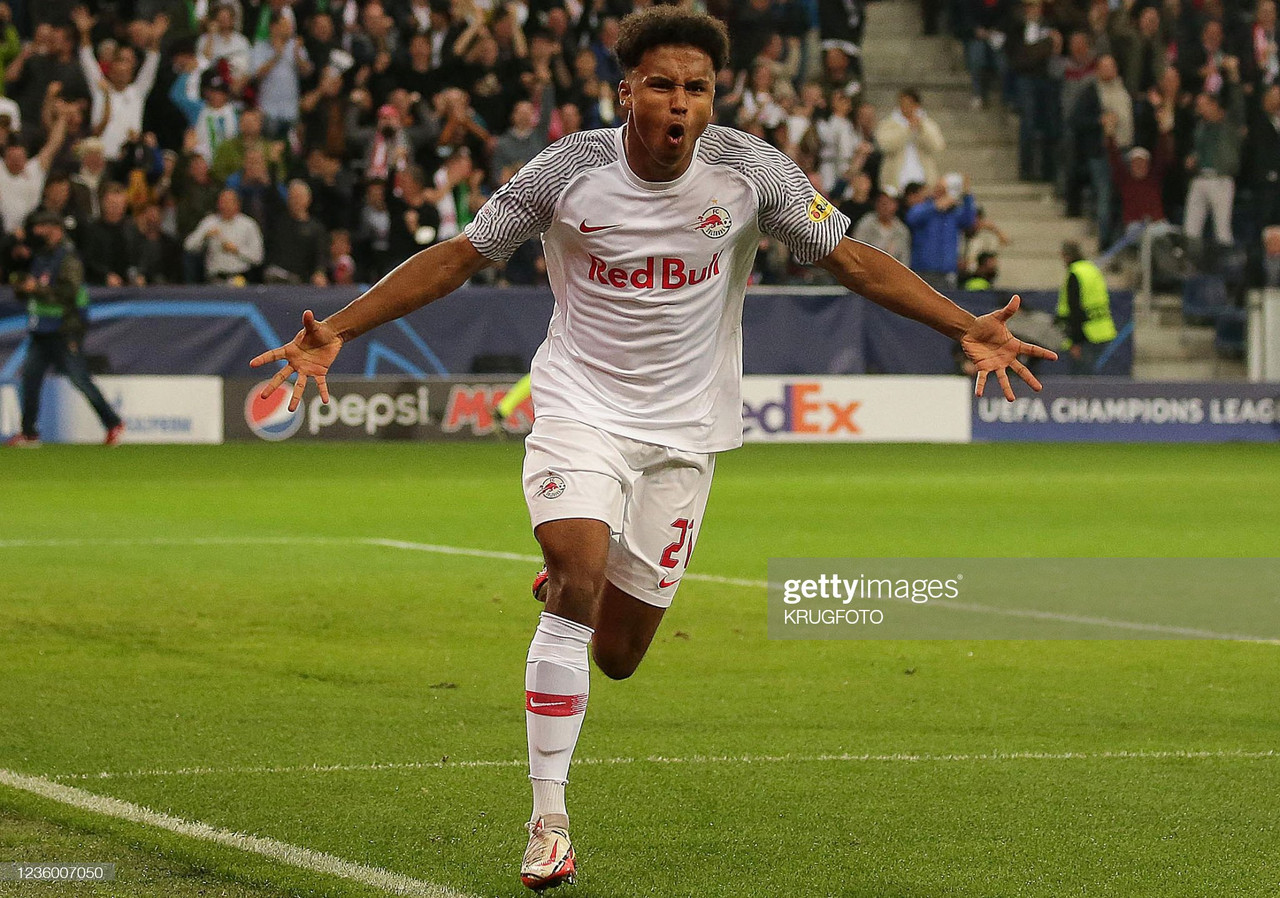 Ever since Borussia Dortmund signed Erling Haaland from RB Salzburg for a measly €20 million he has excelled for them, finishing as the club's top scorer every season. But like most big players Haaland has decided that he wants to leave the club at the end of the campaign, with Manchester City securing the talented Norwegian for next season. However Borussia Dortmund have already decided on a replacement and that is 20 year old German wonderkid Karim Adeyemi.
Adeyemi has had another brilliant season with RB Salzburg, managing to play 39 games in total and scoring 20 goals including three in the Champions League. Adeyemi was sought after by many top European clubs including Manchester United. However, he chose to sign for Borussia Dortmund where he will have some big shoes to fill.
But how did Adeyemi rise to become one of the hottest young prospects in Europe?
Early origins
Adeyemi was born and grew up in Munich with his parents who were Nigerian and Romanian. From a young age, he had a passion for football passed on by his father who himself was a footballer, but when he left Nigeria to play in Germany at the age of 30 he could not keep up with the demand, and as a result, he retired from playing football.
Adeyemi showed his dedication and work ethic from a young age as he constantly trained himself when he was not playing with other people. When he was a bit older his parents enrolled him at The Walter-Klingenbeck-Schule which was also a partner school of Bayern Munich.
Adeyemi's first club was TSV Forstenried and he quickly became the club's most valued kid footballer, and as a result Bayern Munich started to become interested in him. He was spotted by Bayern scouts and offered a trial which he passed and became part of the Bayern youth academy. However, after a dispute about Adeyemi not being disciplined enough he was kicked out.
At age 10 after recovering from being released by Bayern he was signed by SpVgg Unterhaching to their youth academy. Adeyemi played for the academy teams for two seasons playing 26 games in total and scoring 20 goals. Adeyemi finally graduated from the academy in 2018 and was signed by RB Salzburg following his brilliant performances.
Breakthrough at RB Salzburg/FC Liefering
After signing with the Austrian champions they decided that he needed a bit more experience so they sent him out on loan for a season to their feeder club FC Liefering in the Austrian second division. Adeyemi sparkled whilst playing for them and managed to get six goals and four assists while playing 20 games.
When he returned to Salzburg the following season his football career really started to take flight. Playing alongside Erling Haaland and Patson Daka with Enock Mwepu in midfield allowed him not only to score goals but also terrify opposition defenses with his pace and power.
During his first season for Salzburg he started 10 matches and scored one goal and got three assists, however, he was vital in helping them become domestic champions as they won both the Austrian Bundesliga and the Austrian cup.
The following season Adeyemi played 39 matches in total getting himself nine goals and 11 assists including a goal in the champions league whilst also helping Salzburg become domestic champions for the second consecutive time.
This season Adeyemi had his most prolific goalscoring form of his career so far as he managed to score 20 goals in 39 matches as well as getting five assists to help his team clinch a third consecutive domestic double.
International career so far
Adeyemi was born in Germany and as a result, played for German national youth teams. Then in 2021, he got called up for the U21 squad and he managed to help them win the U21 European championship. Following the call ups to the national squad of young players like Florian Wirtz and Jamal Musiala, Adeyemi was also called up and made his international debut on the 5th September 2021 where he scored a goal in the last minute of injury time to help Germany secure an emphatic six-goal to nil victory over Armenia in their bid to qualify for the world cup.
Adeyemi will be hoping that his performance this season will get him selected to represent Germany at the world cup this winter where he will be able to show everyone what he can do on the biggest stage.
If you were to do a direct comparison between Haaland and Adeyemi they are very different. For starters, Haaland is a massive six foot four while Adeyemi is five foot ten. However, while Haaland is taller, Adeyemi has better acceleration than Haaland due to his low center of gravity which allows him to change direction quickly.
Although Dortmund will miss Haaland next season, the signing of Adeyemi is a masterstroke because along with fellow striker Donyell Malen the raw pace between the two strikers will have most teams that want to play with a high line or press high up the pitch be more careful. Dortmund will also not be losing out in terms of goalscoring as Adeyemi is a brilliant goal poacher and deadly in the box.
In addition, there is one benefit of having Adeyemi that wasn't the case with Haaland and that is his ability to play on the wing as well as striker because as mentioned already he is small and has a low center of gravity, meaning he could easily accelerate past most defenders and create goalscoring opportunities.
So although Haaland is leaving to potentially terrorize the premier league with Manchester City, it is not all doom and gloom for Dortmund fans because although Adeyemi might not settle in straight away, he has the potential to become one of the best strikers in Europe and who knows maybe someday the world.