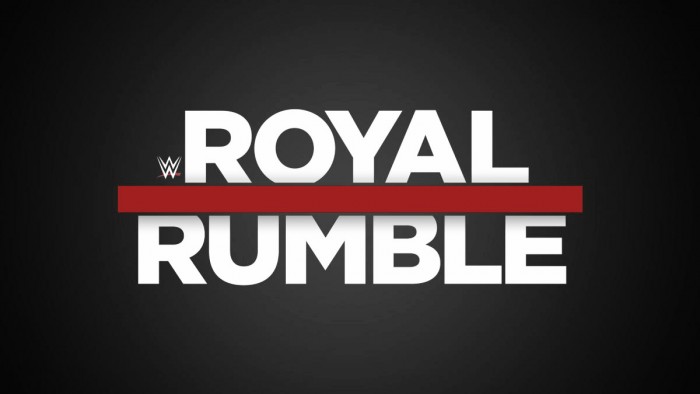 On Sunday, WWE brings the Royal Rumble back to the Alamodome 20 years after hometown boy Shawn Michaels won the WWE Championship from Sid in the same building. With eight matches scheduled for the four-hour event, here are the 2017 Royal Rumble predictions.
Sasha Banks vs. Nia Jax (Pre-show match)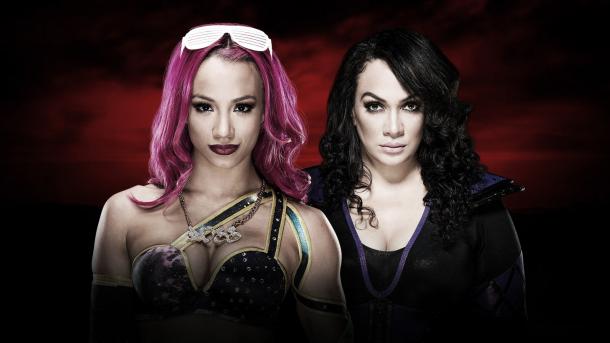 WWE built this match up well but made missteps in presenting Jax as a ruthless monster. For instance, Jax held up on attacking Banks' injured knee with a crutch on the RAW following Roadblock: End of the Line. Otherwise, WWE did a nice job establishing Jax as a dominant force while giving "The Boss" a glimmer of hope heading into the match on the go-home edition of RAW. Expect this match to follow the formula of Jax's matches with Asuka and Bayley, especially with Banks' kayfabe knee injury.
Expect plenty of dominance from Jax with the former RAW Women's Champion fighting from underneath. Jax will win here. Aside from an ill-advised, meaningless tap out to Becky Lynch at Survivor Series, Jax has been well protected with short dominant wins and it feels too early for her to eat a pinfall loss at the Rumble, even to Banks. The former NXT Women's Champion will get in some good hope spots and sell well for her inexperienced opponent. Banks also has the knee injury to fall back on as an out for losing. Besides, the loss won't matter as much if Banks turns heel later in the year to feud with Bayley.
Prediction: Nia Jax pins Sasha Banks
Cesaro and Sheamus (c) vs. The Club (Karl Anderson and Luke Gallows), RAW Tag Team Championship Match w/ two referees assigned (Pre-show match)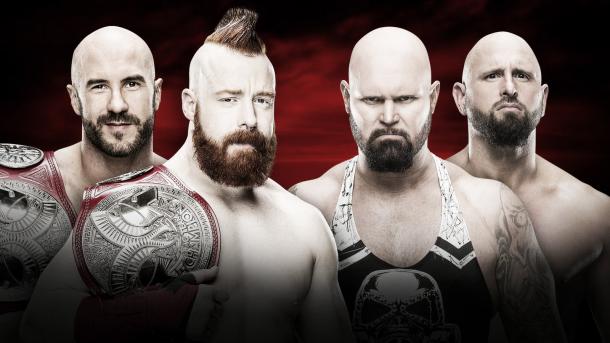 WWE went the Even-Steven route with this feud, with members of both teams trading wins leading up to the title match. The bookers pulled out the old "Dusty Finish" that never gets old in a title match between these four on the January 16 RAW to set up the need for an extra official at the pay-per-view rematch. Anderson and Gallows continue to be a disappointment through no fault of their own. WWE introduced them as badasses, then made them A.J. Styles' bumbling henchmen before the brand split. It got worse after that with the bad comedy segments as "Doctors" in a possible attempt to give the two "personalities". Constant losses to The New Day in between the bad skits did not help matters. As cold as they are, a tag title reign will not immediately restore their credibility. As for the champions, they have gelled nicely now that they are not doing the bickering tag team gimmick as much. The match should be good as all four men are very capable in the ring. The two officials will most likely lead to a screwy finish to set up a rematch on RAW, but the champs will retain. It feels too soon to move the titles off of Cesaro and Sheamus and The Club needs a couple months of rebuilding before getting the titles.
Prediction: Cesaro and Karl Anderson pin each other, the refs argue over who won leading to a draw, Cesaro and Sheamus retain the RAW Tag Team Championships
Becky Lynch, Naomi, and Nikki Bella vs. Alexa Bliss (c), Mickie James, and Natalya, six woman tag team match (Pre-show match)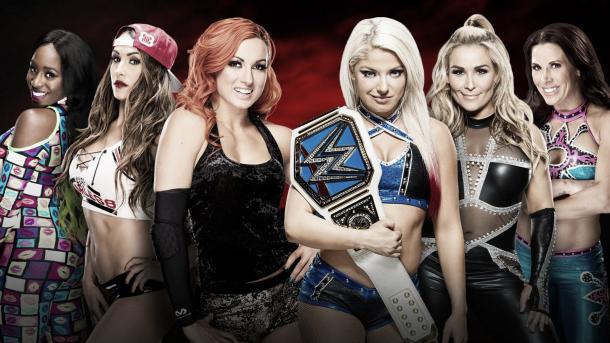 This women's trios match serves a nice purpose of furthering multiple storylines while saving the singles matches for television. It spotlights Naomi's championship pursuit, the Lynch/James/Bliss, and Bella/Natalya feuds. Also, this match could be a prelude to the possible first ever women's Elimination Chamber match at next month's SmackDown pay-per-view. Given the talent involved, this should be a fun match, provided they get enough time. As for a prediction, this one is a coin flip. either side could lose. Natalya is usually the designated jobber in these type of matches, but they may save that for her and Nikki's blowoff match, whenever that may be. Naomi and James just returned, so they likely won't job here. I don't see the well protected Bella losing for her team here either. If the face team wins, Bliss will probably eat the pin. She is good on the stick as champion but is portrayed as a chicken heel with shaky ring credibility. If the rudo's win, James will likely pin Lynch to continue that feud. Again, it is a coin flip.
Prediction: Babyface trios team beat heel trios team (Naomi pins Alexa Bliss)
Rich Swann (c) vs. Neville, WWE Cruiserweight Championship Match
Neville has done well since returning as a heel at Roadblock: End of the Line. Just a few weeks in, the former NXT Champion dominated his competition, coming across as the cream of the crop in the cruiserweight division. To his credit, Swann showed great fire in the weeks leading up to the Rumble, brawling with Neville and ditching the dancing when the time called for it.
On a four hour show, these two should get plenty of time to tell a good story, and both are talented enough to make the most of it. I expect Neville to win here and run through the division for a while, giving the company enough time to find a strong babyface to dethrone "The King of the Cruiserweights". It also gives WWE a chance to right the ship with the lackluster start to the division.
Prediction: Neville pins Rich Swann to win the WWE Cruiserweight Championship
Charlotte Flair (c) vs. Bayley, RAW Women's Championship Match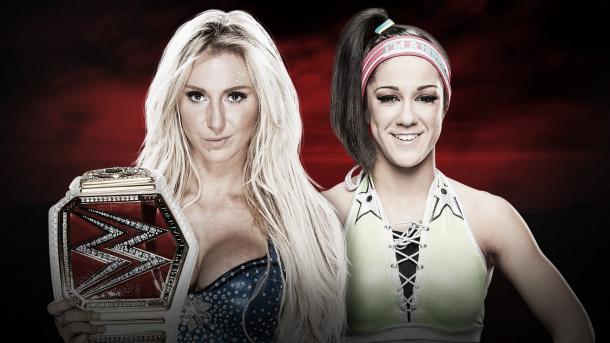 The RAW writers did a great job establishing the dynamic between the champion and the challenger. Charlotte plays the privileged, condescending heel while Bayley's plucky superfan gimmick is a proven success dating back to NXT. Both women had good matches at Full Sail University and their RAW matches are more of the same. Both women should get plenty of time to tell a good story in the ring. Picking a winner here is tough. Charlotte is still unblemished on pay-per-view and it feels too soon to have her lose on this show. On the other hand, I don't see Bayley taking a clean loss, especially if a four way match is planned for WrestleMania. Nia Jax and Sasha Banks could interfere in this match to set that up. Ultimately, I don't see Charlotte losing the title a month after winning it.
Prediction: Charlotte Flair pins Bayley to retain the RAW Women's Championship
Kevin Owens (c) vs. Roman Reigns, No Disqualification match for the WWE Universal Championship, Chris Jericho will be locked in a shark cage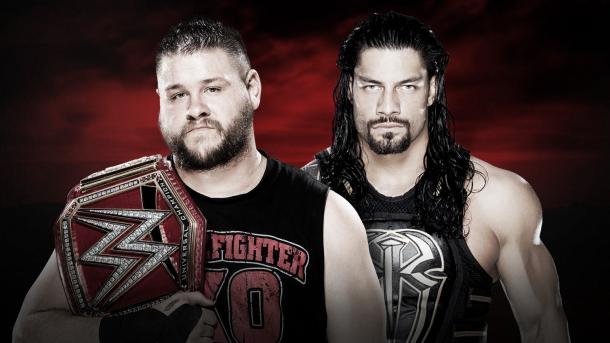 RAW General Manager Mick Foley added the shark cage stipulation to combat Jericho's constant interference in Owens' Universal Title matches. However, history shows that the shark cage novelty lends itself to interference. Before Jericho won the United States Championship in a handicap match a few weeks ago, many thought Reigns might walk out of the Rumble as a dual champion. He still has a good chance of walking out with the Universal Title. Owens has had an underwhelming championship reign.
While entertaining, he and Jericho come across as more of a midcard comedy act rather than main event antagonists. The No-DQ stip allows both men to use shortcuts to pull off a good match. Expect Jericho to do the tired shark cage spot of dropping a weapon down for Owens, only for Reigns to pick it up and use it. That should kickstart the real Owens/Jericho breakup. In the end, look for Reigns to get another crack as a top babyface champion. Heaven help us if Reigns has a high profile match with Braun Strowman for the title.
Prediction: Roman Reigns pins Kevin Owens to win the WWE Universal Championship
A.J. Styles (c) vs. John Cena, WWE World Championship match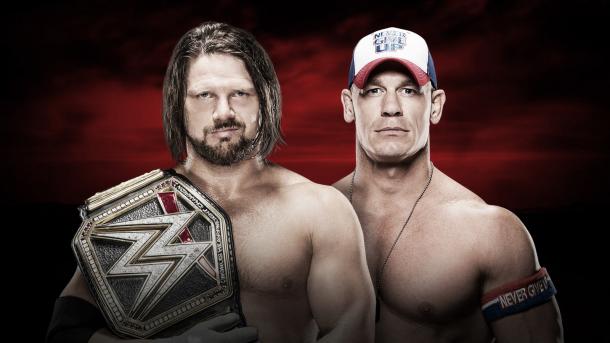 This and the next match are the hardest to predict. There are reasonable cases for each man walking out with the WWE World title. Styles has been a phenomenal champion and it still feels a bit too soon to take the title off of him. Cena is still chasing that elusive 16th world title win and the Rumble feels like a big enough stage to get it. Also, Cena has never pinned Styles in a one-on-one match. He will eventually get his win back, right? While Cena's potential opponent is still anyone's guess (maybe Samoa Joe?), it appears WWE is already planting the seeds for a Styles vs. Shane McMahon match at WrestleMania. Company officials probably see that as a big match but it is a little disappointing that Styles might have to carry McMahon and sell his awful punches in a garbage match (what other type of Shane match is there) at the biggest show of the year. If Shane/Styles does happen, it won't be for the World title, meaning Styles has to lose at some point. It does not have to be at the Rumble. In fact, it could happen at Elimination Chamber next month, giving "The Phenomenal One another gripe against McMahon. This match should be a contender for second best match of the year (it's not touching Kenny Omega/Kazuchika Okada at Wrestle Kingdom 11). It's another toss-up, but I think Styles wins here in a great match and loses the title inside the Chamber.
Prediction: A.J. Styles pins John Cena to retain the WWE World Championship
Royal Rumble Match, winner receives a World Championship match at WrestleMania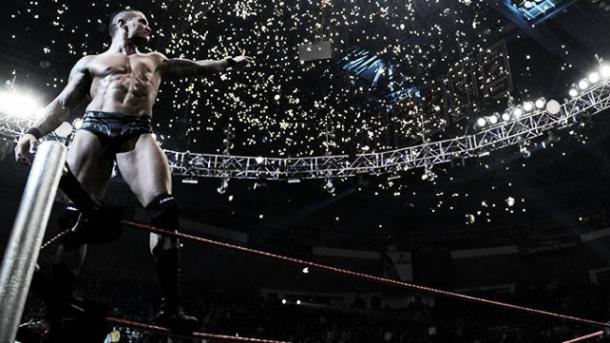 For the first time in several years, the winner of the Royal Rumble does not feel pre-ordained. On the contrary, it feels like multiple wrestlers have a good chance to win the match. As of today, 22 wrestlers are in the match, leaving room for many surprises from legends to NXT call-ups. I also don't see the fans turning on this match as they have done the past couple years (it helps that Roman Reigns isn't in this match). Out of the midcarders who won't win, I expect Baron Corbin, Dean Ambrose, Big Cass, The Miz, Big E, Sheamus and Cesaro to have good showings. Kofi Kingston will have his annual acrobatic spot to stave off elimination. As for the actual contenders, Brock Lesnar and Goldberg will last toward the end but won't win.
Look for Goldberg to eliminate Lesnar to continue the build to their WrestleMania match. I also expect Lesnar to cause Goldberg's elimination, either by distracting or attacking him. The person (likely Braun Strowman) who eliminates Goldberg should get a nice credibility boost. Samoa Joe seems primed to debut in this match and put in a strong showing to kickstart his monster push. Undertaker, Strowman, Randy Orton, and Bray Wyatt is my final four. WWE appears to have big plans for Strowman, so I think he eliminates the Undertaker to set up a possible match between the two. Orton and Wyatt then team up to eliminate the former Wyatt family powerhouse. Orton then tosses Wyatt out to win his second Royal Rumble. With rumors of these two facing each other for the WWE World Title, it makes sense for one of them to win here, even if an Orton win feels "been there, done that". It is just one of many possibilities in one of the more unpredictable Rumbles in recent memory.
Prediction: Randy Orton eliminates Bray Wyatt to win the Royal Rumble.