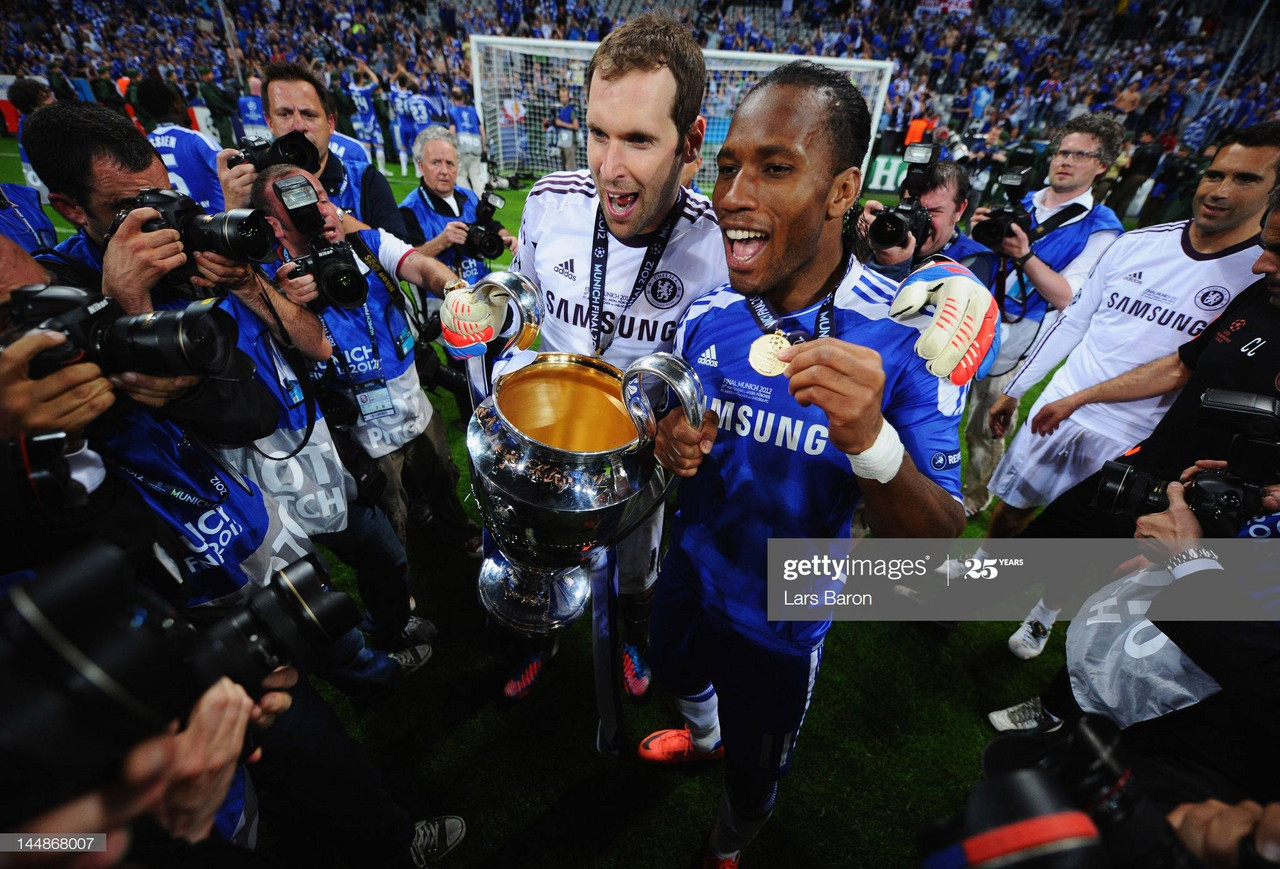 On this day five years ago, Chelsea won their fourth Premier League title. Furthermore, two Blues legends played their final game for the club located in West London.
Between them, they represented Chelsea 835 times. Petr Cech 494, and Didier Drogba 341.
During the tenures of both iconic players, the pair endured legendary moments, defining their status at the club even more. Let's look on some of their finest moments in blue when the duo played together.
Munich 2012
The biggest moment in the club's history. With all the odds against Chelsea, the unthinkable happened after they lifted the Champions League. Both players had key roles at both ends.
After going 1-0 down to Bayern Munich in the 82nd minute, it seemed that Chelsea's luck was going to run out until the Ivorian stepped up. After scoring the equaliser to take it to extra time, the number 11 tucked away the decisive penalty to win the famous trophy.
At the other end, Cech had a sparkling performance to deny Bayern Munich more goals. In extra time, with the score 1-1, Drogba ironically gave away a penalty. Arjen Robben stepped up, former Chelsea, but Cech guessed the correct way and made the tie go to a penalty shootout.
In the shootout, Cech stepped up yet again. Ivica Olic was beaten after Cech denied the Croatian. In addition to this, the influence of Cech in goal put off Bastian Schweinsteiger who missed his effort.
F.A Cup 2012
In the same season as the triumphant Champions League win, there was more silverware secured at Wembley.
Chelsea beat Liverpool 2-1 at the national stadium, Both Cech and Drogba played vital roles in the clubs seventh F.A. Cup win. After Ramires opened the scoring for Chelsea, the Brazilian put his side in the advantage.
Yet again, Drogba's status of scoring in finals continued. Current manager Frank Lampard played the ball through to the forward, who aimed an effort past Pepe Reina into the far corner with his left foot.
After Andy Carroll halved the deficit in north west London, Cech pulled off a magnificent save to deny the possibility of extra time. Carroll once again powered a header towards goal, but the Czech clawed the effort away.
Premier League glory
During the tenure of both legends, they won four Premier League titles playing in the same team. The first two, were in back to back seasons. Jose Mourinho arrived in 2004 and two years later, the club had won back to back accolades.
The third trophy came under Carlo Ancelotti in 2010, the clubs first in four years. Five years later proved to be the fourth, and last. Jose Mourinho returned; it was Deja vu from a decade ago.
In the Premier League, Drogba racked up 254 appearances, netting 104 goals. Cech appeared 443 times in the topflight, keeping 202 clean sheets in the process.