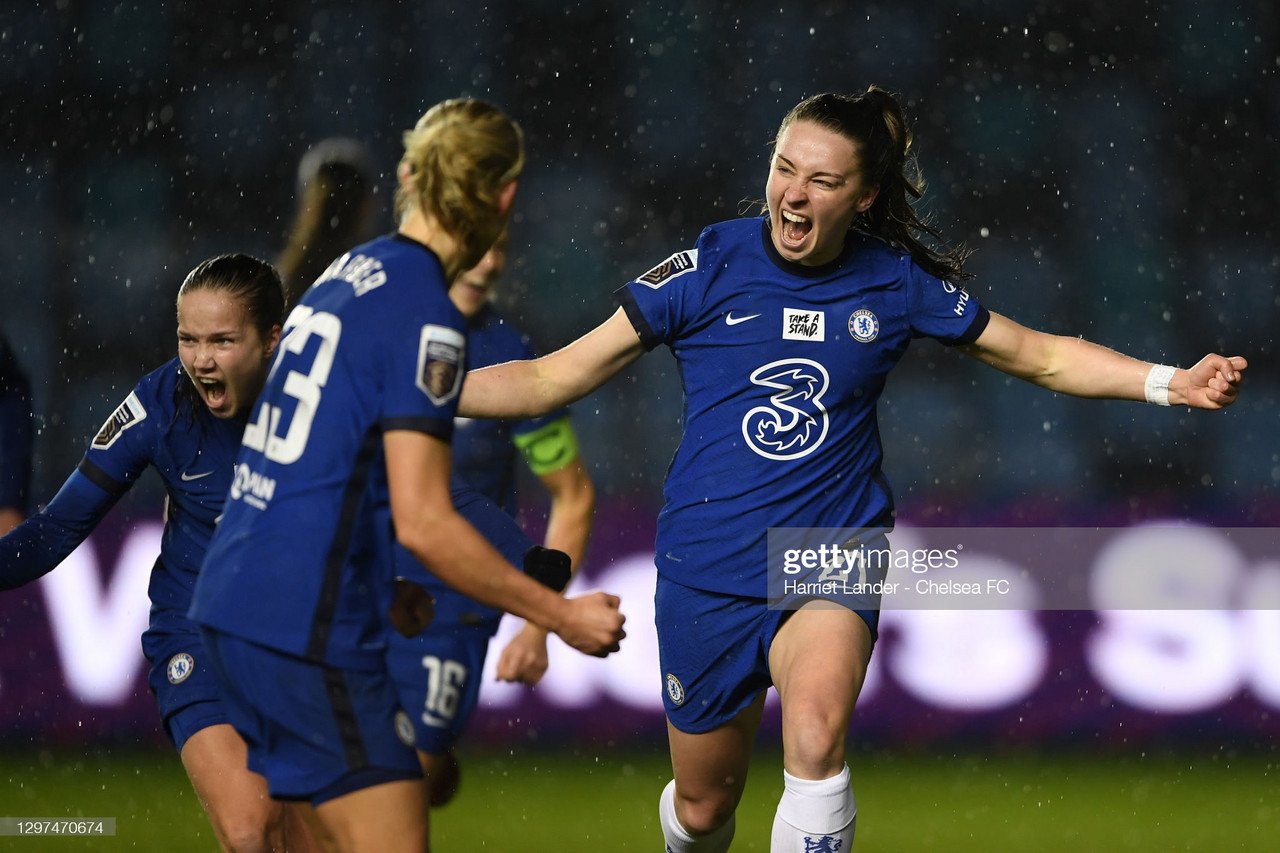 Chelsea picked up their first bit of silverware of the season and it isn't likely to be the last. They thrashed Bristol City 6-0 to win the Continental Cup thanks to goals from Sam Kerr and Fran Kirby and though they took the plaudits, the game was marred by Maren Mjelde's season-ending knee injury.
She was shortly replaced by Niamh Charles at right-back and while the worst was expected, it raised the question of who would fill the Mjelde-sized void at right-back, especially considering the run of games Chelsea have coming up.
Would it be the sensational Charles who's impressed in her rejuvenated role or Hannah Blundell who has yet to rediscover her pre-injury form despite being the specialist full-back?
Both players are vying for the spot to convince Emma Hayes they deserve the position for the foreseeable future. There is the small matter of the Women's Super League and UEFA Women's Champions League run-in, and impressing there would give Hayes a selection headache.
Although it seems likely that Charles will get the nod initially, one wonders if she possesses the capabilities to play the position defensively to a high level for the rest of the season? There is no doubting her attacking capabilities.
She's shown competence in the forward areas by providing breathtaking passes and effective dribbles, however, it is her defending that will be questioned. The exquisite pass down the flank against Everton or the volley against Manchester City comes to mind.
Let's understand the fundamental factors at play here. Knowing Chelsea's current style of play and Mjelde's role in it provides a basis to understand the role and position.
The team utilises a direct style of play which means that they transition the ball from defence to attack in a smaller number of passes. Chelsea adopt a patient approach to build-up where they are comfortable passing it between each other for a long period if the right opportunity doesn't arise.
The full-backs won't take up high positions initially, because they are passing options for the centre-backs. However, once an opening is found, whether it be a long-ranged pass into the wide areas or a more central route through Melanie Leupolz, you will often find the ball-side full-back pushing up if they're involved in the attack.
If not, the opposite full-back will make a far side run offering a late run into the 18-yard box, something we've seen Jonna Andersson do on many an occasion. In either situation, at least one full-back will stay in position transforming into three-at-the-back to thwart any counter-attacking opportunities.
So the full-backs do play an important role in this system, and more so in progression than the final third. The way Andersson and Mjelde operate is very much the archetype of supporting full-backs wherein they are defensively solid yet contribute in the middle and final thirds when it comes to providing passing options or extra supporting bodies to create overloads.
This isn't to say they do not contribute in the final third at all, if anything they offer lucrative crosses against deep, low-block sides which affords them the space to push up even further.
Many a time both Mjelde and Andersson has been seen crossing ball after ball. The first graphic is both Andersson's (L) and Mjelde's (R) heat maps which indicate their movement patterns.

Where does Charles excel?
So where does that leave Charles?
Theoretically, Blundell should be starting over Charles. Given her experience and comfort in the position, you'd think that even an out of touch Blundell would be a better fit than an out of position Charles. However, Charles' resurgence as a key rotation option in recent weeks has come as a surprise to many, especially as a right-back option.
She's a multi-faceted player who is a natural winger. Capable of playing in many positions, Charles has found life at Chelsea tough given the level of competition in the forward areas but has found a home a little further back.
You'll be used to seeing her galloping up the flank, popping up into spaces in the final third and the heat map below confirms as much.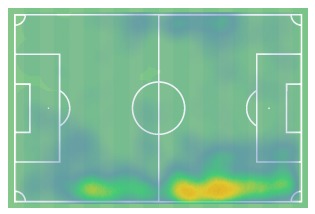 But it also tells us about her ability to remain disciplined in her position. Though Chelsea have the lion's share of possession, the full-backs have to be defensively 'switched on' to ensure they aren't exposed in the wide areas.
Her speed, energy, and intelligence are key reasons for success so far. She can be seen closing down opposing defenders, winning duels and applying pressure further up the pitch. As a result, this gives her more time to get into position and make recovery tackles if she is left higher up the pitch.
Her qualities as an attacker have translated well and Hayes has been able to capitalise on this. Chelsea's defensive shape sees the back four stay closer together and only split once the play switches to the flanks. This requires precision timing and tackling because a mistimed interception or tackle can see an opportunity created for the opposition.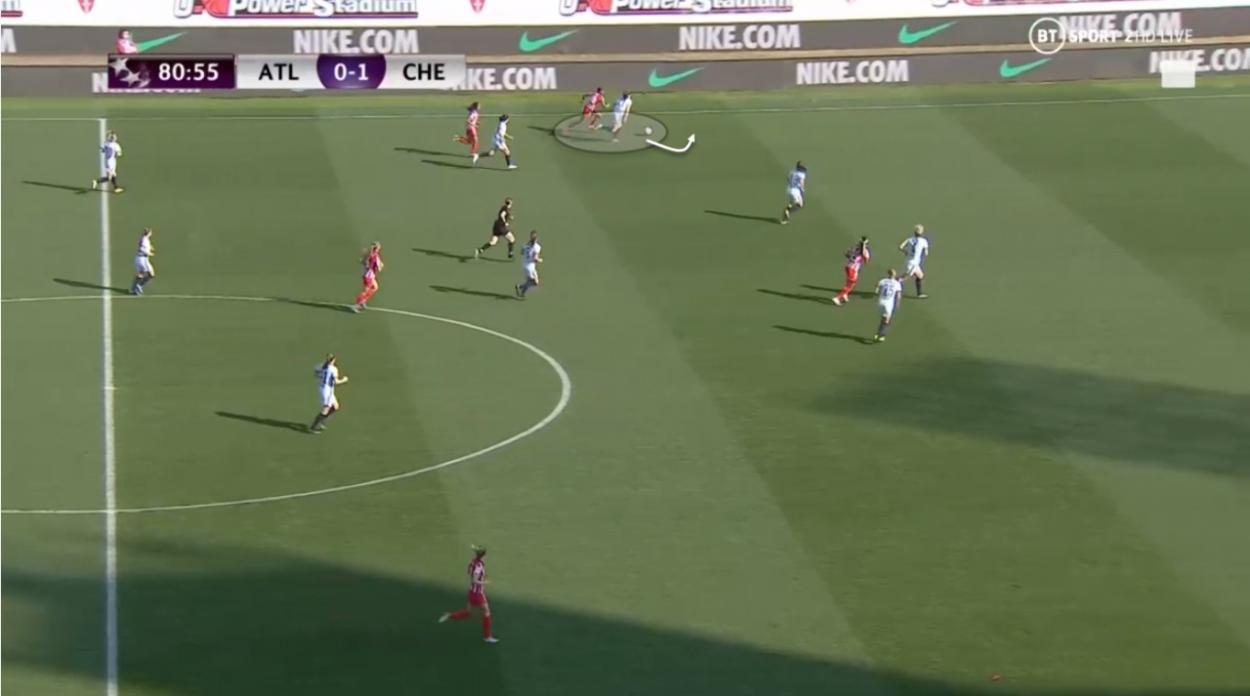 Another weapon in Charles' defensive arsenal is her pressing. From her playing days at Liverpool, she was a player that applied undue pressure on opposition defenders, forcing them into back passes, dispossessing them, or intercepting passes.
This attribute translates well when teams attack the flanks and isolate their player in 1 v 1 duels. There is some degree of high intelligence and quick thinking where she's able to anticipate passes which, combined with her impressive pace, helps her defend well.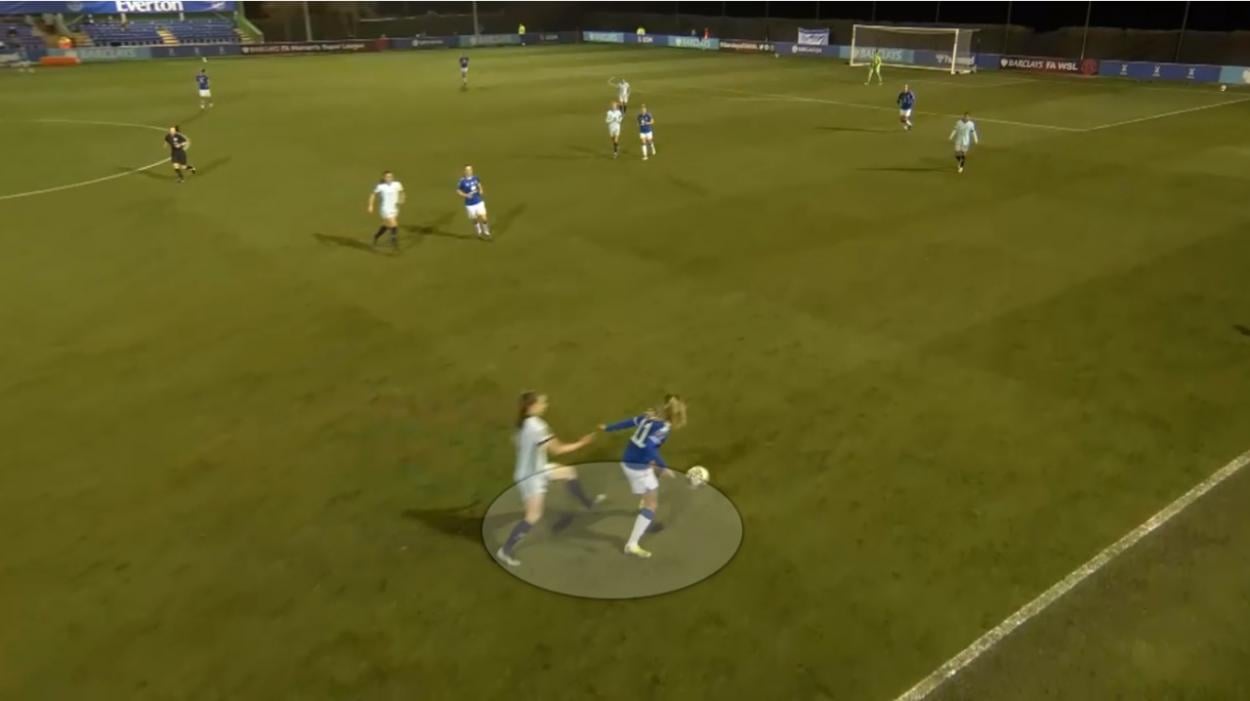 She contained Claire Emslie and Gabby George from asserting their dominance. One way she did this was by pressing the ball receiver higher up the pitch as seen above. Even if she doesn't win the ball, Charles ensures there is no momentum built, forcing teams to restart their build-up.
That game she made five interceptions, seven defensive duels, five recoveries, and four clearances. Impressive numbers for a winger playing in only her seventh appearance as a wide defender.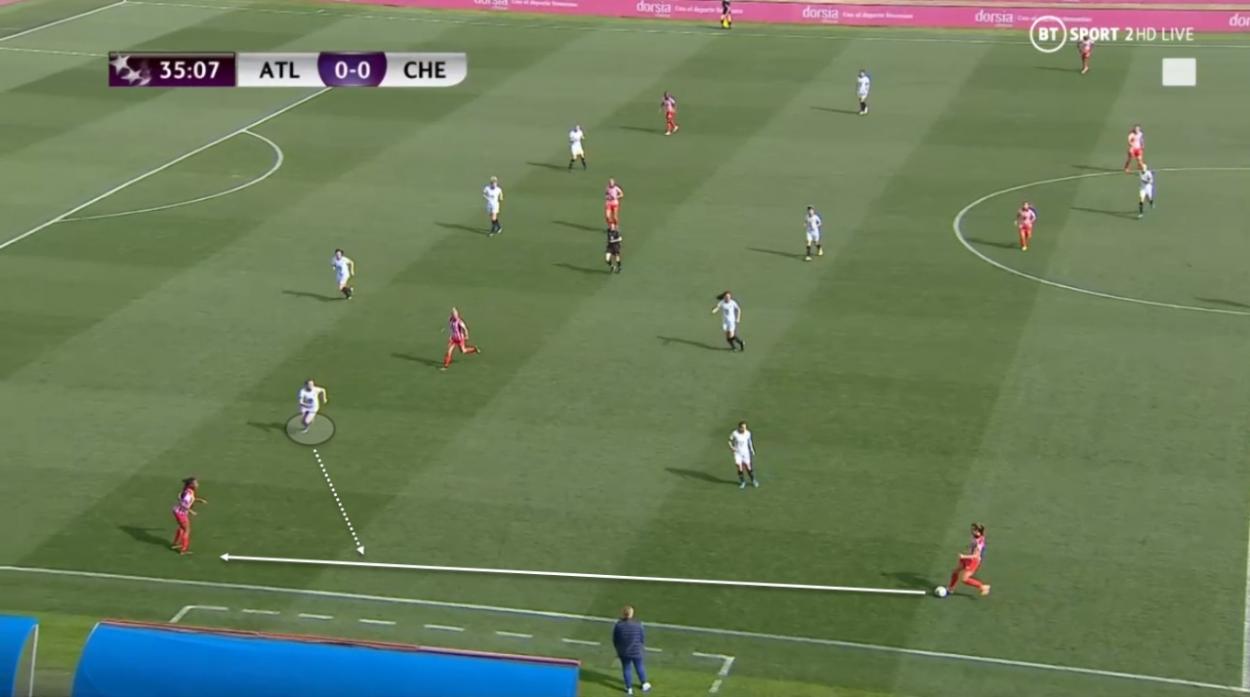 Even here, in a 1 v 1 situation, she presses and closes down the winger, using the touchline as an extra player, relying on her pace to keep up and clear the ball. For the season, Charles has averaged 4.87 interceptions per 90 minutes, 6.97 recoveries per 90 minutes, and 8.11 defensive duels (67% win rate).
All very high numbers considering most of her minutes have come further forward. Her initial position in the example was already in close proximity to the winger which could present a bigger problem against better quality opposition and players who could take advantage of the space in behind. She isn't a perfect defender, far from it, so there will be mistakes but she will learn the position the more she plays in it.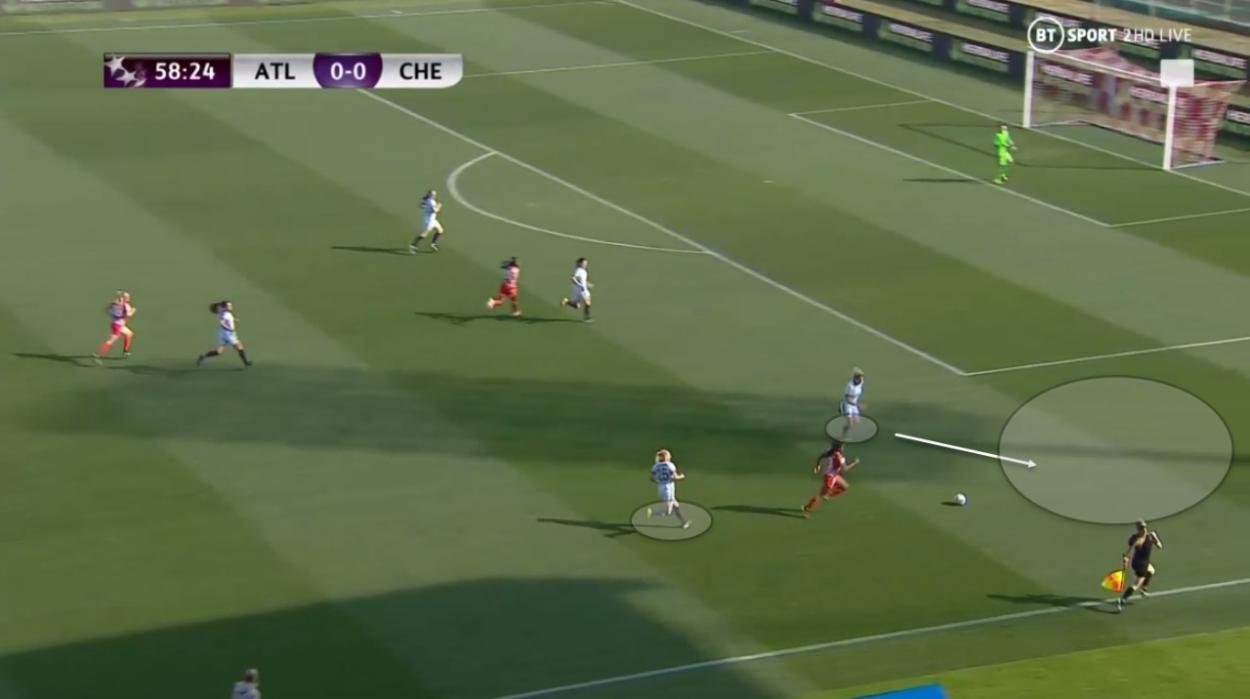 To compensate for this, Chelsea have the experienced Millie Bright and Magdalena Eriksson next to her to cover any spaces in behind and the bigger games will see Sophie Ingle or Leupolz play a bigger role defensively. If given this assistance, there is some room for Charles to play without fear and to defend aggressively.
After all, the tactics have to be slightly altered given she has a completely different skillset to Mjelde. The example here shows Bright covering the space behind Andersson against Atlético Madrid, showing power and intelligence in identifying the danger.
A gamble or stroke of genius?
Hayes found an alternate solution even when she didn't need one and deserves credit for her constant thinking and ingenuity. Now that her first-choice defender is out of action for the season, the time has come to see whether this experiment will pay off. It's paid dividends so far, but how will she fare against high-quality opposition like Wolfsburg?