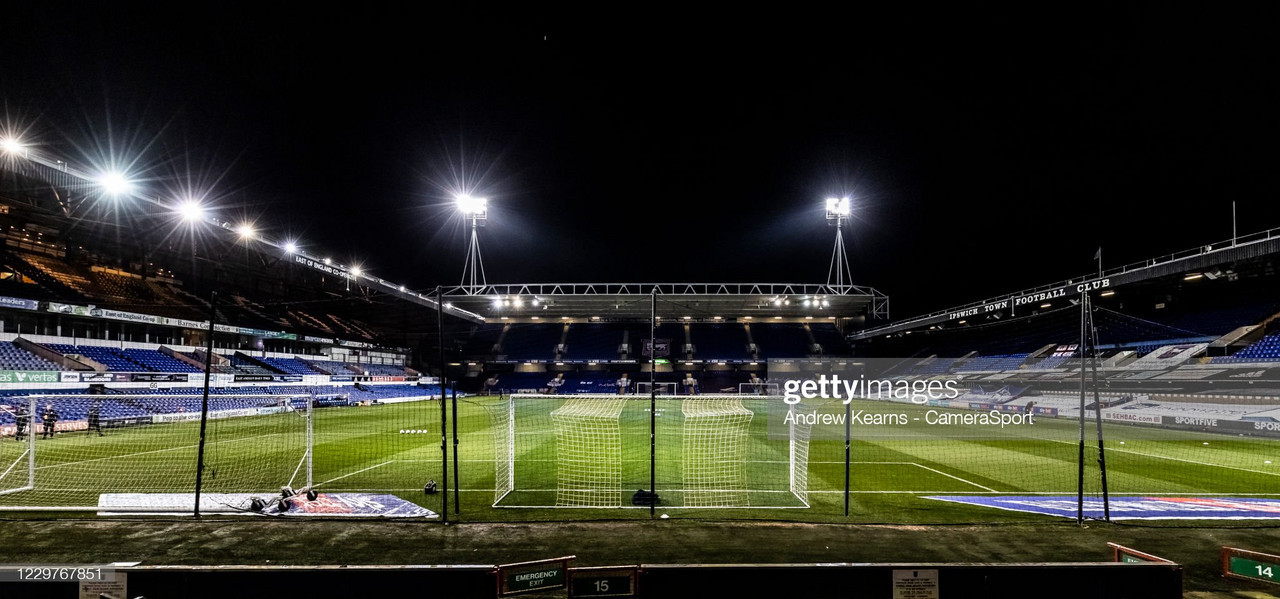 Ipswich Town are through to the third round of the FA Cup after a professional display saw them beat non-league Buxton at Portman Road.
A brace from Conor Chaplin in addition to goals from Gassan Ahadme and Kayden Jackson saw the Blues through to a 4-0 victory over their National League North opposition.
Ipswich dominated proceedings, having 75 per cent possession and attempting 26 shots on the Buxton goal.
But the Derbyshire side held their own against far superior opposition and nearly grabbed a goal themselves when Max Conway rounded both Richard Keogh and Christian Walton, only to see the angle go against him when it came to the finish.
Buxton's run, which saw them win four matches to get to this round, ends at the same stage as it did last season when they were ultimately beaten by another League One outfit in Morecambe.
Here is what we learnt from the game.
It's been a while
Ipswich fans will need no reminder that Town's recent record in the FA Cup has been poor, to say the least.
The victory over Buxton is just their fourth win in 25 matches in the world-famous competition. The previous three in that spell had all come away from home.
The Tractor Boys were winless in their last 10 cup matches at Portman Road. This victory was their first triumph at home since January 2009, almost 14 years ago.
That record, however you brush it up, is staggering for a side that have such history in the competition having won the trophy in 1978.
Coincidentally, it was a Derbyshire opponent on that day when they got past Chesterfield to set up a fourth round tie at Chelsea.
Of course, perspective says that they have faced seventh-tier and sixth-tier opposition so far this season, but you can only beat what is in front of you.
Ipswich will hope they can put their FA Cup misery firmly behind them.
Foot on the Gas
Ipswich's midweek game against Portsmouth in the Papa John's Trophy would have been the occasion to give some minutes to Ahadme as he returns from missing two months due to a fractured foot.
Unfortunately, Ahadme was ineligible due to being cup-tied having already played for Burton Albion prior to his deadline day move to the Blues.
That meant Ahadme was given the chance to make his full debut for the club against Buxton, leading the line and delivering with a first goal in Ipswich colours.
He has had to bide his time since his summer move but will hope this signals the start of a successful career in Suffolk. He has only just turned 22 years of age.
Manager Kieran McKenna was impressed with his performance, saying: "He got a lot of first contacts in the box in the first half, which is something that he'll give us. I think, as time goes on, we'll be able to coordinate them movements a little bit better and find him in more dangerous positions in the box."
The Moroccan will likely offer competition for Freddie Ladapo up front, with a hamstring injury to Tyreece John-Jules leaving Town slightly short-changed prior to Ahadme's return. Jackson is also an option.
Town go strong
When the team sheet was released, many would have been surprised at the strength of the Ipswich starting XI.
It was a team that could start in the league, with first-team regulars Leif Davis, Sam Morsy, Chaplin and Wes Burns all involved from the off.
In fact, seven of those that started the last league game at Exeter City were in the starting side for Buxton.
In many ways, though, Ipswich were forced to go strong, with little cover due to an injury list that is seemingly growing by the week.
John-Jules, Dominic Ball, Sone Aluko and Marcus Harness are all absent, while Janoi Donacien and Ladapo were deemed not fit enough to be involved.
On top of that, the recently returned duo of Greg Leigh and Panutche Camara were missing from the squad with issues of their own.
On the two in question, McKenna said afterwards: "Greg has a scan tomorrow, he has an issue with his knee close to the site of his last injury. He came through 60 minutes but very shortly after in training he felt an issue as he was moving through to receive a ball, so he's got a scan tomorrow, so we'll see how he is.
"Panutche, he had issues and has issues with his groin area from the injury that he had when he was at Plymouth. That's why we've had to be patient with him, but we got him through 70 minutes the other night, but he still didn't feel right during or after the game so that needs to be reviewed."
Perhaps Walton was the only man who could have been rested. Testing times for Town.
Into the hat
The Tractor Boys are into the third round for the first time since the club were relegated from the Championship in 2019.
It is, of course, at this stage where Premier League and Championship sides enter the competition, which means there is the scope to draw a wide range of opposition.
McKenna pointed out that the third round was, at the very least, what he was aiming to reach at the beginning of the season, but would not be drawn on any glamour ties he may be wishing for.
"Honestly, I'm open to all avenues," he said. "Of course, it would be nice to get a really challenging, big club and go and test ourselves. But we want to go as far in the competition as possible and we know if we stay in the competition for longer, those games will be unavoidable anyway.
"So we wanted to, bare minimum, get to the third round. We've done that, of course the draw has not been the most difficult we could have had. But it's nice to be in the hat for the third round. We'll be happy whoever we get."
Manchester United are a possibility, the club that McKenna was an assistant manager at before joining Ipswich and the club the Northern Irishman grew up supporting.
"That would be nice, hopefully in the quarter-final," he said on a potential visit to Old Trafford.
The draw is on Monday evening.
Proud Bucks
Buxton, for the second straight season, reached the second round of the FA Cup. That is an excellent run for a side who were only promoted to the sixth-tier this season.
In this game, they certainly can hold their heads high. They forced their hosts to work for their rewards before ultimately the final quality shone through.
After all, the Bucks came into this game 89 positions below their opponents in the football pyramid. It was a proper cup tie.
Manager Jamie Vermiglio, who has history in the competition having guided Chorley to the fourth round two years ago, took great pride in their own performance.
"Very proud," he said. "It was always going to be tough, we were always up against it. We prepared really well."
Ipswich boss McKenna was complimentary in his post-match words, too.
Buxton brought 580 fans with them from the Peak District and, while the result did not go their way, they no doubt enjoyed a day out that will be remembered in Buxton's history for a long time.
Sunday shenanigans
Finally, it is worth pointing out the baffling kick-off time for this fixture.
The match was moved to a 17:00 GMT kick-off on a Sunday evening for 'overseas broadcast', supposedly being shown on ESPN+ in the United States, as well as on other channels internationally.
This would, no doubt, have had a significant impact on the travelling Buxton supporters, who will have likely brought even more than the 580 supporters that came if the match had gone ahead on a Saturday afternoon.
It seems unlikely that this game will have had a strong viewing power globally, particularly given the fact we are in the middle of a FIFA World Cup.
Neither the BBC nor ITV selected this game for coverage in the United Kingdom.
It can be put down as another extract of the changing landscape of modern football.