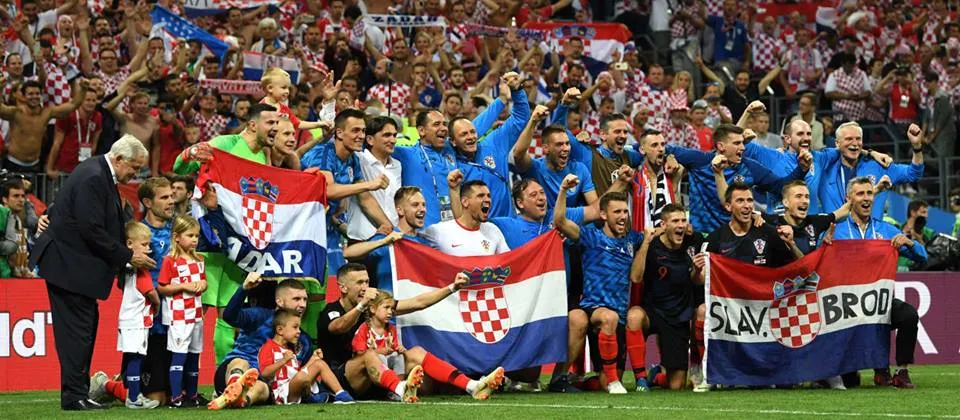 Croatia have been drawn into Group F at the Qatar World Cup. This group consists of Croatia, Belgium, Canada and Morocco. This will not be an easy group for Croatia to qualify from, as Belgium are ranked at number 2 in the FIFA World Rankings, with Morocco ranked at number 22 and Canada ranked at number 41. However, being ranked at number 12 will give Croatia confidence in their ability to progress through to the knockout stages.
Croatia will also be filled with confidence following a strong qualifying campaign and equally impressive Nations League. They were in Group H for the World Cup Qualifiers, alongside Russia, Slovakia, Slovenia, Cyprus and Malta and they topped the group, taking 23 points from a possible 30 points. They were in League A for the Nations League, competing with Denmark, France and Austria in a very difficult group. However, they came out on top, taking 13 points from a possible 18, including an impressive 1-0 victory over France in June, with national captain and hero Luca Modric converting a penalty to give Croatia the result.
Historically, Croatia have always been a top national side, since their formation in 1994. At the 1998 World Cup, they finished third and their striker at the time, Real Madrid's Davor Suker, scooped the top scorer award for the tournament. Croatia bettered this achievement at the 2018 World Cup, losing out to France in the final, with Luka Modric (also at Real Madrid) receiving the Player of the tournament award, as well as the 2018 Balon d'or as a result of his accomplishments with both Croatia and Real Madrid. Croatia are the second-smallest country by population to reach a World Cup final, behind Uruguay, as well as the second-smallest country by land mass to reach a World Cup final, behind Netherlands. They also hold the record for the most volatile team in FIFA World Ranking history, starting at 125th in March 1994 and peaking at 3rd after the 1998 World Cup.
Croatia have many players to keep an eye on at this tournament, most notably the aforementioned Luka Modric along with other well-known international superstars like Tottenham's Ivan Perisic, Chelsea's Mateo Kovacic and Inter Milan's Marcelo Brozovic. However, one lesser-known player to keep an eye on is RB Leipzig's Josko Gvardiol. Josko Gvardiol is a 20 year old defender who currently plays in the Bundesliga and Champions League for RB Leipzig. He came up in the Dinamo Zagreb academy, and was first spotted by prominent European clubs in Dinamo's 2018-19 UEFA Youth League campaign, where they reached the quarter-finals. Some of the interested clubs include Manchester City, Bayern Munich, Borussia Dortmund and Gvardiol's eventual destination, RB Leipzig. In 2019-20, Gvardiol made his debut for the Dinamo senior team, and earned himself a five-year contract by June of the same season. On 28th September 2020, it was announced that Gvardiol had been signed for RB Leipzig for a fee in the range of £12 million, a large fee for a still relatively unknown 18 year old. Gvardiol has quickly established himself at RB Leipzig under manager Domenico Tedesco, and is now a regular starter for the German side at just 20 years old. Gvardiol's incredible club form resulted in an £80 million bid from Chelsea in the summer of 2022, however RB Leipzig rejected this bid as they value the young defender even higher. Gvardiol is also a regular feature for the Croatian national team, having played for the under 21s from the age of 17 to 19. He became the youngest ever player to play for Croatia at a major tournament at Euro 2020, starting against England aged 19 years, 4 months and 21 days. He started every game at the Euros for Croatia and will be expected to do the same at the forthcoming World Cup. Therefore, I have chosen Josko Gvardiol as my player to watch, as he is a confident, versatile young defender who improves with every game he plays.
Croatia have a great squad for the World Cup, with fringe players such as Mislav Orsic, Lovro Majer and Marko Livaja coming into domestic form in the run-in to the World Cup. This may give manager Zlatko Dalic a few selection headaches, however I'm sure he is grateful for the incredible depth to the Croatia squad. Croatia have lined up in a 4-3-3 formation for their last few international games, and I expect this to continue into the world cup. The line-up seen most recently was in a 3-1 win against Austria, as follows: Livakovic (Dinamo Zagreb,) Borna Barisic (Rangers,) Josko Gvardiol (RB Leipzig,) Dejan Lovren (Zenit Saint Petersburg,) Josip Stanisic (Bayern Munich,) Mateo Kovacic (Chelsea,) Luka Modric (Real Madrid,) Marcelo Brozovic (Inter Milan,) Nikola Vlasic (CSKA Moscow,) Ante Budimir (Osasuna,) Ivan Perisic (Tottenham Hotspurs.)
This is a very strong line-up, especially the world class midfield trio with two Champions League winners in Kovacic and Modric and a current Scudetto holder in Brozovic. The bench is also strong, with Borna Sosa, Lovro Majer, Mario Pasalic, Marko Livaja and Andrej Kramaric featuring off the bench with Mislav Orsic and Domagoj Vida as unused substitutes. I believe Croatia will operate a very similar line-up at the World Cup, however I believe Andrej Kramaric will be starting up front over Budimir due to his regularly starting at Euro 2021 and his strong start to the Bundesliga 2022-23 season, with 3 goals and 2 assists in the opening 9 games for TSG Hoffenheim.
Coming off the back of a strong Nations League, an impressive World Cup qualifying campaign and a brilliant previous World Cup, I truly believe Croatia are a team to watch at this upcoming World Cup. I believe they will have enough quality to progress through the group and I wouldn't be surprised if they even top the group ahead of Belgium. My realistic prediction is for Croatia to reach the quarter finals, but if their key players can stay fit and continue their incredible momentum coming into the tournament, there's no reason why Croatia can't be considered serious competitors to win the entire tournament.
Matt Coles