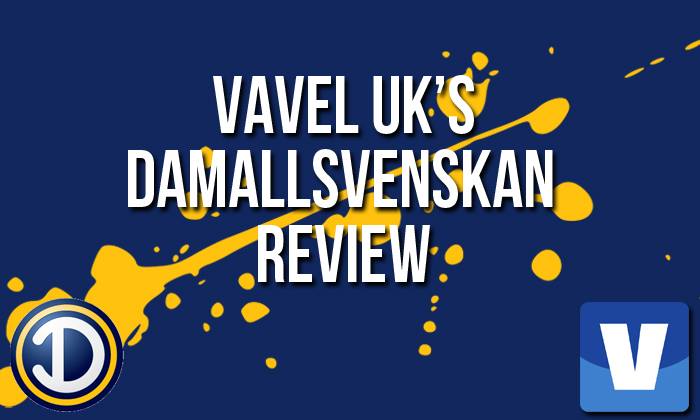 Wins for FCR against PIF and KG against Kristianstad has left the top two to be decided on the last day as Vittsjö's win over Eskilstuna, LB07's win over Kalmar and Hammarby's loss to Växjö has left the relegation scrap to be decided with DIF's point against LFC enough to ensure their safety.
Rather up and down this season, promoted Växjö having been looking to recapture their goalscoring touch and go out on a high, their attackers on a song against Bajen. Taking the lead on the half hour with a header from Jenna Hellstrom, the hosts didn't look back with Anna Anvegård's superb effort in stoppage time enough to double the advantage going into the break. Hellstrom made it three early in the second half with a well-struck lob before Jennie Nordin put the ball past Moa Edrud to give Hammarby a route back into the match. However, the own-goal was for nought as the hosts continued to get the better of Emma Holmgren. Jonna Ståhl's swept finish after the hour added to five minutes later by Stina Lennartsson.
Far from safe, Hammarby will have to pick themselves up from bruising their loss to Växjö and prepare for their last match of the season at home to relegation rivals, Vittsjö.
Tied for points with Vittsjö but carrying a far, far worst goal difference, LB took full advantage of their visit to Kalmar to face the only team whose relegation has been confirmed for some weeks.
Julia Welin's low effort added to less than ten minutes later by sister Anna [Welin]. Comfortable in the match against a team that has been rather goal-shy this year, the visitors bagged a superfluous third after the break, Rakel Hönnudóttir's eighth of the season enough to put the gloss on the win.
Giving their push for a Champions League berth a healthy boost, KG left the hosts without reply in Kristianstad. Pauline Hammarlund's 19-minute goal enough to give them the advantage before Beata Kollmats nodded in a second with Julia Zigiotti making it three before the break. Picking up from where they left off in the second half, the visitors found a fourth through Zigiotti before Elin Rubensson added a fifth from the spot – a goal to go with her two assists.
Enjoying one of their best seasons to date in Damallsvenskan, high-flying KDFF found a late conciliation as Alice Nilsson touched the ball home from close range to deprive Loes Geurts of a clean sheet.
Two teams having forgettable seasons, Vittsjö dug out a sterling win to keep their survival hopes up. The three points owed in no little way to Clara Markstedt whose hat trick may have just kept the unfancied side in the top flight.
With a low strike five minutes in, Markstedt claimed the first goal of the game before setting up Ebba Hed after the half hour. Far too much for Emelie Lundberg to deal with, Markstedt added a third just before the break, chipping the ball over her before wrapping up her hat trick two minutes from time at a corner.
In a hark back to the midnight match they played up in Kiruna, it was Rosengård who had the better chances throughout the match – an improved second half not enough for PIF to claim a goal. Having refused two good chances, it was Anja Mittag who found the breakthrough late in the first half when she raced onto the ball to skim it off of June Pedersen and roll it into the empty net. With the match hanging in the balance, neither side could find the second goal, the score enough for Rosengård to go top though Piteå still have a chance of finishing as champions.
Relatively off of the pace this season and confirmed of a finish far from the summit, LFC continued to come up short against a DIF team who secured their safety with the draw.
A goal up early on thanks to Lina Hurtig before Michelle Wörner nodded Julia Spetsmark's cross beyond Stephanie Labbé. Taking the lead just after the hour when Spetsmark showed her strength and tenacity to keep the ball before slotting it through Labbé's ankles. Yet there was to be another twist as Hurtig nodded in an equaliser four minutes from time, forcing both sides to take a solitary point.