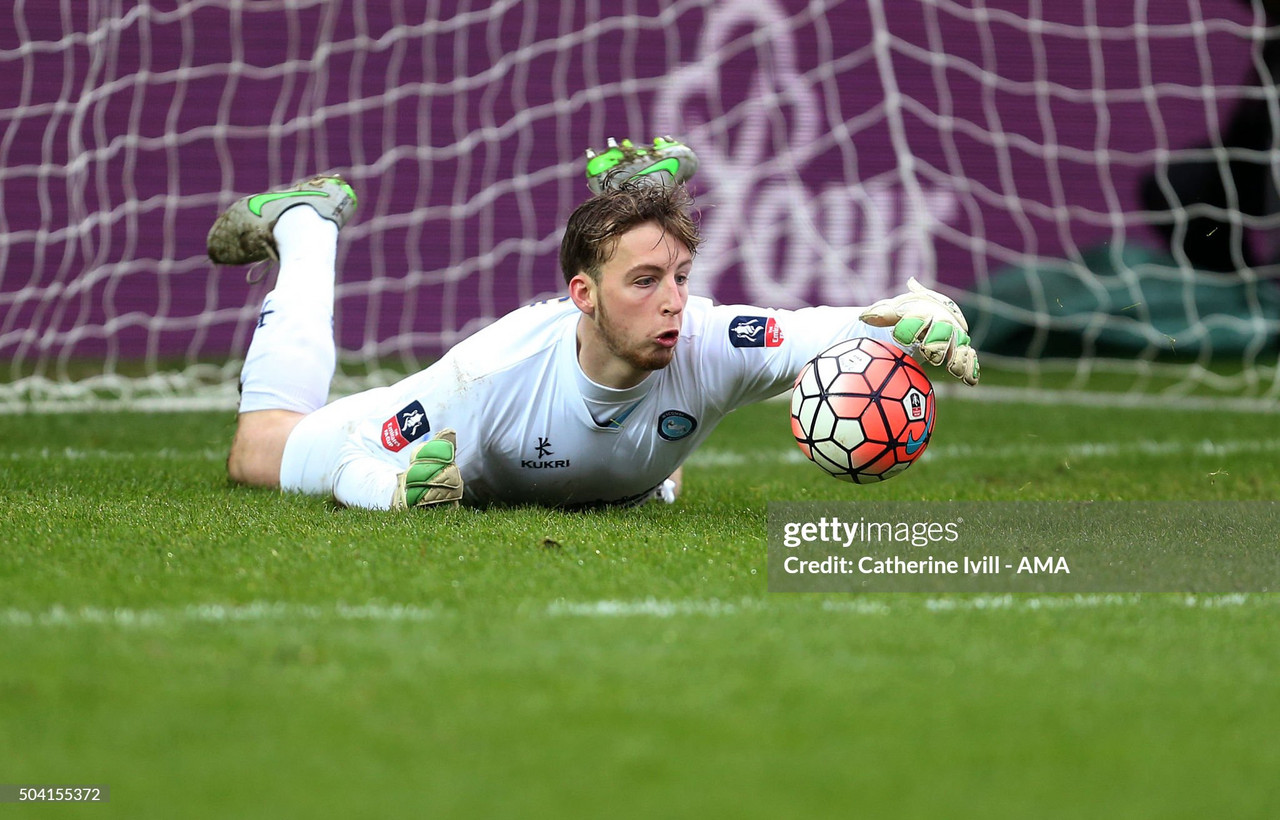 Holyhead Hotspur goalkeeper coach Alex Lynch continues to play his part in Welsh football, after retiring from his playing days earlier this year.
In a career where he experienced the League Two playoffs, FA Cup, Cymru Premier and the National League, Lynch has now turned his attention to coaching in Anglesey, which is where he began playing football at a younger age whilst at Amlwch Town.
In an interview with VAVEL, Lynch spoke about his younger years, experiences on loan, move to Wycombe, return to Wales, retirement and current coaching role in Anglesey.
First beginnings in football
Lynch started his football career at Welsh side Amlwch Town in Anglesey.
After a trial at Wrexham, a move to Peterborough was around the corner.
"I started playing football around the age of six," he began.
"I've got an older brother and he used to bring me to the local park with his mates and just stick me in goal. I'm pretty sure that's how I got into football."
"I was actually on trial at Wrexham for a few months just before I went to Peterborough. It didn't work out there (Wrexham) for one reason or another.
"I had been to loads of clubs on trial around that period but most of them said I was too small at the time.
"I was doing okay at that age it was just mainly a height issue for most clubs.
"The move to Peterborough came about through a goalkeeping glove company.
"A coach I knew around North Wales passed my name on then I went down there for a trial and it worked out well to be fair."
"I went on trial at Peterborough. I met the goalkeeper coach and he wasn't too fussed about height he said if you're good enough that's what matters most.
"My time at Peterborough was great three years as a young lad in a new place finding my feet in the world. I learned a lot in those three years and worked with some top-class players and coaches."
Loan moves followed for Lynch in a bid to play first-team football.
Histon and Brackley Town were amongst the clubs he spent time at during his spell at Posh, but it was his time at Stamford where he started to play football regularly.
"My loans were the best thing I could have done if I'm honest," he explained.
"I probably could have stayed in youth team football for another year but I wanted to get out and play men's football.
"I only played a game each at Brackley and Histon but the season I spent at Stamford was one of my favourite years of playing football.
"I absolutely loved being in a new environment. I learnt so much in that season and it definitely made me a better goalkeeper in the long run."
In 2014, Lynch joined League Two side Wycombe Wanderers.
Former Wanderers goalkeeper coach Barry Richardson, now at Hull City, played a big part in his move to Adams Park.
"The move to Wycombe came about because Barry Richardson, who was the original first-team goalkeeper coach at Peterborough, had gone to Wycombe the season before and we got on really well to be fair.
"I had actually been offered another year verbally by Peterborough but it never got put down on a contract in time.
"As soon as I spoke to Baz and he told me Wycombe would give me a two-year deal I knew I wanted to go. Reasons being I wanted to work with him again and a new challenge, club, manager and place to live."
Lynch joined the Chairboys' goalkeeper union, involving Matt Ingram and Charlie Horlock.
The Welshman spoke about his relationship with his teammates, at a club that has been known for a tight-knit group down the years.
"My relationship with Chaz and Matty was really good to be fair," he stated.
"We were all slightly different characters to be honest but we all had a really good relationship.
"That first year at Wycombe was the best changing room I'd been in I think. Everyone got on well and enjoyed each other's company.
"Probably part of the reason why it was such a good year is that people were not expecting it (playoffs) before the season started."
Wycombe went on to earn a spot in the League Two playoffs in Lynch's first season at the club, a year on from the Chairboys nearly dropping out of the Football League.
Lynch was number two to Matt Ingram during his time at Wycombe, but an injury in the final league game of the season against Northampton Town meant Lynch played the remainder of that game.
After the Blues missed out on automatic promotion, Lynch would have an unexpected opportunity in the League Two playoffs with Wycombe.
"I knew all along that I would be playing all the playoff games if I remember rightly," he explained.
"I'm pretty sure everyone knew Matty's injury was a bad one.
"I think it was more keeping it quiet in the press as it probably would have ramped up the pressure on myself and maybe teams would of planned on playing around me a bit more because obviously I was a young lad who had not played at that level yet.
"The whole playoff experience was a whirlwind to be honest.
"I was nervous in the first leg to be honest but I got through it okay in the end. The second leg as soon as I made one decent save the whole feeling of being tense went and I grew into it and ended up having a decent game I think."
Lynch also played in the playoff final against Southend United.
Wycombe would go onto lose on penalties at Wembley Stadium.
"It's probably one of the most relaxed I've been in a game and the build-up.
"It didn't end how we all dreamed, it was a heartbreaking end to a game but that's football for you.
"I'm not sure there have been many lads from Holyhead that have played there so I count myself lucky."
Another highlight of Lynch's time with the Chairboys was the FA Cup Third Round against Premier League side Aston Villa.
Fellow Welshman Joe Jacobson scored the equaliser for the Blues after Villa went ahead through Micah Richards, in what was a memorable draw for Wycombe.
It set up a replay at Villa Park, which Wycombe went on to lose 2-0.
"Again the Villa game was another unbelievable and unexpected experience for me. I got quite a lot of light-hearted stick around that time that I only play in games on TV.
"Even though Villa were struggling in the Premier League back then they still had some top-class players playing for them."
Lynch returned to Welsh football in 2016, when he signed for Bala Town in the Cymru Premier.
A spell at Chester in the National League followed, before another move back to the Cymru Premier where he played for Llandudno.
Speaking about his move back to Wales, Lynch explained that he should have taken a break from football before his time at Llandudno.
"My move back to Welsh football was a bit strange to be fair," he explained.
"I had been away from Holyhead for five/six years and to move back home was a bit of a weird feeling.
"I signed for Bala Town for a few games before getting a move to Chester in the Conference. I had a good first season at Chester but the second season wasn't so great.
"Things in my life were not so good and it reflected in my performance to be honest.
"When I left Chester and signed for Llandudno, I should of had a break from football at that time if I'm honest with myself. I was absolutely dreadful for them. Without a doubt the worst football I've played in my life."
On initial injury - "It felt like the final nail in a coffin for me with football"
Following his spell at Llandudno, Lynch returned to Holyhead Hotspur.
However, during pre-season, injury struck.
In a game against Llanrug United, Lynch was sent to hospital with a broken foot.
Lynch explained the injury and the difficulty of recovering from it.
"The injury was bad, I knew that straight away that it was a major," he explained.
"I went down for an operation that night. I'd broken all 5 metatarsals and torn all the ligaments so I had to get 4 screws and a plate in my foot.
"If I'm honest it felt like the final nail in a coffin for me with football. I had 3 years out.
"I probably could have tried a bit more if I really wanted to to get back fit quicker but I had two kids in that time and life gets in the way. I was never going to get back to full-time football so I put it to the back of my priorities to be honest.
"During lockdown I decided to start running. I'd put on weight, I got fed up with it and I obviously had time on my hands due to the lockdown period and I ended up getting obsessed with running.
"I started doing 5k's every day and then I ended up doing marathons and the weight fell off me.
"I started to join in with Holyhead training a bit cause I felt okay. You don't lose your natural ability it's just the fitness side of it you lose.
"Daz Garmey the manager said do I fancy giving it a go again so I went for it. I absolutely loved that first season back playing for Holyhead.
"There was no stress of trying to impress or earn contracts or anything it was just going out and enjoying football. We had a really good season that season.
"The season after when we had played about 10 games I started to feel the pain in my foot again, so I went to hospital for a check up and it wasn't looking too good again, so was told I'm gonna have to go for another pretty major operation on my foot.
"I had decided as soon as I left the hospital that that was the end for me as a player. I've got two kids, a missus and a full-time job and football is no longer the main priority for me."
End of a chapter in my life ⚽️ pic.twitter.com/zuSilTdUIg

— alexander lynch (@alexanderlynch1) January 31, 2023
Now retired from the playing side, Lynch continues life as goalkeeper coach of Holyhead Hotspur in the Ardal North West, the third tier of Welsh football.
He spoke about the current season with Holyhead five games into the season and potential aims of completing coaching badges.
"I'm enjoying the coaching this season. We've signed a really good goalkeeper at this level in Guto (Hughes) and we've got Adam (Martin) from last year who is also a good goalkeeper and they're both a pair of good lads which is most important.
"They've both helped with their enthusiasm to learn and and get better. I really enjoy working with Daz and Chedz on the coaching team and we've got a changing room full of good lads this season, so hopefully we can have a good year this year.
"I'm not sure on my aims for football to be honest. I'm due in for my operation before the year is out so it is hard to look too far ahead.
"It's going be the best part of a year recovery so the surgeon has told me, so I'm just going to try to help out with Hotspur until then and see where things go.
"I will probably look at doing my coaching badges in the next couple of years, but my kids are both young and I've got a job so it's just finding the right time.
"I just want to stay involved in football in some capacity and keep the buzz you get on a Saturday afternoon."