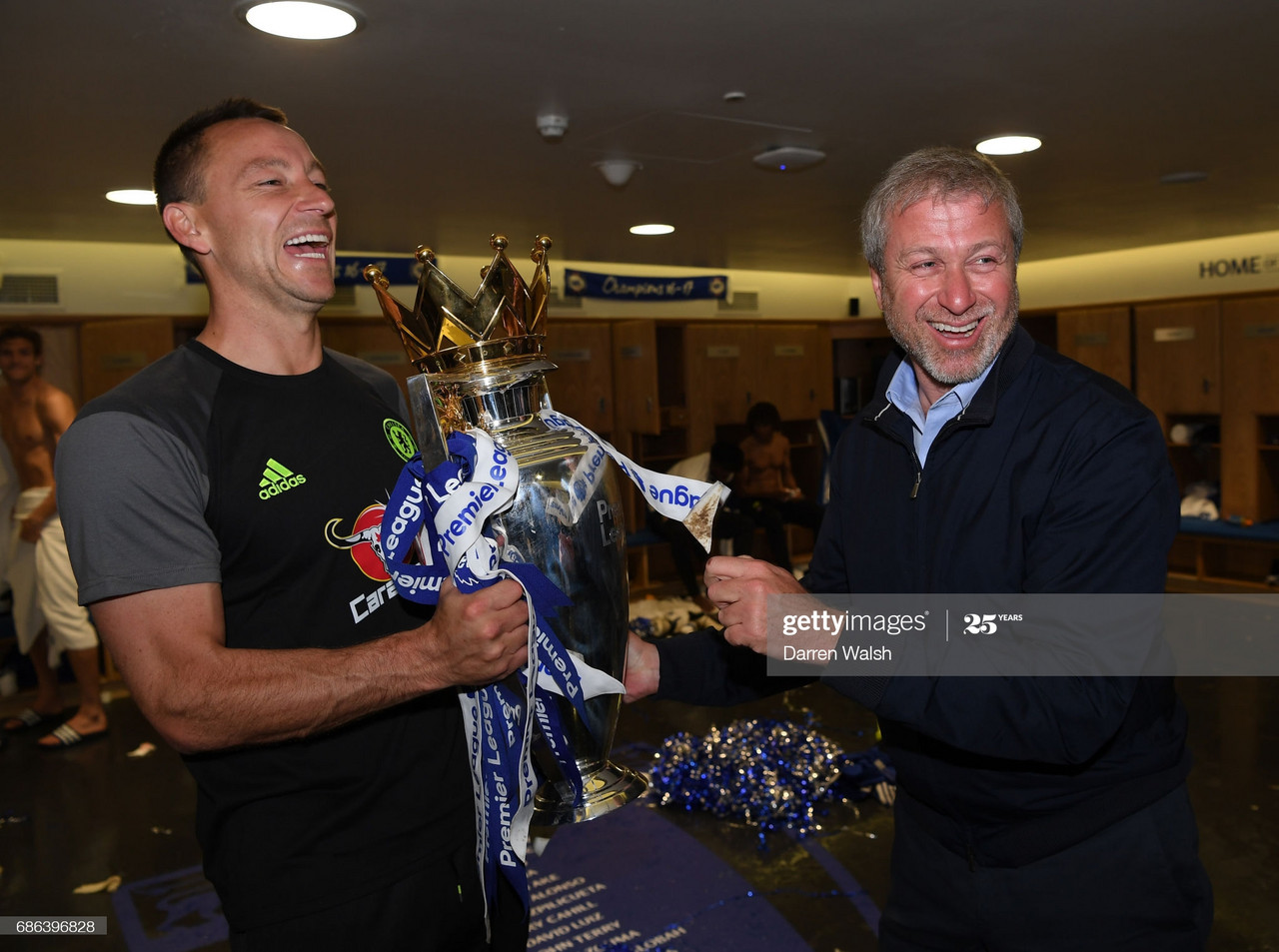 It was once said that "if uncertainty is unacceptable to you, it turns into fear. If it is perfectly acceptable, it makes you come alive."
That one word perhaps best sums up the past eight months in football. An uncertain restart, an uncertain transfer window and now an uncertain title race. But as is so often the case, this ambiguity brought with it immense opportunity, and though at some clubs fear set in, others began to reawaken.
The summer transfer window was like no other. Recruitment strategies that seemed watertight in club boardrooms in January were in tatters by May. But for the few who remained able to spend, it presented a rare opportunity – one which Chelsea seized with both hands.
Having secured Hakim Ziyech by February, in June they added Timo Werner, with Ben Chilwell, Kai Havertz, Thiago Silva and Edouard Mendy not far behind. Roman Abramovich and Marina Granovskaia, his ruthlessly efficient transfer director, were taking no chances.
Chelsea under Frank Lampard are in no mood to dawdle, and if history is anything to go by, their urgency may well pay off. The conventional wisdom has often been towards long-term, patient squad building, the kind which served Sir Alex Ferguson so well during his two-decade stranglehold on the top-flight.
But in the near thirty-year history of the Premier League, the Scot's long-term approach was an anomaly in a wider trend of short-term solutions.
Champions have always built quickly
By calculating the average number of years each player had been at their club before winning the title, the eight squads with the highest average longevity were all assembled by Ferguson. His thirteen title-winning squads served for an average of just under six years. By contrast, non-Ferguson title-winners had been at their clubs for well under four years.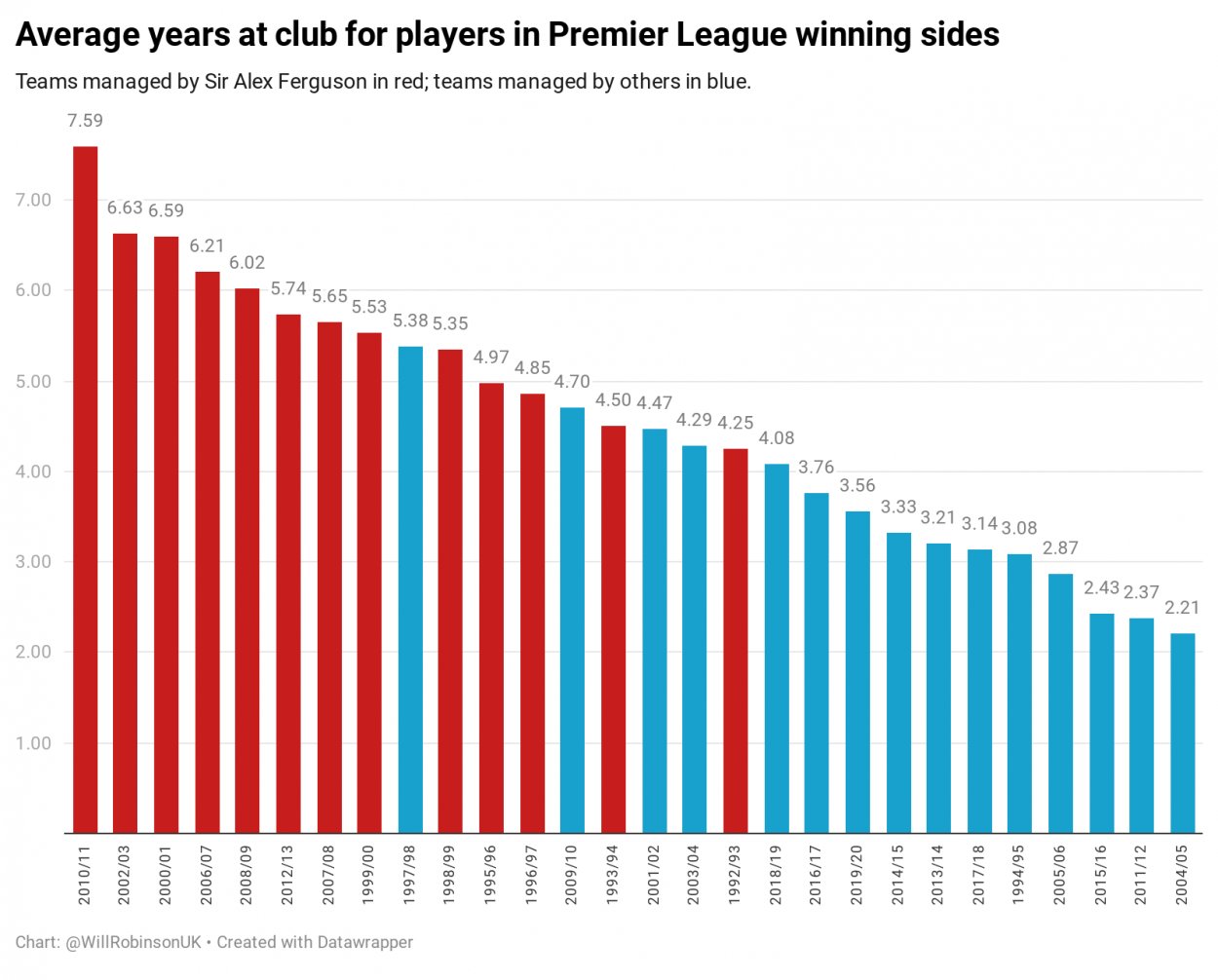 It's an ethos that Manchester United have claimed they wish to continue; an antidote to the panic-buying of the Louis van Gaal years. Two or three key signings each summer, exercising the ghosts of Angel di Maria and Radamel Falcao. Executive vice-chairman Ed Woodward reaffirmed this belief yesterday: "We will continue to support Ole [Gunnar Solskjaer] with a planned, long-term approach to recruitment, focused on the summer windows."
But there will never be another Alex Ferguson, and attempting to replicate his patient transfer strategy will not propel a club back to winning titles. It will only see them further isolated from their more pro-active rivals. As Chelsea seek to make up for lost time, United will slip further behind.
It's a trend that began in 1994, when Jack Walker's millions propelled Blackburn Rovers to the title. The side contained ten players who had been at the club for fewer than three years. Arsene Wenger's arrival at Arsenal necessitated something of a rebuild, and although the 1997/98 champions were the among the longer serving title-winning sides, they too relied on eight players who were less than three years into their careers at Highbury.
This compares to an average of five players in Ferguson teams so new to the club.
Jose Mourinho and – more pertinently – Abramovich's arrival in English football only exacerbated this trend. The runaway title winners of 2004/05 contained twelve important squad members purchased within the previous three years. By the final day of the season, the squad had served an average of just over two years, by far the lowest in the Premier League era.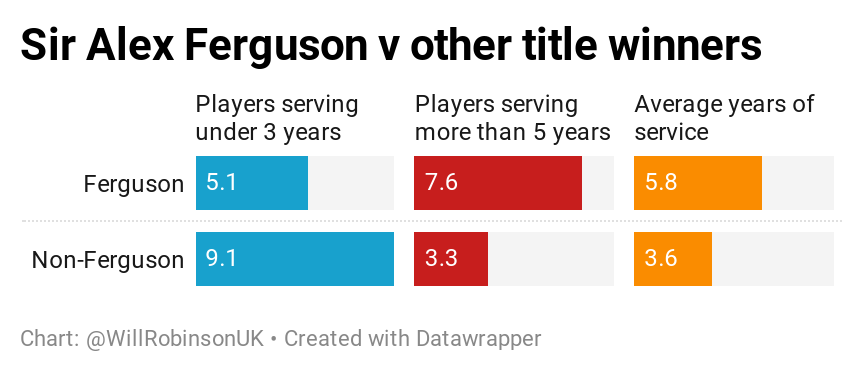 Following Mourinho's departure in 2007, four of the next five titles headed back to Old Trafford.
But in the meantime, Sheik Mansour's takeover of Manchester City had tilted the scales further. Their dramatic title victory in 2012 signalled not only a power-shift in Manchester, but confirmed the Abramovich spending model as the new norm – the squad were the second newest title-winners in Premier League history.
Indeed, since Ferguson's retirement, only one side has won the title with a squad that has, on average, more than four years of service: Manchester City's defending champions of 2018, dominated by players who had been at the club the year before.
A brand new spine
There are, of course, mitigating circumstances.
Of teams not managed by Sir Alex Ferguson, only Manchester City and Mourinho's Chelsea have retained the Premier League title; it's not surprising that less rebuilding was required at Old Trafford.
But even if we take simply the United sides aiming to regain the title, the squad remains, on average, nearly six years old. Ferguson's four definitive sides – the double-winners of 1994, the treble-winners of 1999, the Ronaldo-Rooney-Tevez axis of 2008 and the Robin van Persie led side of 2013 – still average over five years at the club.
Title-winners rebuild, and they do so quickly. That reality should be a blessing to teams like Manchester United and Chelsea who desire a speedy return to the top.
It's not simply a question of adding squad depth. Champions often replace the spine of a team in a short period of time.
As early as 1995, Blackburn's key group of Tim Flowers, Henning Berg, Tim Sherwood and Alan Shearer were, on average, two-and-a-half years into their careers at Ewood Park when they led the club to the title.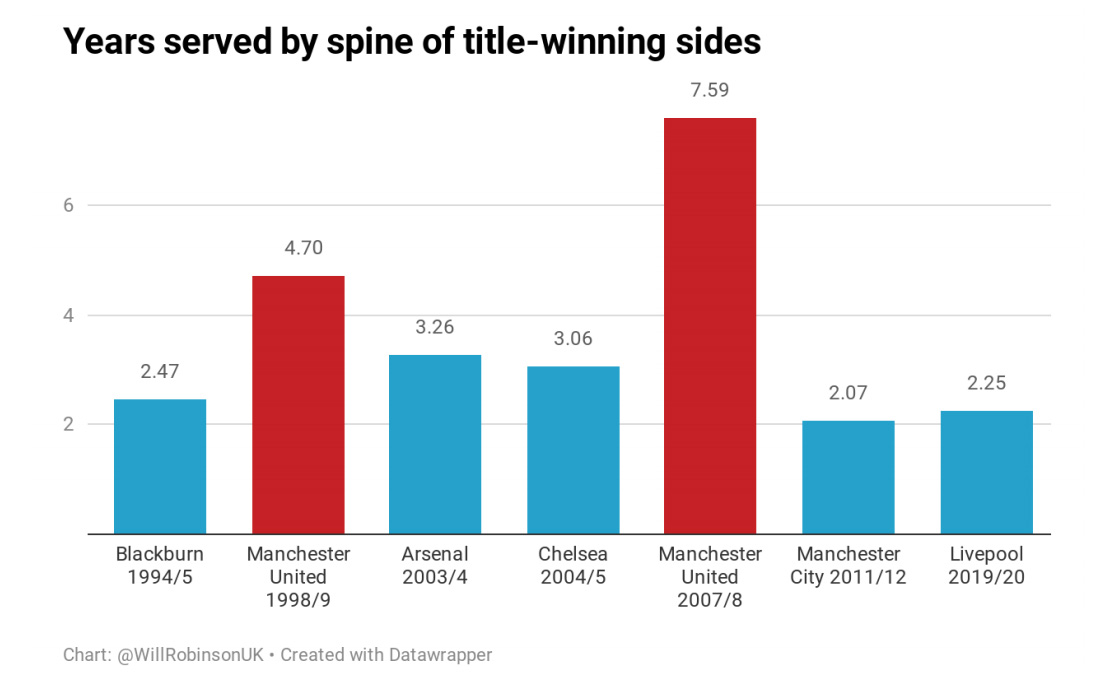 In 2005, Chelsea's core of Petr Cech, John Terry, Frank Lampard and Didier Drogba averaged three years at the club – replace Terry and Lampard with the equally important Ricardo Carvalho and Claude Makelele, and the figure falls further to just over a year.
In 2012, Manchester City's Vincent Kompany, Yaya Toure, David Silva and Sergio Aguero had spent just two years at the club.
Liverpool have picked up on this trend. Alisson, Virgil van Dijk, Fabinho and Mohammed Salah – crucial to their first title in 30 years last season – average just over two years at Anfield. Expensive? Yes. Worth it? Certainly.
Build fast, win big
The data points to a clear lesson within English football. Since Kenny Dalglish's Blackburn Rovers in 1995, successful teams rebuild, and they tend to do it quickly.
This summer, clubs with money to spend were hard to come by.
As uncertainty gripped the footballing elite, Manchester United froze and Chelsea came alive. The former saw their ambition paralysed by fear, the latter showed they had learnt from the past, emulating those that have triumphed against them.
The supernatural standards set by Liverpool and Manchester City have been impossible to match in recent years, but in this open title race there is a chance to get back on top.
If Chelsea's rampant spending secures an unlikely title for Frank Lampard, a terrible truth may dawn on those at Old Trafford: for a club with ambitions to re-join the footballing elite, this may have been their chance to jump the queue.
@WillRobinsonUK