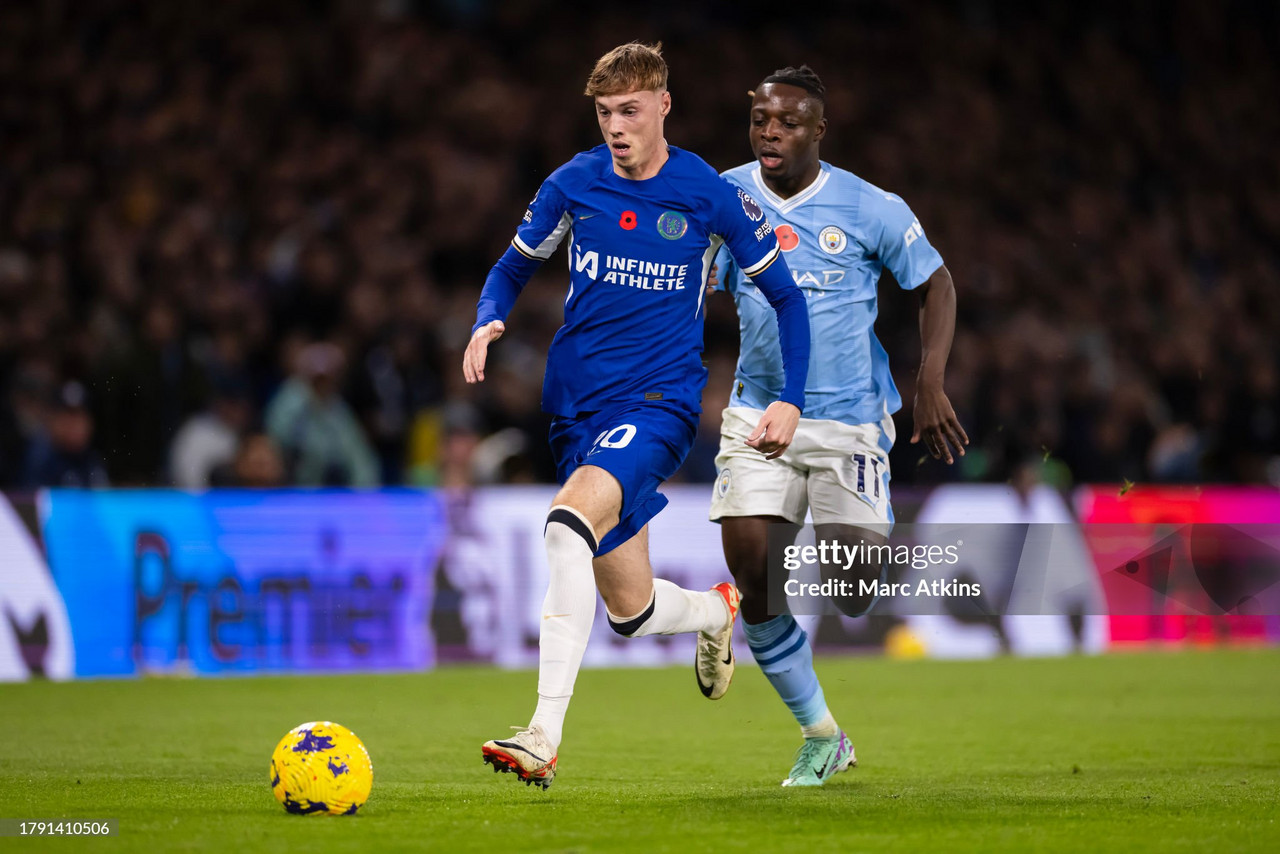 As clubs up and down the country begin to sink their teeth into the proper stages of the season with pre-season hangovers and early blues excuses well out of the window, proper assessments as the abilities and performances of the 92's newest recruits have begun to take shape.
In this article, I've taken on the tough task of selecting each clubs top performing signing, taking into account value for money, performances and club situations to make our choices.
This article will be done in four parts, starting with the Premier League and working down to League Two. Stick around, and enjoy!
Premier League
Kicking things off on our list is a player who may well lay claim to becoming the signing of the season when all is said and done.
Arriving as a Europa Conference League winner with breakthrough side West Ham United for a hefty sum, the midfield man has made good on his big-money move in the heart of Mikel Arteta's side.
With Arsenal just a point off of the top of the tree, occupying 3rd in the Premier League at time of writing, Rice has been sensational in his midfield play, displaying a brilliant defensive grit and sublime comfortability in possession. A marvellous bit of recruitment from The Gunners.
With jet-propelled pace and fervent footwork in his arsenal in off the right of Villa's attack, Frenchman Diaby has been a diamond for Unai Emery this season so far.
Turning down big-money Saudi Arabia moves in the summer to link-up in the Premier League, the £50m+ man from Leverkusen has notched six goal contributions in 12 so far in the top flight, and has dazzled the flanks of almost everyone he has faced so far.
After a solitary but impressive season in the Midlands with Wolves, Nathan Collins has been a rock at the back for The Bees so far in this campaign.
Averaging 3.4 win-backs and 5.4 recoveries a game so far for Brentford this season in the league, the Irishman has been a big part of Thomas Frank's plans alongside the likes of Ethan Pinnock and Kristoffer Ajer.
Ever the shrewdsters when it comes to transfer dealings, Brighton's recruits this summer haven't been as ever-present as other teams in the division, with none of them having made more than five league starts.
Restricted to just four himself, Pedro is the pick of the bunch so far following his £30m+ move from Championship side Watford in the summer, notching six goals and one assist in all competitions, four of which have come from a so-far successful foray into Europe by way of the Europa League.
The Brazilian forward has been in fine form whenever he has pulled on the shirt, and has provided good competition for Irish wonderkid Evan Ferguson thus far.
Bournemouth - Max Aarons
Bournemouth are struggling to hit the same surprising heights that they found on their return to the top flight last season, currently sat teetering above the drop zone in 17th in the Premier League.
With some high-profile recruits joining the side in the summer, with the likes of Bristol City wonderkid Alex Scott and Justin Kluivert all joining the Cherries, it's Aarons who has emerged above the rest as Iraola's side look for consistency in their performances.
Ever-present on the right flank of the defence, the arrival from Norwich has certainly had some poor games this season, but so too has matched them with some choice brilliant ones, namely against Newcastle in a shock 2-0 win.
Burnley - Luca Koleosho
Burnley are bottom of the Premier League at time of writing, and selecting a choice recruit from a struggling side such as the one at Vincent Kompany's disposal makes for a tough ask.
The 19-year-old Italian, though, has highlighted himself as one to keep an eye on throughout his performances so far this season.
While just the one goal contribution isn't much to write home about, his pace and eccentricity down the flanks certainly is. The youngster dazzled in a 1-1 draw away with Nottingham Forest this season, and could be a real gem once developed into Premier League life.
City's boy is Chelsea's man, or whatever it was Peter Drury said as the 21-year-old winger smashed home his fourth Chelsea goal of the season (all penalties, albeit) from the spot against his former side in a 4-4 draw.
Eyebrows were raised after Mauricio Pochettino coughed up £40m for a young winger on the very fringes of the Man City squad, but Palmer's early-season form for his old club has carried over to his new one very nicely indeed.
Displaying great technique and a fine range of passing from the right flank, Palmer has since been rewarded with his first senior call up to the England squad. A just dessert for a player in fine form.
Arriving on a free transfer following the expiration of his Bournemouth contract, Colombian battler Lerma has maybe been the only Palace player to have registered any real impact since arriving at Selhurst Park.
Joining up with the same level of grit and determination shown during his days on the coast, Lerma has brought some necessary fortitude to the centre of the park during his eight Premier League starts this season, as Crystal Palace fight to a current 13th place in the standings.
The Toffee's recruitment this summer has been a bit of a mixed bag. Returning loanee Jarrad Branthwaite has felt like a new signing following his Eredivisie loan with PSV and has been tremendous despite their misfortunes. Udinese arrival Beto looks a solid addition, and so too does Danjuma, who famously snubbed Everton previously to join Tottenham on loan instead.
The pick of the bunch, however, appears to be Jack Harrison. Arriving from previously relegated Leeds to the tune of a loan deal, the former City Group winger has notched four goal contributions from just five league starts so far this season, and has shown a real spark in Everton's attempts to steer away from the business end of the table.
Another side who would be forgiven for expecting more out of this season would be Fulham, who's summer recruitment hasn't exactly blown the socks off the league.
Where Castagne and Iwobi have done well so far, a sole goal for ex-Wolves hero Raul Jimenez has done little to fill the void left by Alexander Mitrovic, who left for Saudi-Arabia in the summer. Impact-less too has been Adama Traore, who also swapped the old gold for black and white, but is yet to start a league game.
Castagne, however, has been a decent addition following his undisclosed transfer from relegated Leicester City in the summer. Displaying the same levels of work-rate and technical competence that saw him so well-loved by The Foxes, his arrival has been one well-received.
Silky-smooth in possession with outrageous technique in his locker, the Hungarian creative force that is Szoboszlai has continued his upward trajectory in conversations with Europe's elite.
Whilst his one goal and two assists in the league may be fairly unsuspecting, he is currently one of the statistical best passers of the ball, notching a completion rate of 92% in all competitions.
A wizard on the ball and a grafter off of it, Dominik also averages 7.3 ball recoveries per game in the Premier League, continuing to mark his name out as one of the young talents in the world.
For all of the mockery driven towards Luton's transfer window in their first ever top flight campaign, their plan seems to be an understandable one when looked into.
They have built a squad that could do very well indeed should they drop down, with Championship starlets such as Tahith Chong, Marvellous Nakamba and Ryan Giles all joining on top of those that got them here to start with, such as Carlton Morris and Tom Lockyer.
Go down, and they have a stocked Championship side ready to go for an immediate attempt at a comeback, which would bring even more funds to a cash-strung side. Stay up with this squad? Well, that would be lovely, wouldn't it.
Contingency plans and policies aside, Ogbene has been a very solid performer for Luton regardless of their third-from-bottom league position. Finding the net against Nottingham Forest with a deficit-halver grabbed himself his first Premier League goal and his team a lifeline to recover a point with, and his general play tied in with his versatility has made him a very important get for The Hatters.
Doku has just been absolutely blistering since arriving in Manchester in a big-money move from Rennes in the summer.
With two league goals and five assists from his seven league starts so far this season, the Belgian has brought a decisive directness to City's play with his explosive wing play and clever footwork that has left fullbacks falling all over themselves so far this season.
Add in his cup contributions; another goal and assist in the Champions League, and you have a brilliant talent shining brightly for, let's face it, the best club in the world.
It always seems to be the same story with Man United.
They'll change the manager, bring in a few massive names and enjoy a decent year of optimistic football that may bring in a trophy or two, and then it'll just randomly fall apart.
That seems to be the case so far this season, as the Red Devils are currently enduring one of their worst league starts, and are in grave danger of failure in the Champions League group stage after defeats to Galatasaray, Copenhagen and Bayern Munich, winning one from four with that coming against Copenhagen in the home leg.
Mount can't seem to get a game, Onana has improved and had some brilliant moments, including a last-gasp penalty save to win that game against Copenhagen, to recover from some comical errors at the start of his Old Trafford career, and I won't entertain the return of Jonny Evans.
Hojlund may not have found his scoring touch in the Premier League just yet, having his first disallowed, but certainly has it in Europe after dragging in five goals from four games, tied up with Alvaro Morata at the top of the scoring charts there.
His luck in the league will turn, and Hojlund looks like a very promising addition for the future.
So sure, his season is over thanks to his love for ten-fold accas, but for all of Newcastle's spending power, they actually had a fairly quiet summer.
Lewis Hall returned on a loan-to-buy from Chelsea, Tino Livramento signed on from relegated Southampton and Harvey Barnes came in from Leicester. Neither of whom have made a long host of starts, yet.
Tonali was the big money get, and he found the net on his debut before making a further seven league appearances before suspension brought an end to his season early.
Nottingham Forest's attitude to South American arrivals has been a joy to behold at times, with the likes of Felipe and Danilo impressing since joining up last season. However, an unknown signature arriving from Corinthians may just be the best of the bunch.
Arriving on English shores after only just turning professional over in his homeland, Murillo has been outstanding since his debut at home in a draw against Brentford, almost scoring goal of the century the next game over against Crystal Palace.
Incredible in one-vs-one situations and coupled with a divine range of passing and surprising pace considering his size and strength, the 21-year-old may become an incredibly tough man to keep a hold of in the years to come at Forest.
After years of excellence in the Championship with Coventry, Hamer has made the step-up to the top flight with grace.
While the Blades are battling away at the business end of the table, their capture of the 26-year-old Brazil-born Dutchman has proven to be one thing they got right in a haphazard transfer window.
A tough tackler with a bespoke calmness on the ball, Hamer has grabbed himself two goals this season with stunners apiece against Nottingham Forest and Tottenham, both in away 2-1 losses.
He boasts a great defensive and offensive statsheet, with 5.3 recoveries and a 76% dribble/pass success rate per game, and will be a key component to United's battle against a Championship return.
He has just been sublime hasn't he.
Three goals and five assists from his eleven games this season have him up there as one of the leagues very best at the moment. In what is becoming a very optimistic campaign for Spurs, the England international is carving himself out as the jewel in the crown.
An injury suffered in a dramatic game against Chelsea has put the brakes on for now, and his absence can be felt massively for Ange Postecoglou's men as they sink to two straight defeats in the league.
They need him back, and he'll carry on excelling when he is.
For the love of everything, will someone please get this man into the England squad permanently.
A set-piece wizard with a truly sensational box of tricks in technique, delivery and playmaking to his name, "JWP" is up there with the best in the league with assists this season, with five joining onto his two goals as well.
His efficiency with set-pieces has been well-speculated on before, but what is less so done is his quality in and out of possession in open play. No player has completed more long passes than Ward-Prowse this season, and he's up there with the best in terms of interceptions.
A true jewel in David Moyes' side this season.
Okay, I know he signed in January, but the option to make it permanent has been taken for £50m this summer, and the rest of Wolves' arrivals have not hit the same heights as the Brazilian forward.
For their struggles as of recently, the creative powers of the 24-year-old are coming into fruition more and more as he develops his awareness of the Premier League. Grabbing four goal contributions this season, including a delightful assist for Pablo Sarabia's equaliser against Tottenham, he has been a constant threat to anyone he has faced.
With a brilliant range of skills to his name and the end product to match finally starting to break through, Cunha will be a massively important name on the team sheet the further along Wolves go.
Agree with our choices? Would you argue a case for someone else for your club? Let us know below, or shout at me @LouisWheeldonNS on Twitter/X!